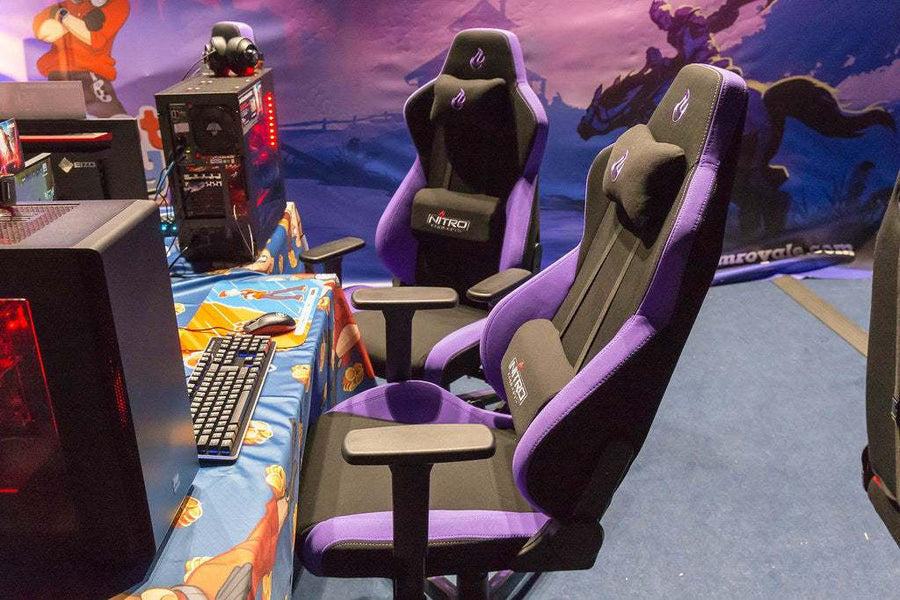 X Rocker Premier Gaming Chair in qatar with Sound Enhancement
Gaming chairs optimize your posture and boost your vitality. They make a difference by supporting the health and wellness of those who use them.
X rocker is a premier brand of gaming chairs that aim to improve your gaming experience.
X Rocker has a wide range of gaming chairs that give comfort and excitement for all your gaming needs. These are top-notch gaming chairs with a wide range of features and styles to suit the needs of any gamer out there.
DXRacer Gaming Chairs are built according to the highest quality standards and it is one of the most renowned brands in the world of gaming and e-sports.
These days everything is online and everybody has to sit for long hours on a chair in an office or at home doing a lot of work. For office use, we see ergonomic office chairs but if you compare an office chair with a gaming chair, you will get to know that a gaming chair in qatar has more advanced functions than an office chair. Like other gaming components, a gaming chair is also an important part of a gaming setup. Some cheap gaming chairs in the market are built with low-quality materials resulting in comfort and durability issues. However, high-end brands make gaming chairs according to users' comfort and ease. The X Rocker is a globally recognized brand with over 15 years of experience in the gaming industry. It uses only the latest and greatest technology in sound and lighting. All products by X Rocker are tested and engineered to the highest possible standards to ensure a quality and safe product for you and your family.
Best X Rocker Gaming Chairs
X Rocker gaming chair is basically a chair that has a lower and shorter base which makes it perfect gaming chair for consoles as well as gamers who want to be sat on a lower level. These chairs are comfortable, impressive and packed with high tech features.The X Rocker Gaming Chairs give complete back support. These come with a warranty and have been reviewed as one of the most comfortable gaming chairs. Gamers love how easy it is to set up the chair and connect it to their gaming systems.
X Rocker Sony Infiniti Gaming Chair
It is labeled as the king of X Rocker gaming chairs. This is definitely one of the gaming chairs that will make you feel special with its unique base, faux leather and the set of impressive features leave s no one unimpressed. This gaming chair is powered by a 4.1 surround system that boasts up to 110 dB of music.
X-Rocker 51396 Gaming Chair Pro Series
This X Rocker gaming chair is also known as the Pro Series Pedestal 2.1. It is a wireless gaming chair, designed with arms that allow any gamer to sit comfortably, swivel and tilt in different directions.
X Rocker Audio 51259 Pro H3 4.1 Gaming Chair
It is another great gaming chair by X Rocker that has most of the ergonomic features found in the new models. This gaming chair offers some great audio options for a variety of games and also, plenty of support for gamers who are troubled from lower-back pain.
X Rocker G-Force Faux Leather Gaming Chair
A gaming chair that comes without a base, however, gamers just love it for its attractive colours and amazing design which looks futuristic. And if you are thinking that faux leather would trigger sweat, you are wrong! The gaming chair comes with breathable mesh fabrics that have a padded foam interior. It also boasts a 2.1 audio system with a backrest that features a subwoofer for added depth. Further, it provides amazing additional support and can be folded for easy storage.
X Rocker 5127401 Gaming Chair
It is a popular model by X Rocker because of its futuristic looks and the grey base that goes into the eye of every gamer. The padding of this gaming chair is thick and the base connects directly to the upper portion of the chair.
X Rocker 5125401 Gaming Chair
This chair is one of the most impressive X Rocker gaming chairs in terms of design. The X Rocker 5125401 offers an easy connectivity via Bluetooth and has all the accessible RCA outputs as well as volume and bass in the control panel. The sound quality of this gaming chair is astonishing and top-notch; it feels like you are fully immersed in the game you are playing.
X-Rocker 51396 Pro Series Gaming Chair
This model has a simple design, heightened base and the overall comfort. Some of the main features are the bass and volume controls, plus the input and output jacks that allow you to link to your audio source. It is a completely wireless gaming chair.
DXRacer Gaming Chair
In 2001, DXRacer began its operations as a manufacturer of seats for luxury sports cars. It has evolved its focus to the gaming chair space and produced several unique model lines. DXRacer Gaming Chair offers a pretty wide swing of chair types, some with the lower end of the spectrum and some of higher quality. The most amazing gaming chair by DXRacer is Air Mesh Gaming Chair. This gaming chair is made for comfort and professional use, as well as to withstand long gaming sessions. The prices of DXRacer gaming chairs are modest as compared to other gaming chairs but the quality does not suffer due to the price. The DXRacer gaming chairs are durable, comfortable, and ergonomic and are worth it.
Their gaming chairs are designed for extended periods of sitting and playing games or working at a desk. Their products also boast an impressive array of features as well as many customization options. DXRacer is one of the most popular gaming chair brands that have built a good reputation for quality chairs. From its entry-level Formula Series to the flagship racing series chairs, DXRacer has something for every gamer.
XRocker X-Pro 4.1 Pedestal Video chair for gaming desk Comfy Folding Game Player – 1050 QAR
Wireless/Bluetooth dual control panel
4.1 Multi-Stereo speakers and rear mounted subwoofer
A gunstock, deep padded seat, armrests and headrest cushion
XRocker Nintendo Super Mario Gaming Chair, Pedestal Folding Chair with 2.1 Audio Built-In – 799 QAR
Nintendo's Super Mario Series
2.1 audio systems
Padded faux leather material
Stereo audio system with bass speaker for impactful audio
Compatible with all Nintendo Gaming Systems
XRocker Premier Maxx RGB 4.1 Multi-Stereo Storage Gaming Chair – 1530 QAR
4.1 sound, tri-motor vibration feedback
Vibrant Neo Motion LED Technology
4 speakers & 1 subwoofer
Wireless Connectivity with a wireless DAC transmitter
XRocker Monsoon RGB 4.1 Stereo Audio Gaming Chair – 1190 QAR
Innovative Neo Motion LED technology
Supercharged with wireless/Bluetooth dual control panel
Wireless DAC transmitter
Monsoon RGB 4.1
Faux leather finish with sturdy pedestal base
XRocker Sony Playstaton Legend Gaming Chair 2.1 – 1049 QAR
Unrivalled style 2.1 Audio Speaker System
2 mounted speakers for increased audio immersion
Built-in Subwoofer
Sound Reactive Vibration
Wireless and Bluetooth Ready
DXRacer Air plus Series Gaming Chair – 1650 QAR
Wider seat base and larger backrest
Unrivaled freedom of movement and comfort
Environmentally reinforced mesh
Suspension springs
DXRacer Air Mesh Gaming Chair Modular Design Ultra-Breathable D7200 – 1500 QAR
Most Breathable Mesh
Suspension Springs
Unmatched support
Adjustable armrests
DXRacer Air Mesh Gaming Chair Modular Design Ultra-Breathable D7100 – 1500 QAR
Suspension springs
Rail-Mounted Lumbar Support
Headrest Pillow
Leading-edge modular design
DXRacer Air Mesh Gaming Chair Modular Design Ultra-Breathable D7200 – 1500 QAR
Ultra-breathable mesh
Exclusive suspension springs
Adjustable lumbar support
Memory foam headrest
Modular Design
The gamers often experience back, neck and shoulder pain after long
gaming sessions
. But it doesn't mean they should give up on their next campaign or switch their console off for good. Rather, it is important for them to just consider buying a good gaming chair to provide the right type of support and comfort for long gaming sessions. One of the most significant features of gaming chairs is their long back. The seatback is important thing to consider because it can help keep the back in a straight and upright position and prevent back pain. The back of gaming chair should be at an appropriate height in order to support your pelvis, spine, and back well. The Gaming Chairs in Qatar have ergonomic features that adapt to the needs of the user. All of these specifications support good posture and movement while sitting. A good sitting posture while gaming extends breathing, improves blood flow, and reduces muscle strain. In addition to this, a gentle seated movement strengthens core muscles by keeping them active. All the gaming chairs offer seat height adjustment, tilt lock, adjustable armrests and the unique ability to lean back up to 180-degrees.