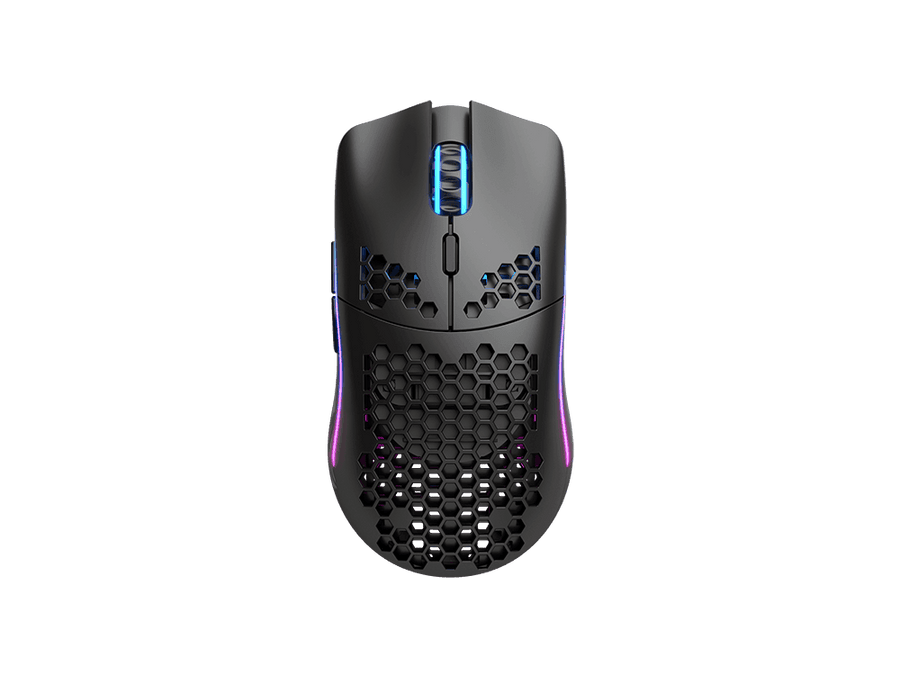 Why Gaming Mouse is Important? – Glorious Model O
The Model O comes in Matte or Gloss finishes, its lighting effects are interchangeable, and come in 8 pre-installed settings.

It is ideal to acquire a gaming mouse because it has adjustable sensitivity and the opportunity for hotkeys on the extra buttons.

If you want a gadget that is more comfortable, more robust, has greater functionality and is tuned for gaming performance, gaming mice can be a terrific purchase.
The Glorious Model O is a fantastic ultra-light gaming mouse with a honeycomb-pattern design that ranks it among the lightest mice we've tried. It feels very well-built and robust. The excellent cable that comes with this wired-only device is both light and flexible. It contains a total of six buttons, including two on the side, and the companion software makes it simple to configure each one.
Additionally, the sensor's performance is quite precise and reliable, and the mouse has a broad CPI range. Additionally, it boasts a highly comfortable ambidextrous design that can accommodate any grip style and excellent click latency. The Glorious Model O-, a more compact model that functions similarly, may be more comfortable for persons with little hands because of its smaller body.
The Model O gaming mouse comes in Matte or Gloss finishes and is offered in Black and White. The mouse's RGB lighting effects, which are interchangeable and come in 8 pre-installed settings, may also be fully customized. Additional configurations are available as extra software.
Honey Comb Design
The honeycomb casing of the Glorious PC Gaming Race Model O is essential to reaching its feather-weight class; the hexagonal shape not only lends the Model O robustness but also offers much-needed palm ventilation during extended gaming sessions. With its patented Ascend Cord braided cable, which weighs only 67g, it provides a nearly wireless experience without the corresponding performance latency.
Pixart Sensor
The Pixart 3360 Sensor, a standard sensor used in the esports sector and offering a 1000hz poll rate, is supported by the Model O. (1ms). The mouse's DPI display, which has three preset settings (400, 800, and 3200 DPI), as well as an ability to increase the resolution to 12,000 DPI, can be customized by the user.
Finally, G-Skate feet are mounted to each corner of the Model O to complete it. These feet are made of 100% virgin PTFE and have rounded edges for a smooth glide. The feet's thickness of 0.81 mm guarantees a long lifespan without the need for replacements. Available in two colors with a matt or gloss finish, fully programmable RGB.
Characteristics of Glorious Model O
67g of ultra-lightweight honeycomb construction

2.0 m of exclusive Ascend Cord braided cable

G-Skate Feet have rounded edges, are comprised of 100% virgin PTFE, and are 0.81mm thick.

The maximum DPI for the customizable DPI Indicator is 12,000 DPI, with default settings of 400, 800, and 3200.

Pixart

3360 Sensor with 0.7mm life-off distance and 1000Hz polling rate (1ms)

Available in either a matte or glossy finish in both Black and White.

Fully programmable RGB lighting that can be controlled by extra software
The only use for the Glorious Model O is office use. Most people should find it comfortable enough to use all day because it feels well-built. It is wired only, though, so if your desk is small or filled with objects that the cable could tangle with, that could be a problem. The good news is that you can program all six of the buttons, which can speed up your desktop navigation and help with workflow. This mouse could be a little bit too big for little hands, so you might want to look into the GLORIOUS Model O instead.
Advantages
Feels quite sturdy and well-built.
Ambidextrous and comfortable design.
Flexible and lightweight cable.
Why a Gaming Mouse is Important?
A lack of a gaming mouse is a glaring disadvantage for a gamer because of how versatile they are. If you're a serious gamer or even just getting started, it's ideal to acquire a gaming mouse because it has adjustable sensitivity, the opportunity for hotkeys on the extra buttons, and accurate movements.
When reading through spec lists for gaming mice, you may run into a lot of phrases that are foreign to you. We're here to enlighten you on these technological features so you can confidently choose the ideal gaming mouse.
Features
Sensor

DPI

Poll Rate

Tracking Speed

 

Build type and Size

 

Wired/Wireless

 

Programmable Buttons

 

Weight Customization

 

Lift-off distance

 

Angle Snapping
Sensor
Since a sensor is essential to the operation of a mouse, it is most likely its most important component. The movement of the mouse across a surface is translated by a sensor into the movement of the crosshair or cursor on the computer screen.
DPI
Dots per inch and counts per inch are abbreviations for respectively. They both convey essentially the same meaning. This is essentially a measurement of how sensitive a mouse is, or how far the pointer moves after an inch of movement.
It enables you to quickly modify sensitivity by switching between several DPI settings. In this manner, you may quickly transition from the accuracy needed for a long-range headshot to the sensitivity needed for a quick reflex no-scoping.
Poll Rate
A mouse has to submit its numbers, which contain its position, back to the computer, much like an election or a poll. It must perform this consistently several times every second; this rate is referred to as the polling rate.
Maximum Tracking Speed
How quickly the mouse can be moved while still retaining precise tracking of its motion is referred to as the perfect control speed and is measured in inches per second. Gaming mice fit well with the look that many gaming items have chosen because they are designed specifically for gamers. Most of the time, they have an aggressive, edgy look, and many of them have RGB lighting to match the rest of the gaming setup. For other types of hardware, the build is typically just an added benefit for aesthetic reasons, but for a gaming mouse that you'll be using for hours on end, it's crucial.
Wired or Wireless
Although there are wireless gaming mouse options, corded mice remain the industry standard for competitive players. This is because wires transfer signals significantly more quickly than wireless devices, resulting in minimal latency
Programmable Buttons
There isn't a gaming mouse that we can think of that doesn't have the normal left, right, and scroll click three buttons. Many gaming mice also have additional buttons on the side, often in places where the thumb can reach them.
Weight
Typically, lighter mice are preferred by most people. However, gaming mice with added weights might be useful for people who have the ideal sweet spot or wish their mouse was a little heavier. Some mice have tiny weights in the form of tablets that can be added or withdrawn as needed to adjust the mouse's mass.
RGB Backlight LED
RGB is a posh yet highly sought-after feature in all gaming-related equipment and parts. Led lights of various sizes, shapes, and locations are incorporated into the body of components to provide a truly enticing and aesthetically pleasing appearance to the overall system.
The majority of gaming mice contain RGB illumination, which can produce up to 16 million different colors. The combination of programmed effects and color fluctuation can produce a truly attractive visual that owners find appealing.
Lift-off Distance
The term "lift-off distance" (LOD) describes how far a mouse may be lifted off a surface before the sensor detects motion.
Angle Snapping
Snapping angles can cause a lot of controversies. It describes software adjustments your mouse makes to slight jitters or jerks. When the software thinks you meant straight lines, this strives to make them. Small line deviations won't be taken into account; the line will be kept straight. Angle snapping off is preferred by many expert gamers since it allows them to trust their unaltered raw input.