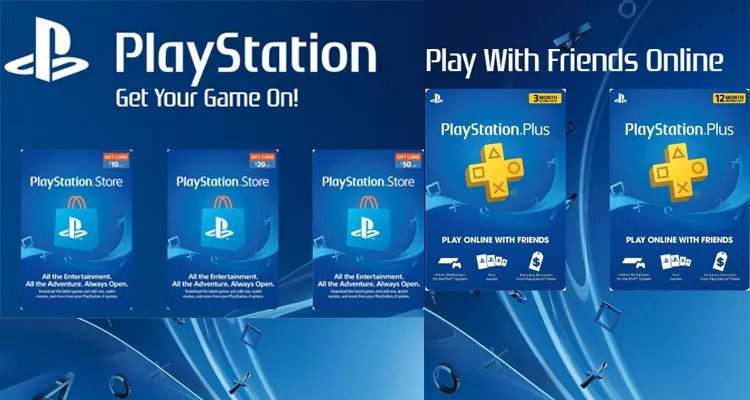 What is PlayStation Gift Cards? – PlayStation Cards Features
What is PlayStation Gift Cards? – PlayStation Cards Features
Users can return to gameplay more quickly than ever by ordering PSN gift cards by email.
Users can add credit to their PS wallet by utilizing PlayStation Store gift vouchers or your MasterCard.
It is important to ensure you are purchasing genuine and authentic PlayStation cards if you want to take advantage of receiving PSN gift cards through email.
One of the most well-known digital stores online is the PlayStation Store, now known as the Sony Entertainment Network Store. PSN gift cards are one of the primary ways to purchase items from this store. These cards provide you access to the Sony Entertainment Network Store, where you may download new PlayStation console games and other digital content. A code on a card can be used to redeem it on a variety of gadgets.
Due to security vulnerability, customers were advised to proceed with extra caution; as a result, they used a gift card obtained through a reputable retailer of digital gift cards rather than the official PlayStation website. Even though Sony was eventually able to control that specific situation, many customers still believe that hackers are a constant threat. This perception was not improved by the more recent incident involving the well-known FIFA video game, which involved several users receiving fraudulent credit card charges.
Benefits of PS Cards:
Of course, the ability to gift PSN cards to others is another benefit of using them. A PSN gift card is the ideal gift for the gamers in your life, whether it's for a special occasion or just because you want to give them a little pleasure. The most expedient option of the two is to simply email your loved ones the code rather than give them the real cards.
It is unnecessary to spend time and effort mailing presents to your receivers. How simple and convenient it is for your present to simply appear in their email! They can redeem their voucher and begin making purchases after receiving their email.
Of course, you can also purchase the cards for yourself. You may return to gameplay more quickly than ever by ordering PSN gift cards by email. The quickest solution for you to continue playing when you run out of credits is to spend a minute visiting a digital gift card retailer site and purchasing a PSN gift card.
Make sure you are purchasing genuine and authentic cards if you want to ensure that you take advantage of receiving PSN gift cards through email. Take the time to confirm that you are working with a reliable seller so that you may be sure of your purchases.
10$ PS Gift Card
The $10 discount is available for the PlayStation 3, 4, PSP, and PS Vita. Your PSN wallet contains the same amount of money that your real card did. People can use cash to purchase games for their gaming systems. It only costs $10 and is the best gaming gadget. After purchasing it, you have the option to add $10 to your PSN wallet or give it to friends.
Features: 
You can buy old titles on the PSN, as well as your favorite games individually or in bundles. Along with letting you access PlayStation content, it also enables you to purchase downloaded games, TV shows, game add-ons, feature-length movies, and even PlayStation Plus subscriptions. One can be purchased as a gift card for another person or oneself.
You can utilize it most efficiently if you have a PlayStation Network account to redeem it with. On the PlayStation Store, it may be traded in for games, plans, and add-ons. Players can pre-load or pre-order a game for their consoles to start playing it as soon as it becomes available. Along with some deals and discounts, you can also come across exclusive discounts on well-known titles.
Redeeming PS Cards
It can be redeemed on the PlayStation Store for anything. There are several deals, discounts, and promotions available for popular games. Additionally, you can select from a selection of 10$-$100$ gift cards to determine whether to purchase your chosen games, add-ons, or subscriptions. You are free to download, play, uninstall, and reinstall. Your system downloads each item you buy from the PlayStation Store, adding it to your collection. To add funds to your PS wallet, use a credit card or gift card purchased through the PlayStation Store.
What PlayStation Cards Can Do?
The ability to remotely download purchases
Add purchases made online from any location to the download queue.
Availability of the product manuals and papers area
$100 PlayStation Card
There are many arrangements, limits, and promotions on top games. Besides, you can likewise choose from an extensive variety of 10$-100$ present cards to buy your number one games, additional items, or memberships. Every one of the things that you purchase from the PlayStation Store is added to your library, as well as downloaded to your control center. You can likewise add credit to your PS wallet by utilizing PlayStation Store gift vouchers or your MasterCard.