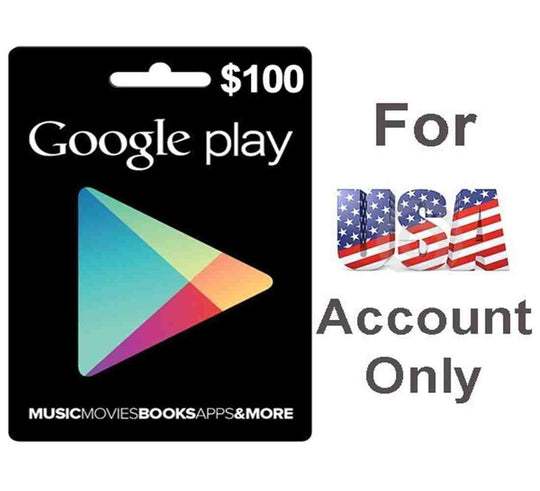 What are Google Play Cards | Why Should you Buy?
People can easily buy Google Play Cards for their Android devices thanks to the online retailer Google Play.
Google Play Cards are fantastic present suggestions for you if you have someone living in nations where Google Play is not widely available.
After redemption, you can use your Google Play Card to purchase apps, games, movies, TV series, and books.
These days, individuals use their smartphones and tablets for much more than just making calls, texting, and using the internet. Whether you're at home, on your daily commute to and from the workplace, or just wanting to pass the time, these handy mobile devices can now provide endless entertainment.
You can quickly and easily buy these (or perhaps obtain them for free) for your Android device thanks to the online retailer Google Play. Google Play is the greatest place to go for all of your digital media needs if you enjoy reading, watching movies starring your favorite actors, keeping up with the latest TV shows, or trying your gaming skills in the newest games.
Google Play has displayed more than 2.2 million published apps since its introduction in 2012 and facilitated more than 50 billion downloads globally. Despite these amazing figures, not everyone in the world will necessarily be able to access the same information.
Customers of Google Play in the US and a few other nations have full access to all of the store's products. Others, however, might not have access to certain products, or they might only be able to access free apps and games instead of the expensive stuff.
There is a fantastic present suggestion for you if you have family or friends who live in nations where Google Play is not widely available. Send Google Play gift cards the next time a birthday or other special occasion comes around if the recipient enjoys using their phone or another mobile device for enjoyment. These cards will grant the recipient unlimited access to all US content accessible in the store. What a cool thing! The process of redeeming Google Play Cards is likewise very simple.
Launch the Google Play Store app that was pre-installed on your smartphone or the Google Play website on a computer.
Touch the icon for your profile in the top right corner of the screen.
Select Subscriptions and Payments.
Click Redeem gift code.
Using Google Play Cards
The gift card can be used to purchase apps, games, movies, TV series, and books after it has been redeemed. Recall that the Google Play Store is distinct from the Google Store in that Google Play gift cards cannot be used to buy tangible goods there.
Google Play gift cards enable you to make purchases without putting a credit card on file, whether you want more gems for those Diamond Boxes, to rent a movie for a date night, or to buy an app to make your phone even cooler. The nicest thing is that you may select the gift card's denomination from $25 to $200.
Redemption is the same whether you give or receive a physical gift card, however, some people prefer sending physical cards because you can't wrap an email. Digital gift cards are favorites because the redemption code can simply be copied and pasted as opposed to being typed in. Digital cards are also helpful if you don't feel like going ten miles to the store and your child has to buy something right away.