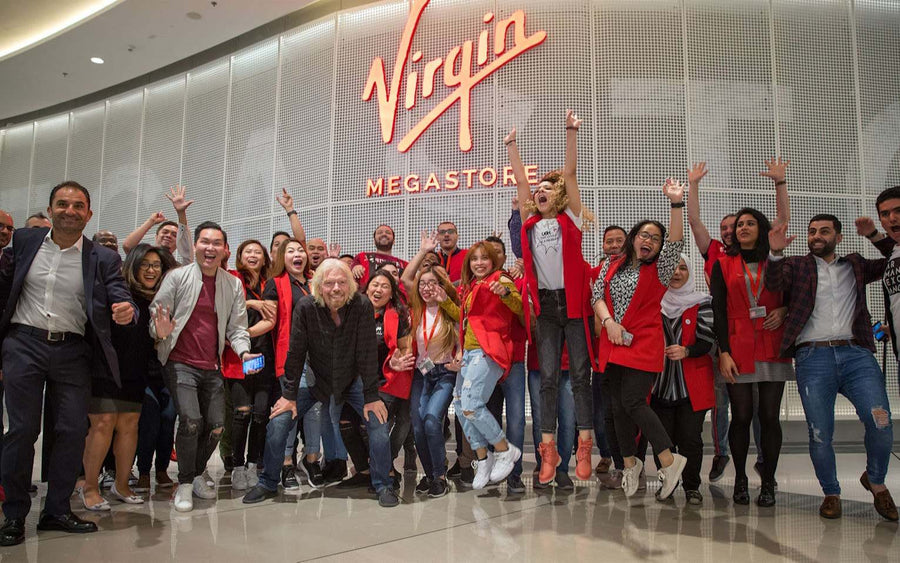 Virgin Megastore and Virgin Stores
Virgin Megastore and Virgin Stores – A Global Entertainment Brand
Virgin Megastore is a universal entertainment brand and the prominent lifestyle retail destination. It has set a constant target of establishing and expanding its product offering to fulfill growing trends and expectations. It gives a unique shopping experience and is an innovative entertainment destination for trendsetters and technophiles. A valuable tool for Virgin Megastore is Insider's Smart Surveys that give insight into online customer behavior and facilitate decreasing bounce rates whilst simultaneously increasing engagement rates. There are over 40 Virgin Stores in 9 markets in the Middle East and North Africa. These stores have set an unbounded target of expanding their regional presence. These stores are a one-stop shop for all your entertainment needs. These offer a wide range of lifestyle products across culture, fashion, technology, entertainment, beauty, and related services.
Virgin Online Store delivers a unique shopping experience, as well as a variety of supporting channels and services. It has created a new dimension in entertainment retail and caters to the region's cultures through activities, events, and support of local artists in each market it enters. This store is truly a global brand with local flavor. The Virgin Megastore MENA is part of one of the best retail groups, Azadea Group which operates over 600 stores in 13 markets, and 53 brands across Fashion and Sports.
Lifestyle and Entertainment Destination
Virgin Megastore covers one of the ironic histories of all the Virgin brands. Initially, it was focused on music and film but has since diversified and successfully repositioned itself as a lifestyle brand catering to families, teenagers, women, and local communities. The store is considered a leader in lifestyle retail entertainment. It is not just a store, rather it is an experience that inspires and engages its customers. The innovative store environments; exclusive products and localized content is what makes Virgin Stores unique and stand out from the crowd. These stores entertain the world, and create moments of joy whilst building value and making a difference for the people and communities. 
Virgin Stores in Qatar
Currently, there as six Virgin Stores Qatar, with one being located in the Villaggio Mall, Doha. It opened a smaller store in a shopping center called Landmark. Some other locations include the Mall of Qatar, Doha Festival City, Qatar Mall, Hamad International Airport, and a small kiosk at The Pearl. Virgin Stores in Qatar are committed to reducing plastic consumption and helping refugees make a better life for themselves. These were the first to launch biodegradable and compostable cassava bags that replaced plastic shopping bags. It is an international entertainment retailing chain and a one-stop shop for all entertainment needs. 
Virgin Megastore places themed items together so customers know exactly what they will find in each section of the store. It is not just about creating an incredible in-store experience for customers. It wants customers to love shopping there. That is why Virgin Megastores empowers its employees to help customers accept returns outside of the return window, substituting a product in case a customer is not satisfied and making choices about what goods the store should sell.
Virgin Megastore is one of the world's most innovative retailers. It was established in 1971 and offers value for quality, money, and fun. The store has diversified and evolved into an entertainment lifestyle destination across the MENA region, and today, it is the leading entertainment retail destination for the whole family. The Virgin Stores offer its customers a wide range of entertainment and media products ranging from music, movies, and books to accessories and electronics, gaming, gift items, toys, gadgets, fashion, and services to complement the products. The megastore currently operates more than 35 stores in eight countries across the Middle East and Africa.
The Virgin Stores are a one-stop shop for all your entertainment needs, not just music, not only movies. They also offer a wide range of products, including CDs, DVDs, books, accessories, electronics, games, mobile phones, multimedia, merchandise computers, and a whole lot more. These stores deal with all ages and all genders and are continuously working on understanding the customer's needs, and wants through the customer's income. These stores serve the people who have well income which we could say, rich people and middle-class people. 
Virgin Megastore Circle
It is the company's loyalty initiative that showcases a 360 relationship between the brand and its customers.
How to Join the Virgin Megastore Circle?
You can download the circle app and sign up instantly or visit virgin stores and register your mobile number at the cash counter or go to the circle website and get yourself registered to your account.
How to Collect Virgin Circle Dots?
You can earn Virgin dots on every purchase order. Every Qatari Riyal you spend will make you receive one dot. Users cannot redeem their dots unless they have earned 2500 Dots (25 QAR) and only redeem any multiple of 25 Qatari Riyals. Users can collect Virgin Dots at any of the Virgin Megastore or website, with any purchase by using cash or credit card. 
How to Redeem the Virgin Circle Dots?
Whenever the balance of your dots balance reaches 2,500 you can start redeeming at any of the in-store cash counters or website. You can redeem by providing your mobile number. For online redeeming, you will have an option to redeem your Loyalty dots as you proceed with checking out. Moreover, every country has a separate procedure so you cannot collect or redeem dots from different countries.
What kind of communication is expected from the Virgin Megastore Circle?
You can receive e-mails from time to time about ongoing promotions, contests, and offers. Virgin Megastore will never ask for your bank account details online. It broadcasts contest winners lists on its official site, and social media and communicated through email and or SMS. 
Virgin Megastore Tickets
This is one of the best physical and online ticketing platforms that offer its customers access to music concerts and festivals, theatricals, clubs, sports events, and theme parks.
The first formal store was opened on London's Oxford Street in 1971. The company opened its first Megastore at the end of Oxford Street and Marble Arch in 1979. The Virgin Stores have transformed from a record shop on Oxford Street into a leading lifestyle retail destination in the Middle East, with more than 40 stores across the region.
The Record Shop was the first shop that opened under the Virgin Group, and it was a place where people could meet and listen to records together. Virgin Megastores has turned away from its record shop history but the spirit lives on. These stores let customers do more than just shop. They can get lost in whatever interests them from fashion to music, to gaming. An average customer spends 45 minutes in the store. The group also has online stores where customers can choose how they want to shop online, in-store, or both. 
How many Stores does Virgin Megastore have?
Virgin Megastore is a global brand having local flavor. It is part of Azadea Group, one of the top five retail groups that operate over 600 stores in 13 markets, and 53 brands across Fashion and Sports.
Virgin Mobile 
Virgin Mobile is one of the first truly digital mobile brands in the world. The brand's promise to its users is simple, yet groundbreaking. Users can download the Virgin Mobile app, keep their number, or choose one they will love. They can build the right plan for themselves and the brand will deliver SIM right to the user's doorstep within an hour. No need for paperwork, no queues, no stores, no contracts. 
Product Range:
Virgin Stores have a wide collection of games, CDs, books, DVDs, magazines, accessories, and additional products such as board games, calendars, as well as Virgin branded products. However, it is important to note that all of these products are stocked by Virgin stores, though the larger shops stock the full product range.
The Virgin Stores are aimed at designing and delivering a unique, constantly evolving shopping experience in this ever-changing market. The online virgin store along with a full range of value-driven supporting channels and services delivers a brand experience that constantly surprises and delights an increasingly diverse customer base. The main purpose is to deliver an efficient and personalized shopping experience while understanding the unique preferences and needs of customers. Virgin Megastore is considered a global entertainment brand with a constant target of establishing and expanding its product offering to fulfill rising trends. The brand delivers an exclusive shopping experience and is popular as an innovative entertainment destination for innovators.