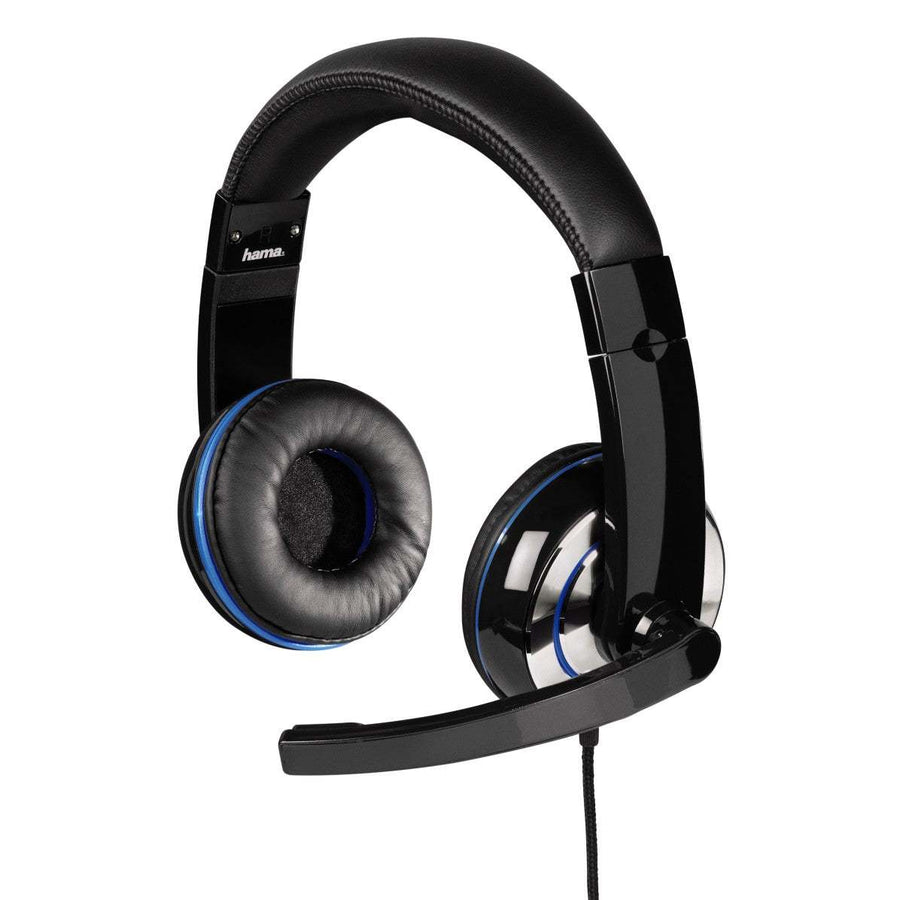 Top List of gaming headsets in Qatar.
Top Best Deals List of gaming headsets in Qatar.
Here we have collected a list of gaming headsets in Qatar;
Logitech G733 Light Speed Wireless RGB Gaming Headset – 510 QAR
Logitech H600 Wireless Foldable Headset – 225 QAR
Cooler Master MH752 Gaming Headset – 375 QAR
Razer Blackshark V2
The Razer Blackshark V2 has conquered the list of best gaming headsets because of its impeccable audio quality, easy-to-use software, and easily affordable price. Razer has come up along with an all-new patented design of 50 mm TriForce Titanium drivers having discrete ports for separating replications of low, mid, and high audio frequencies. This feature delivers powerful bass, brighter and crystal clear sound and richer trebles too. The titanium-coated drivers provide enhanced clarity of vocals so that every word you hear is crystal clear.


Razer's hyper clear microphone comes with better speech pickup and a noise cancellation feature for an excellent experience. The removable mic feature offers minimal obstruction, resulting in enhanced clarity of your voice. The USB support card can tweak your voice output by using Razer Synapse. Further, it helps you to access various features like Ambient Noise Reduction, Mic Boost, Mic Equalizer, and Volume Normalization.
Logitech G635
Gamers can experience a unique sound with the Logitech 7.1 LightSync Gaming Headset. It performs with better precision that would enable you to hear accurate and precise positions of your enemies while gaming. The hearing of your surroundings in the best way could make a huge difference in victory and defeat. Logitech has built the 50 mm Pro-G drivers in such a way to unlock greater clarity, detail, and depth at any volume. You can feel the low-frequency sounds such as booming explosions as well as the high-frequency sounds such as footsteps and shots fired would be extremely clear. Logitech has also included the G HUB gaming software through which you can customize the RGB lighting and in-game commands with unique profiles for every application. Gamers love the feature of complete customization. This gaming headset has been built to provide an enhanced comfort and endurance, its large-diameter washable ear cups give extreme comfort during your longest gaming sessions.
Arctis 7P
The best wireless gaming headset is Steelseries Arctis 7P Wireless. This gaming headset has been built especially for PS5, but it is also compatible with PC, Android, Nintendo Switch, and PS4. When you hear the term wireless, battery life is the first thing that would strike your mind. But there is no need to worry about it because these headsets come with 24-hour battery life so that you can enjoy your favourite game all day and night on a single charge. Gamers get the steel headband offering comfort and durability. Also, there are on-ear controls for convenience along with a dedicated side tone control for easy controlling. The Arctis 7P Wireless comes with high-quality speaker drivers to maintain its signature sound quality. A retractable Discord-certified ClearCast microphone is included for noise cancellation.
Creative SXFI
The main purpose of Creative SXFI Gamer is to become a perfect companion for every professional gamer who has high demands with their gear. It is equipped with the Super X-Fi technology with high-definition holographic audio. It also provides a custom sound profile based on your ear and head so that the audio you hear is completely optimized only for you. The Battle Mode provides the gamers with the best level of directionality and audio projection, helping them to get the upper hand over opponents. Gamers can get an enhanced communication due to headset's Commander Mic.
HyperX Cloud II Wireless Headset
HyperX makes high-quality gaming headsets that are ultra-comfortable with the best quality of sound. HyperX Cloud II Wireless headset has maintained the legacy of legendary comfort along with being wireless. It offers an entire day gaming with a single charge so if you are into longer gaming sessions, then this gear is for you! It comes with 53mm drivers delivering rich and impactful sound with enhanced clarity so that you can get completely lost in the gameplay and never miss out on important audio cues. Another feature is a detachable, noise cancellation microphone to keep your communications clear and away from ambient noise.
Logitech Gaming Headset
The Logitech never fails to impress gamers with its high-tech gaming gear that comes with an innovative look. It has designed Logitech G733 Wireless Gaming Headset that is supposed to give utmost comfort and style to match your look. Gamers can receive 29+ hours of uninterrupted gaming with Logitech's light speed wireless technology. This is a lightweight headset weighing only 278 grams. Logitech has designed suspension strap for distributing the weight so that you can enjoy gaming even for long hours. They come with dual-layer memory foams to softly fit around your head delivering extreme comfort even during long gaming sessions.
Logitech G PRO X Gaming Headset
Logitech has designed G PRO Gaming Headset to provide pro gamers with eSports-grade features. It is manufactured with 50mm neodymium drivers and a detachable boom microphone with blue voice technology for clear communication. The Logitech G Pro gaming headset comes with a detachable 1/8" TRRS cable and a Y-adapter for use on a PC. It is the best gaming headset with a wired connection. The audio cable of headset can be connected to a PS4 or Xbox One controller for audio and voice. Logitech makes good and comfortable gaming headsets that are customizable and generally have well-performing microphones. They make a worthy mix of wired or wireless offerings, ranging from budget to more premium headphones.
Features:
50mm PRO-G drivers
Virtual 7.1 channel surrounded sound
Memory foam leatherette and cloth ear pads
Detachable blue voice boom microphone
Being a professional gamer, you need to look for high-quality gaming headsets that alleviate your gaming experience. The best gaming headsets would protect your ears even if you play for long hours. So, look out for gaming headsets that fit your budget and help you to improve your gaming with realistic sounds.