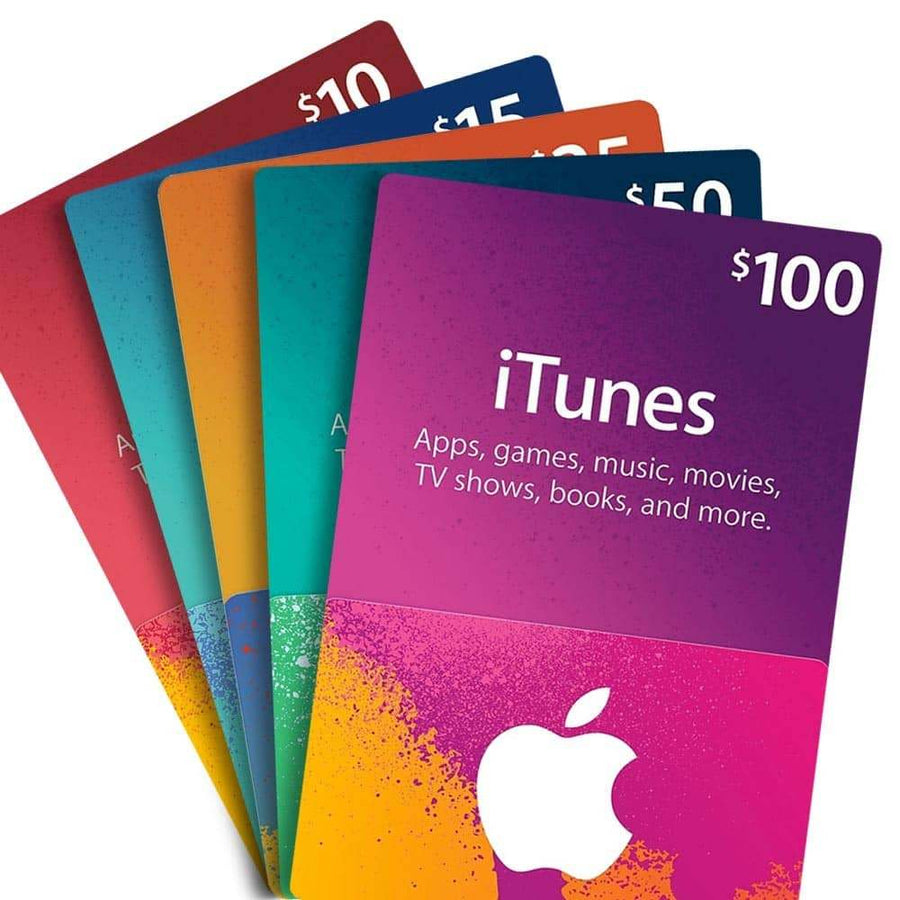 The iTunes Card Store in Qatar
The iTunes Card Store gives access to music and media on almost any device that is connected to the internet. The store has grown from an experiment in online shopping to a true digital content powerhouse. The iTunes Card Store is a digital media store operated that offers around 60 million songs, 2.2 million apps, 65,000 movies, and 25,000 TV shows. Apple iTunes is software that lets you play and organize your digital media collection on your computer, as well as sync it to other portable devices. The music industry was different before iTunes and it has made it easier to find the music you want to hear as well as buy music. 
The iTunes cards have eliminated the confusion of choosing which movie or music album or game to get. These cards can be used as a gift that people can send each other and live the moment of joy. The iTunes Card in Qatar has some code at the back that can be redeemed from a particular entertainment resource to have fun with them. There is always a good chance of getting surprised whenever the back of the card is scratched because these cards offer gifts regarding some games, apps, movies, music, and much more.  
The iTunes Card Store in Qatar is beneficial for buying Apple accessories, products, apps, and various Apple subscriptions. These gift cards are available through Apple's online store or at Apple retail stores. these cards are great for purchasing items from the app store, iTunes card store, Apple Books, or Apple TV app. These cards add credit to your Apple ID and can be used for games, apps, movies, books, music, and TV show purchases.
The iTunes card in Qatar is easy to use and can be purchased in a variety of denominations according to your needs. These are great for pretty much any digital service Apple offers and let you pay for apps, Apple Music, Apple News+ subscription, or more iCloud storage.
What is the Purpose of using iTunes Cards?
The iTunes Gift Cards are flexible
The iTunes Gift Cards are ideal to boost business 
The iTunes Gift Cards have no expiry date
The iTunes Cards can be used online
The iTunes Cards offer fair value
The iTunes card allows users to purchase and download items directly to portable Apple devices. It is used as customer appreciation, great promotional incentives, employee gifts, or rewards for a well-done job. The gift cards have multiple denominations and are available as physical cards with free shipping or digital codes.
Apple iTunes Card Qatar is a pre-paid credit card used for the purchase of Apple's digital services. The card gives access to the iTunes Store, as well as all of Apple's media, and allows you to visit Apple's online store, where you can buy media content. The gift cards can only be used to purchase Apple's virtual products and services. These cards are usually issued in two formats; the physical form, and the E-codes format.
What does iTunes Card Offer?
Access to Apple TV, Apple Music, and iTunes libraries
Access to browse music by albums, artists, and songs
Access to browse TV shows, movies, and podcasts
Create and edit playlists
Access to search your entire music library
Access to explore shared libraries
How to buy iTunes Cards?
Some websites deliver authentic gift cards quickly and steadily via email. These sites offer secure payments and also protect your privacy. To purchase, simply select your preferred iTunes amount and decide whether you want to purchase once or subscribe. Purchase the gift card and check out, and within some minutes you will be enjoying all the content the iTunes Store has to offer.
The iTunes Cards enables its users to select a movie or music album just by scratching the card. These gift cards are used as a gift that people send to one another and live the moment of joy. These are the most convenient way to credit to your iTunes Store account. The cards are one of the easiest ways to buy items from iTunes USA stores in the absence of valid means of payment for a country. People can purchase iTunes Card online at the best prices because there are plenty of websites that offer cheap and affordable iTunes cards. 
The balance on your iTunes Card is credited to every account connected to your Apple ID. This balance is used to buy from any of the stores where there is an availability of about 250,000+ apps, 12 million songs, thousands of movies and TV shows, and a dozen libraries' worth of audiobooks. It is very convenient if you just know where to look while purchasing iTunes Gift Card. Some websites offer iTunes cards as a form of reward. Therefore, it can be hard to determine which site you should join and which will be worth your time.
Use of iTunes Gift Card in Qatar
Apple iTunes gift cards are mostly used to buy content online. These are brilliant gift that allows making purchases on the iTunes store and also helps you purchase downloadable content including music, books, apps, and movies. The major features of gift cards include:
Internet Radio
Audio file playback
Music streaming
Graphics
CD Track Info
Management and Organization tools
File type conversion
Playlist creation
Download files to the portable player
Music sharing over other networks
Apple iTunes Card Store in Qatar 
The store services are always available with hundreds of sustainability and reliability engineers who maintain dedicated data centers. The store has unlimited hosting and bandwidth for all updates, apps, in-app purchases, machine learning models, and more. Apple handles worldwide payment processing and users can pay with credit or debit cards, digital wallets, carrier billing, or App Store and iTunes gift cards, depending on their region. 
The iTunes card store lets users restore apps and in-app purchases on a new device to flawlessly maintain access to content. Apple verifies the accounts of its users to check that users are real and to make sure that intellectual property is protected. You can opt-in to always download the latest version of your apps with automatic updates. The iTunes App Store releases apps and updates manually or automatically at a time you choose or in stages over 7 days.
The iTunes Card store is similar to a candy store as the gaming library Apple is constantly expanding and getting an iTunes Card now is the best time to catch all those games on the go. People can find casual games and even simulation games all in one store accessed by one and only iTunes Card. These are conveniently made for you to never have a boring waking moment. Apple iTunes Card can fill your days with fun and games.
There is a wide range of payment methods for you to select from when you are thinking of shopping for iTunes Cards. There are e-wallets you use to pay your bills to established banks as well as their credit cards. The best selling price for the iTunes Card is 10$, 50$, and 100$. It is to be noted that any indicated price is subjected to change based on any ongoing promotions or discounts. No matter what price or amount you might need, there is everything.
A lot of websites offer seasonal promotions and discounts for the iTunes Gift Card. These sites celebrate holidays with promotions and sales and buyers keep their eyes peeled for low prices and get their gift cards at a steal. There are promotions for you to join in and have some fun with giveaways and prizes to be won. If you are tired of dealing with your subscriptions, no need to worry, get some iTunes Cards and automate your payments. Moreover, no worries about forgetting or any expiry dates because iTunes Cards don't expire. You can pay for your subscriptions like your iCloud storage monthly payments, Apple Music, and Apple Arcade.
The iTunes Cards Qatar work well as giveaways at trade fairs and they don't have any expiry so you can have them with the assurance that your card would always be there. These cards can be sent as gifts to others or swapped for an Android card. Moreover, they offer fair resale value and when there is no use for your card, you can surely sell it for a fair price.