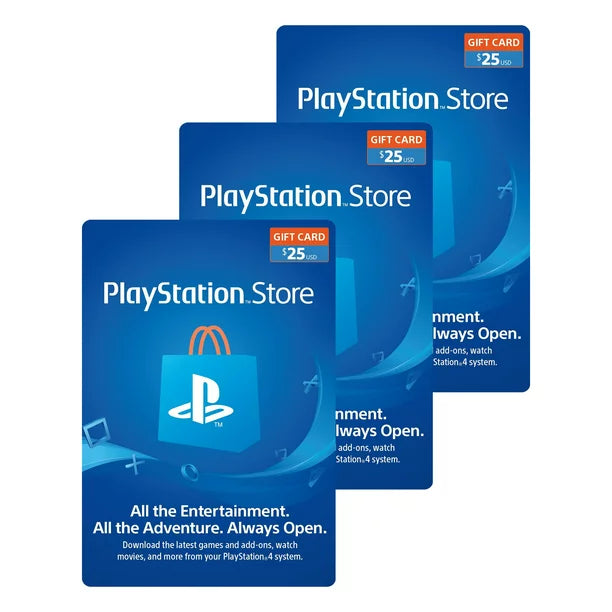 PSN Cards: 10$, 100$ PSN Cards, Why Use PSN Cards
People can use their PlayStation Network Cards from the PlayStation Store to add money to their PS wallet.
People can spend $10 to $100 on their chosen games, add-ons, or subscriptions.
People can purchase old titles on the PSN, as well as their favorite games individually or in bundles.
The PSN Cards are redeemable for anything on the PlayStation Store. On popular games, there are lots of offers, discounts, and promotions. Additionally, you can decide on whether. To buy your preferred games, add-ons, or subscriptions, pick from a variety of 10$-$100$ gift cards. You may download, play, remove, and reinstall.
With the redeemable PlayStation Card, you may choose from a wide range of games, bonuses, subscriptions, and other items. Preloading, ordering, and playing are all possible. The gift card enables you to receive exclusive discounts on well-liked games, and continuing specials and promotions ensure that there is always something to play at a price you'll love.
You may add your purchases to your download queue from anywhere online to start playing right away. Content purchased via the PlayStation Store is added to your library in addition to being downloaded to your console.
You can download games, movies, and other items from the PlayStation Store with the Sony PlayStation Network Card. Previously, a credit card was necessary to make purchases from the PlayStation Store. These cards are accepted by the PlayStation Store on the PC as well as the PlayStation online browser.
All PlayStation 3, 4, PSP, and PS Vita models are eligible for the $100 discount. Cash can be used by people to buy games for their gaming consoles. You have the choice to either add $10 to your PSN wallet or donate it to friends after making the purchase.
After purchasing a PSN Gift Card, you receive a unique PSN code. The code is transmitted to your email and shown on the screen. You can activate your PSN Gift Card by redeeming the digital code on the PlayStation Store. To redeem your PSN code, choose between using your PlayStation system or the PlayStation Store. The PlayStation Network Gift Card has numerous applications that are well-known on a global level.
In addition to games, the PSN Gift Card can be used for movies, TV series, and PlayStation subscription services. To access the many games and add-ons that are available on the PlayStation platform, the PlayStation Network Gift Card is the best gift card to have if you enjoy playing video games.
How do PSN Cards work?
PSN Cards function incredibly well; these are digital gift cards that let you buy the item immediately from the PlayStation Store. These cards save time by removing the have to visit the gaming store each time you wish to make a purchase.
Adding money to your PlayStation credit so you can purchase games, subscriptions, and in-game cash is straightforward with PSN Cards. You can be certain that you will always have access to these cards. Since all of your transactions are connected to your account, you don't need to worry about how to access them if you switch devices.