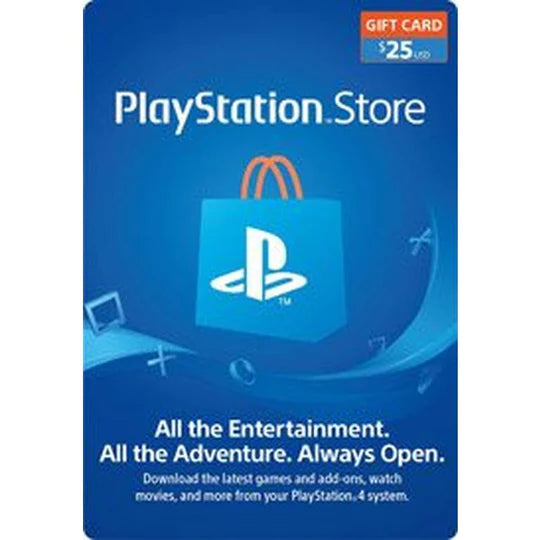 Buy online psn card (Qatar, Uk, Us) - Think24
Buy online psn card (Qatar, Uk, Us)

The Psn collection is a digital media entertainment service that is provided by Sony Interactive Entertainment. The Network was launched in launched in November 2006. It was originally conceived for the PlayStation video game consoles, but then extended to encompass smartphones, tablets, Blu-ray players and high-definition televisions. You can use the PlayStation gift card to make purchases. It gives access to online playing and also can be used to purchase games for download. When you buy a PlayStation Store gift card from an online retailer, the retailer will email you a code to redeem via digital store on your PlayStation console or via any web browser. The PlayStation Store is a digital store that is available 24 hours a day, seven days a week, with the world's largest library of PlayStation content. It covers thousands of games as well as add-ons, in-game credit, season passes, and much more, available on PlayStation console, computer, or mobile device.
What is a PSN Gift Card?

A PlayStation Network Card (PSN) card can easily recharge your PlayStation credit to buy PlayStation games, PlayStation memberships and in-game credit. This is a digital gift card that makes it possible for you to buy product directly from the PlayStation Store. You can choose from PSN Gift Card values of 15 pounds, 20, 25, 30, 35, 40, 50 and 100 pounds. Moreover, you can directly redeem the PSN code in the PSN Store. The PSN Gift Card is region-locked, so you would not be able to use PSN Card codes from different countries in your country. Your PSN Gift Card codes expire one year after the date of purchase, so make sure to put your cards to use as soon as possible.
Why to Use a PSN Gift Card?

A PSN gift card helps you buy PlayStation games and add-ons from the PlayStation Store. If you spot a new game or an interesting discount in the PlayStation Store then a PSN voucher ensures you have enough PlayStation credit on your balance. The PlayStation Gift Card can also be used to buy PlayStation subscriptions. If you want to play games on-demand then you can buy a PlayStation Now subscription with your fully topped-up PSN wallet, this gives you access to hundreds of PlayStation games. Furthermore, a PlayStation Gift Card can be used to buy Spotify subscription. It enables you connect your Spotify account to PlayStation Music to always enjoy your favourite music while gaming. The PSN Gift Card can top up your PlayStation credit that can be used for all purchases in the PlayStation Store, including in-game credit. The PlayStation credit can be used to buy or renew a PlayStation Plus membership as well so there is no need to order a PlayStation plus Card separately.
After you buy a PSN Gift Card, you receive a unique PSN code. The code appears on screen and sent to your email address. Your PSN Gift Card can be activated by redeeming the digital code via PlayStation Store. Your PSN code can be redeemed via your PlayStation console or PlayStation Store. The PlayStation Network Gift Card is a gift card known worldwide for its uses. The PSN Gift Card can be used not only for games but movies and TV shows as well as PlayStation subscription services. But if you are a gamer, the PlayStation Network Gift Card is the best gift card for you to have in order to access the wide range of games and its add-ons available on the PlayStation platform.
How to Redeem PSN Gift Card?

Fortunately, redeeming a PlayStation Store gift card is easy no matter what console you have, or on a computer. You will need the code to redeem your gift card and fir this, check your email for the digital code or scratch off the back of your physical gift card to reveal the code. To redeem codes of your PSN Gift Card, you need to follow these steps:
In the PlayStation Store click on your avatar located at the top of the screen.
Click Redeem Codes from drop-down menu.
Enter your digital code carefully and click on Redeem.
Funds will be applied to your account.
How does PlayStation Store Gift Card work?

The PlayStation Store has a Gift Card program like every other digital store. These gift cards can be purchased basically anywhere either physical or digital. This makes them fantastic to gift for any occasion. In case you are looking to pick up some of the best PlayStation games or some of the hottest games to come out of the last couple of years, giving and receiving PlayStation Store gift cards is always a good idea.
In case you try to purchase an item that costs more than what your gift card was redeemed for, then you can select to pay the remaining difference through another means of payment like a credit card. For example, you want to purchase a $60 game but your gift card was only good for $50, you can use up that $50 and pay the remaining $10 with a credit card. Choosing the perfect gift for someone can be difficult, and that is where gift cards come in. The PlayStation Store Gift Card can make the perfect decision for gifts while you have the knowledge of providing the means to do so.
PSN Gift Cards in Qatar
SONY PSN Card 10$ (Online Game Card) PSN US Account – 40 QAR
SONY PSN Card 50$ US Account – 195 QAR
SONY PSN Card 100$ (Online Game Card) PSN US Account – 399 QAR
SONY PSN Card 50$ US Account – 195 QAR    
SONY PSN Card $20 – 80 QAR
SONY PSN plus Card, 3 Month Membership Cards PSN US Account – 92 QAR
PlayStation Store Gift cards have become a popular option as presents for holidays and special occasions. These are easy to purchase from a physical store or online. The PlayStation Gift cards come as physical plastic cards or digital codes loaded with a specific amount that the recipients can use to buy whatever they want. These gift cards can be used to buy store-specific items, and even come with perks, such as discounts and freebies. 
Everything you can do with PlayStation Gift Cards

When you get PlayStation Card as a gift, it opens you to a whole lot of ways to use them. The PlayStation gift cards are a convenient way for you to purchase games without breaking the bank. You can purchase them while chilling at home; just open your console or any web browser, type in the code and enjoy new games. The gift card lets you download add-ons as well. If you are a fond of online games, the PlayStation gift cards are an easy way to avail of PlayStation Plus. The amount of your card can be used to register or continue existing subscriptions for endless gaming fun. If it is difficult for you to decide whether to download new games or subscribe, you can store your gift card's amount in your PlayStation Store Wallet in the meantime. In this way, you can have some funds in-store when they have attractive deals in the PlayStation Network Store.
Sometimes it is fun to play that you forget that PlayStation also doubles as an entertainment and media console. The redeemable codes from your PSN gift cards allow you to download movies and shows. These cards also let you upgrade your gaming music playlist by using Spotify account. You just need to login and use your credits to choose chart-topping hits and add them to your favourite tunes that you can listen to while playing. The PSN Gift Cards work for your convenience and they get better if you share them with others. With around 114 million users worldwide, there is probably one or more of your friends or colleagues who use PlayStation.
When you send a gift card or code, it allows them to access thrilling games, download music and movies, top up their play store's balance and even pay for their PlayStation plus subscription. They also get the same advantages as you, additionally; Play Store Gift Cards boost gaming experience. It feels great to get a PlayStation gift card as a present because not only does it show the giver's thoughtfulness, but also that they know what you need the most as far as your games are concerned. The redeemable code can be used to ramp up your game with add-ons. You can try out new games, or build your fund in your wallet. Furthermore, you can also them for music and entertainment. Apart from using PSN gift cards on your console and gaming experience, you can also share gift cards with your friends and family as it is or as part of a care package. These let you establish connections with co-workers and the community when you use them as prizes for games or donations for charitable causes.