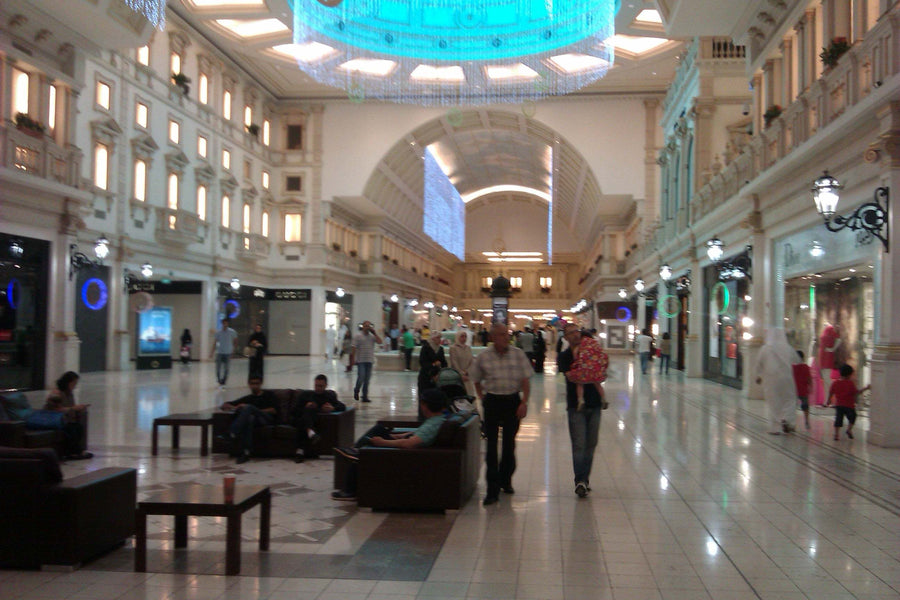 Online Shopping Qatar: Best Online Sites, Centrepoint Qatar Shopping
These days, ordering the majority of your goods online is the ideal choice because there are almost never any checkout lines and you don't even have to leave your house.

The newest online shopping portals offer users faster transaction speeds as well as secure transactions.

Due to the quick advancement of technology, business organisations have switched from traditional methods of selling to electronic ones.

Centrepoint maintains the great level of value that customers have come to expect while carrying a selection of products from all four brands.
The popular procedure of visiting online stores, putting desired items to the cart, checking out further, paying, and having your goods delivered directly to your home is currently in vogue. Before making a purchase from an online merchant, you should consider a number of factors; otherwise, you run the risk of wasting your money.
Customer satisfaction is the most crucial factor to look at before making an online purchase. Refunds, simple returns, and a cancellation policy are all part of this. Before making an online purchase, it's crucial to consider the delivery time. Numerous websites for local shopping provide quick delivery while also efficiently handling their return and refund procedures.
The internet has altered the way we shop. It is no longer necessary to drive to the neighbourhood mall. Finding a parking space is not a concern, and time is not lost seeking for a certain item. On a reliable online store, same-day delivery is an option.
Mart
Talabat
It is a branch of Talabat, a well-known online retailer of meals, which also provides online shopping for groceries and other necessities. It allows you to order from a vast assortment of daily foods, including meat and poultry, fruits and vegetables, frozen items, soft beverages, and more. In Talabat Mart's exclusive "Love Qatar" area, you may find some of the best products made in Qatar. Simply said, they deliver swiftly in 20 to 30 minutes.
Mzad
Qatar
It is a smartphone application that allows users to simultaneously shop online and find used products in their classified advertisements. The app offers cash on delivery on the same day and a large selection of products.
It is an online retailer of electronics with a large selection of high-end devices. Orders over 100 QAR qualify for free delivery, which is provided within 24 hours of purchase.
GetIt.Qa
With a wide range of product categories from both domestic and international companies, this is one of Qatar's biggest online markets. You may buy everything from furniture to home appliances to electronics and stationery to clothing and food.
Online Payment with Delivery
Integrated e-delivery solutions are available from Qatar Delivery and the Qatar Postal Service Company for usage by businesses and governmental institutions (Qatar Post). There are options for tracking and receipt confirmation, as well as pick-up, delivery, and cash-on-delivery services.
Due to the numerous benefits, more and more individuals today choose online purchasing over traditional shopping. With a rapidly expanding global trend toward online purchasing or e-commerce, the internet has made doing business much easier and faster as well as changed the way individuals conduct themselves. Many shoppers choose to shop online to purchase products from a variety of brands and companies that are inaccessible in their home country. 
Business companies have switched from the traditional method of selling items to the electronic approach as a result of the quick development of technology. The internet serves as the primary mode of transportation for businesses while doing transactions. Thanks to new technology and the support of the internet, people have been encouraged to make purchases while simply relaxing in their homes.
CenterPoint Qatar Online Shopping
The current online retail sites offer faster transaction speeds and secure transactions by not disclosing user information to a third party. The trader who sells his products on an internet shopping website with an appealing display is also provided with respectable company earnings by the online shopping websites. As a result, an increasing number of companies nowadays choose to have an online store, which fuels the growth of the e-commerce web development industry.
Four outstanding brands are gathered under one roof by Centrepoint. Together, Babyshop, Splash, Shoe Mart, and Lifestyle have created a one-stop family shopping centre. Centrepoint carries a variety of goods from all four brands while maintaining the high level of value that customers have come to expect.
Best Online Shopping in Qatar 
There are a large number of online shops in Qatar. The choice of the appropriate internet stores at this point can be quite difficult. Depending on what you're buying, you should choose a store. For instance, some stores are recognized for their excellent bargains on grocery items, while others are known for their large selection of technological products.
Almotahajiba
If you want to purchase a stylish shirt or a lovely dress for yourself or as a gift, you should do it here. It is one of the most well-known brands where you can find a variety of collections of high-end fashion items. Almotahajibe is a well-known brand throughout the entire Arab World, not only in Qatar. To safeguard your delivery against any loss or damage, they also provide shopping insurance. 
Al-Anees-Qatar
A large selection of electronic devices, including mobile phones, cameras, laptops, gaming equipment, etc., are available from Al-Anees Qatar. You can make purchases there personally or online. There are other ways to place an order, including a smartphone app, WhatsApp, or Facebook. It also provides services for cash on delivery.
Sky Lynx
It was introduced in 2011 and is well-recognized for its extensive selection of computers and things related to computers, including laptops, desktops, tablets, and gaming consoles. So Blue Lynx is undoubtedly your best option if you want to get a PC.
Baqaala
One of the greatest places to buy groceries is Baqaala since it delivers high-quality foodstuffs including meat, fish, vegetables, fruits, and other things in a hurry. Online grocery buying requires quick delivery, thus it must be done. Baqaala makes a strict effort to uphold that.
Doha Carrefour
One of Qatar's largest hyper store firms is this one. Since its start in 1999, it has grown to include five supermarkets and one hypermarket. Customers can choose from a variety of different things offered by it.
Qatar discounts
It sells appliances, kitchenware, electronics, and home goods. The best part is that it offers a tonne of deals, discounts, and coupons. It can be a good destination for you if you want to save some money.
Online shopping in Doha
It offers a huge selection of clothing for men, women, and children. Additionally, they provide a wide selection of watches, luggage, fragrances, and accessories. It provides pay-upon delivery.
Qatari Ikea
IKEA is the finest option if you're looking to purchase high-quality furnishings. It is a well-known furniture brand with a wide selection of high-quality, reasonably priced, and simple-to-assemble furniture. You may choose the ideal furniture for your bedroom, living room, or bathroom finishings from more than 1800 goods with ease.
Jazp
It was introduced in 2018 and quickly rose to prominence as one of Qatar's top online shopping destinations. It offers a large selection of technological devices, sports equipment, fragrances, etc. The Jazp website allows you to rate products, earn badges, and receive incentives.
Next Qatar
One of the largest online retailers for fashion is Next Qatar. It is a British multinational corporation that sells a variety of apparel, shoes, and household goods.
In conclusion, there are many benefits to internet buying and justifications for doing so. It shouldn't come as a surprise that large corporations are witnessing considerable gains in online sales because internet retail offers significant and clear advantages over physical stores. People who believe 2-day delivery is too slow will there always be. Yes, and there will always be folks who prefer browsing and conventional in-store shopping.