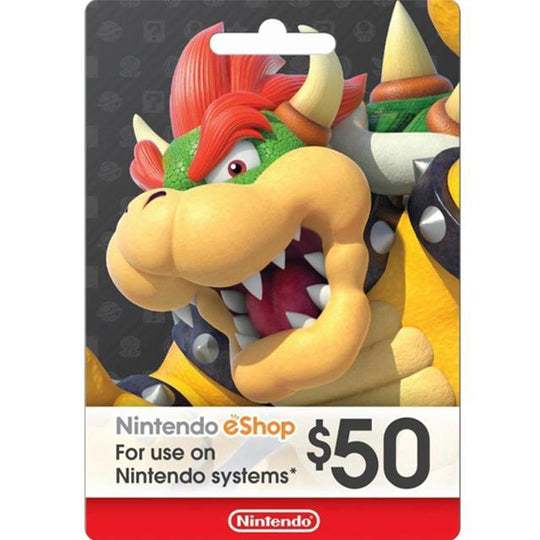 Nintendo Switch Game Store, Nintendo Card & Switch Game Card
Nintendo Switch Game Cards make the ideal present for everybody who enjoys playing with more than 1,000 new, retro, and independent games.
You can use your Nintendo Account to buy digital software for the Nintendo Switch from the Nintendo Game Store once you have made one.

It is best to buy Switch Game Cards since you can use them to pay for Nintendo Switch Online.
The Nintendo Switch is the first gaming system of a new era. It was made to be portable so that players could get a full home console experience whenever and wherever they wanted. To enable new video game playing methods, the power of a home gaming system is now combined with the portability of a portable. It sits in the Nintendo Switch port at home, which docks it to the TV so you can play with loved ones and friends on a big screen. On the go, you merely take it with you by removing it from the dock.
These cards make the ideal present for everybody who enjoys playing, including you. Pick from more than 1,000 new, retro, and independent games that are delivered to your Nintendo Switch, Wii U, or Nintendo 3DS system.
Nintendo Cards Price
Select the cost that is appropriate for you: $10, $25, $50, $99

Apply it to your Nintendo

eShop

account in a matter of seconds; it's simple.

You will always have money available to buy new games and programs thanks to this.

No credit card is necessary; it is made for your Nintendo Switch Game Store transactions.

It is likely that any Nintendo Switch owner you know purchases games and other digital items from the Nintendo Switch Game Store. Nintendo provides store gift cards in various denominations at the most significant stores to make Christmas shopping simple. Even digital vouchers are available for immediate redemption online from retailers like Amazon and Best Buy without the need for paper or waiting.
Selection of Titles
When choosing the amount of a gift card for that particular Nintendo lover in your life, keep in mind that recently released titles frequently cost more than $60 after taxes. Nintendo, on the other hand, offers a wide range of games for under $50, and eShop gift cards may be used to buy add-ons for games like expansion packs and character unlocks. After use, the unused portion of an eShop gift card will remain in the user's account.
Gift cards can be used for more than just special occasions; they can also be used to control kids' spending on micro-transaction games like Fortnite and keep them from getting access to an adult's credit card.
Physical Nintendo eShop gift cards are available from retailers in four different value ranges: $10, $20, $35, and $50. Currently, you may purchase digital eShop cards for $5, $10, $20, $35, $45, $50, $70, or $99 each. To redeem eShop gift cards, utilise a Nintendo Switch console or the company's website.
You must create an account in order to use the Nintendo eShop, however gift card purchases can be performed without a credit card. Gift cards can be used to purchase games from the eShop by owners of the older Nintendo 3DS portable, but they must do it directly from the device.
A subscription service called Nintendo Switch Online is also accessible from some retailers to play the majority of Switch titles online. Members also have access to a variety of classic Nintendo games. This service, which costs $20 for a single Switch console or $35 for up to eight Switch consoles annually, is only available to Nintendo Switch console owners. Nintendo Switch Online gift cards are also available for three months for $8, but given how low the annual subscription is, we don't recommend it.
Nintendo Switch Online Subscription
If you buy a gift card for someone, their Nintendo Switch Online subscription will be extended for a maximum of three years. Access to games from the Sega Genesis and Nintendo 64 consoles, as well as expansion pack content for the Switch game "Animal Crossing: New Horizons," are now available with a $50 Nintendo Switch Online upgrade. Despite the fact that we adore the Nintendo Switch Online bundle as is, we are unable to recommend gifting the $50 addition as a present just yet.
You can either use funds that are already in your account or add fresh ones at the moment of purchase to purchase a game. Both a Nintendo Account and an Internet connection are
required to access the Nintendo Switch eShop. Details of your Nintendo eShop transaction will be sent to the email address linked to your Nintendo Account.
Nintendo Account
You may use your Nintendo Account to buy digital software for the Nintendo Switch from the Nintendo eShop once you have made one. Purchased downloadable software is linked to your Nintendo Account and can be used on your main Nintendo Switch system as well as, under some circumstances, additional Nintendo Switch consoles where your Nintendo Account is linked.
Nintendo Store Gift Card vs. Switch Online Gift Card
In the end, it is probably best to just buy eShop gift cards since you can use them to pay for Nintendo Switch Online. This choice significantly widens the selection of things that your recipient can buy. Nintendo also offers an online store where you can buy t-shirts and souvenirs in addition to Switch games and consoles if you are looking for more video game gift suggestions.
What can You Buy from Nintendo Online Shop?
Since Nintendo has been around for years, purchasing a Nintendo eShop card online grants you access to:
More than 1,000 games

Brand-new titles

Vintage titles

Independent games
With a card, which is available in denominations of $10, $20, $35, and $50, you may get your favorite games delivered right to you: The card can be used to buy games for every member of the Nintendo family of consoles. When the GameCube and SNES were still available when I was a child, I would have liked this so much. Simply said, Nintendo has a ton of fantastic, family-friendly games.
Kids and teenagers will be as excited to receive their eShop card as an adult would be. It is a fantastic, adaptable method of using gift cards. You can use your card on almost all of Nintendo's platforms, thanks to their thoughtful design.
Impressive Sales
Nintendo's most recent platform was odd, but it has been an absolute smashing success. The Nintendo 
Switch is still selling well even though it was out in 2017, and its first-party titles are consistently at the top of the rankings. The hybrid platform has sold over 111 million units globally, putting it on track to achieve larger lifetime sales than giants like the PS4 and Xbox One. The hardware sales also continue to be impressive.
Although there are millions of Nintendo Switch consoles out there, many players are still debating whether they should buy one. Since the console has been around for a while and there are ongoing rumors that a successor is on the horizon, there are numerous reasons to be wary. In addition, it appears to be significantly underpowered in comparison to other game consoles available. But the Nintendo Switch will still be a wise choice even in 2022 because of its steady stream of excellent first-party games.