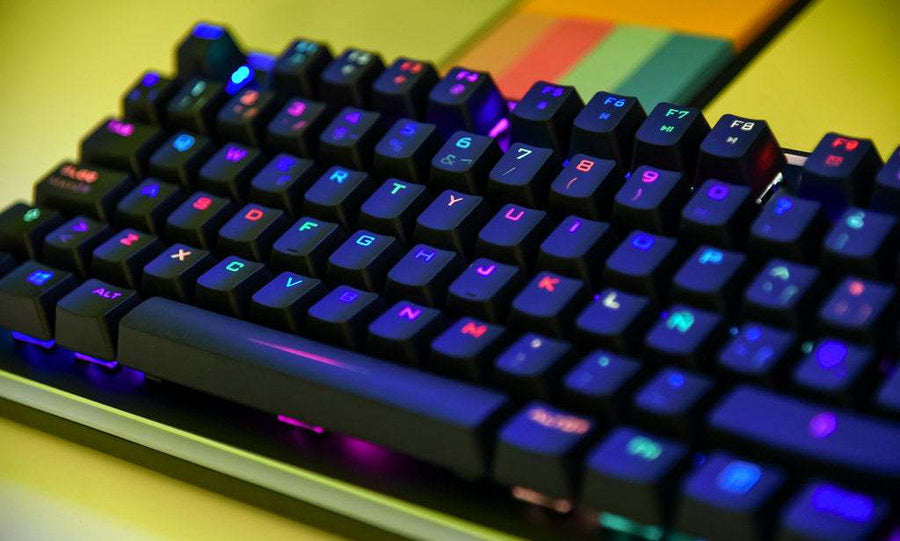 MSI Vigor GK80 Mechanical Gaming Keyboard
Buy online best deals of Gaming Keyboard Qatar
The rigid, lightweight aluminum constructed MSI Vigor GK80 keyboard is a solid base for gaming. Its Cheery MX Red/Silver mechanical switches provide responsive feedback and impressive lifespan. The RGB illumination supports a large number of colors and multiple lighting effects, customizable via RGB Mystic Light utility. For an unmatched durability, the frequently used keycaps are built with zinc alloy. In addition to this, the included palm rest guarantees comfort during extended gaming sessions. The gaming keyboard Qatar features dedicated media keys for easy access to volume controls and play/pause favorite tunes. Furthermore, an integrated USB pass-through port is also included to connect other peripherals.
Glorious Gaming Keyboard
The compact modular mechanical keyboard qatar comes preinstalled with Gateron brown switches & black keycaps. The keyboard has customized compact size, macros and hotkeys, discreet LED indicators and sandblasted aluminum faceplate. The Glorious Gaming Keyboard is an excellent keyboard, but its high latency might disappoint some gamers. The keyboard has Gateron Brown switches that seem to have a bit more pre-travel than other gaming keyboards.
Logitech Keyboard
In 2009, the Logitech G19 had everything a gamer wants, including two powered USB pas through connections, dedicated media controls, 12 macro keys, and RGB backlights. The Logitech G19 is one of the only two full-sized keyboards with a colored LCD screen powered by USB. The LCD panel on the G19's objective utility was debatable and adored by a lot of people. Other manufacturers also released identical devices but none could match the Logitech G19's visual impact.
Logitech G915 Wireless Mechanical Gaming Keyboard
This gaming keyboard features pro-grade light-speed wireless that achieves super-fast 1ms performance. G915 is a feat of engineering, crafted from premium materials, incredibly refined, impossibly thin, and built with a no-compromise commitment. Logitech G915 is truly the next generation of gaming with its durability, comfort and intense gaming.
Logitech's G915 is first keyboard to feature high performance low-profile GL mechanical switches. These switches are rigorously tested to meet strict endurance, responsiveness, and accuracy requirements. The Logitech's office keyboards are available in ergonomic designs or are portable enough for mobile use on the go. The company makes mechanical keyboards that almost any gamer should be comfortable with.
Apart from the Logitech's office-oriented products, they also offer high-quality gaming choices. The best Logitech gaming keyboard is the Logitech G915 LIGHTSPEED. It is a low-profile keyboard that feels well-built and comfortable during long gaming sessions. Most importantly, its latency is outstandingly low, and the GL Tactile switches have a very short pre-travel distance.
Logitech G413 Keyboard
Along with premium gaming options, Logitech also have budget models equipped with simple features and high-performing components. The Logitech G413 is known for the best budget gaming keyboard from Logitech. Its latency is better than other premium boards, so it is well up to the task of gaming in any genre. The keyboard uses Logitech's proprietary Romer-G tactile switches, offering a light typing experience with a soft tactile bump and a short pre-travel distance.
Logitech K380 Keyboard
The Logitech gaming keyboard K380 is best option for mobile devices as it is a compact 75% keyboard with a row of media keys at the top that help users skip through playlists without opening music app. It is also very lightweight, and is small in size that makes it easy to carry while travelling. There is no USB receiver so you can wirelessly connect it using Bluetooth. The keyboard is compatible with most operating systems, giving you connectivity with android tablet or an iPad. However, the companion software, Logitech Options, is only available on Windows or macOS.
Best Gaming Keyboards
The key companies covered in the global programmer and gamer keyboard market research report are CORSAIR, Logitech, G.SKILL International Enterprise Co., Ltd., Cooler Master Technology Inc., ASUSTeK Computer Inc., Fujitsu Limited, Hewlett-Packard Enterprise Development LP, Microsoft Corporation, Turtle Beach, Inc., Razer Inc., Cherry AG, and others.
MSI Vigor GK50 – Low Profile Gaming Keyboard
This low profile keyboard provides speed, precision, and endurance to the gamers Its moderate operating point and travel distance bring the accuracy you according to your expectations. The slim and lightweight design is enough to give it a stylish look. Also, its ergonomic high-low keycaps keep your hands in a comfortable position. The VIGOR GK50 comes with millions of colors and stunning customized RGB lighting feature that allows you to create various and unique effects. The brushed metal top and matte coating keycaps makes the design durable and won't let fingerprints stay on the surface
MSI Vigor GK70 Mechanical Gaming Keyboard
The Vigor GK70 holds cherry MX RGB Red switches with lightweight aluminum construction especially designed for concerned gamers. With its different playstyle switches, users can customize unique playstyle having their favorite gaming LED effects. The Mystic Light let the gamers change the outlook of their keyboards by choosing from millions of colors and multiple light effects for their setup.
It also offers 100% ghosting free performance with its N-Key rollover technology. The hotkeys indicated on the keyboard provide direct control for MSI GAMING motherboards and graphics cards. The Vigor GK70 Gaming Keyboard is especially crafted for gamers to give them a solid platform for years of intensive gaming. Additionally, the long USB cable is braided and connector is gold-plated for an extraordinary durability. One can set up own keyboard style as the Vigor GK70 offers two different versions of keycaps, one set with luxury metal cover and the other set is textured using double injection of rubber surface.
Razer Keyboards – Better Gaming Experience
The pre-history of Razer Keyboard dates back to 1998 but since the company has steadily grown to etch itself as a dominant brand since 2005. With a huge community following, the brand has become a lifestyle choice all over the world. Razer keyboards is a must buy if you have a plan of using them primarily for gaming. It is because the company offers all the right features to improve the gaming experience.
The Razer BlackWidow has always been the gold standard for gaming keyboards, and now its components have reached to an updated Razer; Mechanical Switch and Multi-Function Digital Dial. From full size control panels to minimalist decks and stripped back, Razer keyboards come in all shapes and sizes. The minimalist decks cover a range of styles and mechanisms with an excellent response and premium feel as well. Even cheaper membrane decks are popular for their durability and price to performance ratio, offering a set of luxury feeling keys without breaking the bank. While Razer offers a massive range of excellent gaming keyboards, the company also has a solid range for office as well.
Razer Huntsman Mini
The Razer Huntsman Mini Analog is a 60% gaming keyboard that offering unique levels of customization to help it stand apart from the competition. With adjustable switch and controller emulation features, it is a keyboard that tries to cater to every need.
Razer Huntsman Mini is highly portable and ideal for streamlined setups. Its optical switches offer faster, lighter, and smoother actuations than mechanical switches, they also lasts longer as it requires fewer moving parts that operate with less friction.
The Razer Huntsman Mini is ideal for minimalist or smaller setups where desk space is a premium; it travels well and is easier to position while gaming. To provide greater durability, the keycaps on this gaming keyboard have a premium, textured quality and for easier reference, side-printed secondary functions have also been added. A detachable cable latch ensures that it stays securely connected during gameplay. The clean matte finish casing on Razer Huntsman Mini is robust enough to withstand long hours of intense, regular use.
On the whole, Logitech and Razer are very different in terms of what types of keyboards they make. Logitech has a wide range of keyboards, from gaming keyboards to mobile models whereas Razer focuses on gaming keyboards, but they have also started to design mechanical gaming keyboards aiming at office use, available in different switches.
While looking for the right gaming keyboard, sticking with a trusted brand is a safe bet for getting long-term, low-latency gameplay. There are some gaming features that might be a little over the top, but there are others that can help make your overall experience better. It is important for us to know about what we actually want out of our keyboard so we do not have any surprises or disappointments when it comes time to pick one up.