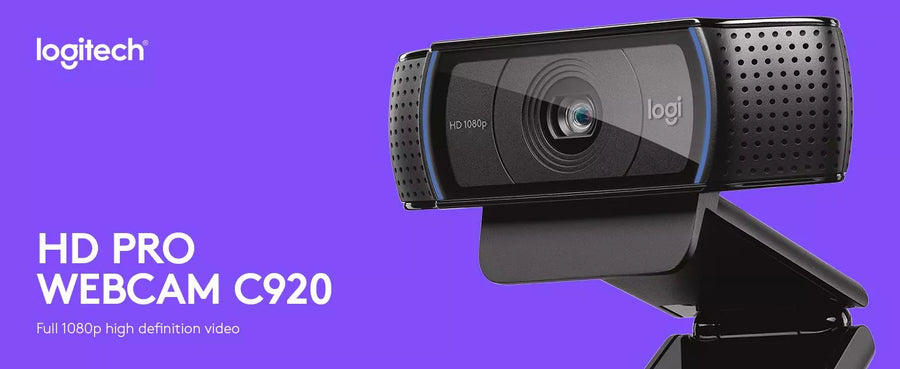 Logitech Webcams – Best Webcams by Logitech 2022
Logotech Webcams – Best Webcams by Logitech 2022
Since it has always released high-quality products, Logitech also makes the best webcams available.
The Logitech C920 is the best webcam you can buy today when cost, quality, and performance are all taken into account.
For all video calls, Logitech HD webcams offer a sharp, vivid, and clear image along with true color and automatic light correction to optimize for any room setting.
Logitech Webcams
The correct Logitech webcam can be extremely helpful whether presenting at a virtual conference, conducting remote meetings with coworkers, learning or teaching in an online classroom, or working as an online influencer. There are several camera models from Logitech, with prices ranging from $40 to $200. It's crucial to understand which suits your needs and home office in light of this.
The best Logitech webcams are the webcam equivalent of the holy grail. Even the inexpensive ones that were extremely difficult to find during the lockdowns are now readily available, although they may have been temporarily out of stock during the pandemic.
Webcams from Logitech are of the high quality always and they are among the best webcams available, with strong sensors and drivers, sturdy construction, useful functions, and a cost-effective price. The imitations that abound in third-party merchants simply pale in comparison to these.
Since many professionals now work from home or use a hybrid work environment, webcams are just as essential to our day-to-day lives post-pandemic. Especially at back-to-school times, when video calls are becoming more and more prevalent in schools and universities, even students need them. You should therefore spend money on a high-quality video conferencing camera.
Logitech C920
Despite being released back in January 2012, the Logitech C920 is still the best webcam you can buy today when cost, quality, and performance are all taken into account. It is a beloved favorite among streamers, content creators, and office professionals alike. This webcam's quality and features frequently render much more expensive products unaffordable due to its clear 1080p HD resolution, fantastic lighting, and color detection.
It works well in low-light situations and doesn't require setup, making it ideal for remote workers who use a variety of devices. The smooth 30FPS ensures that you won't look like a stuttering mess when you need to look your best.
 Logitech HD Webcam C310
If you're not interested in spending a lot of money on a product with more features, the Logitech HD Webcam C310 is the best combination of price and quality you can get. The 720p C310 has a 5MP camera and Logitech's RightLight 2 auto-light correction technology, which ensures that you are always displayed in the best lighting possible regardless of the environment.
Logitech StreamCam
For streamers and online broadcasters who want buttery smooth and high-quality video without the hassle of setting up a mirrorless camera and a capture card, the Logitech StreamCam is one of the best Logitech webcams. With few (if any) adjustments required, you can start using Logitech's newest release as soon as you plug it in.
Logitech Brio Webcam
If you have been looking for something a little punchier than the typical 720p or 1080p choices, the Logitech Brio is what you need. The Logitech Brio has introduced high fidelity to the world of the best webcams with a 4K UHD resolution and HDR. For anyone who prefers to make video recordings over live broadcasts and doesn't want to deal with the hassle of setting up a camcorder or DSLR, this makes it the ideal option. Additionally, it features a multi-positioning mount that gives you complete flexibility over where your new Logitech webcam will be placed and Windows Hello functionality.
Logitech C925e Business Webcam
The Logitech C925e Business Webcam is a good option for anyone who has to make calls in a setting where bandwidth is shared. Your reliance on computer and network resources can be reduced thanks to the H.264 with Scalable Video Coding, providing you with fluid streams during those crucial calls.