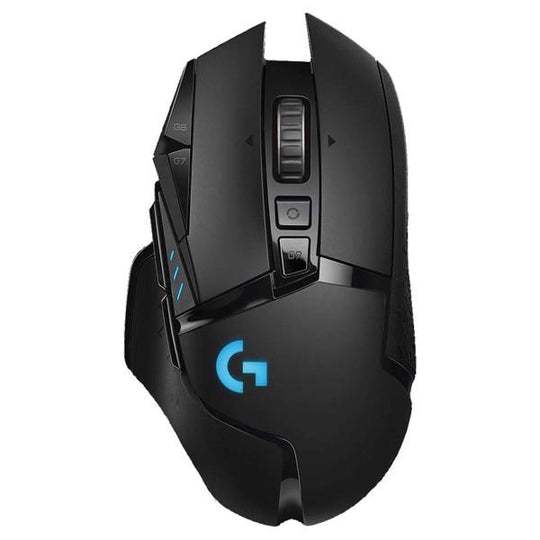 Logitech Mouse: Best Logitech Mice 2022
Logitech

 

is the top maker of peripherals and its mice are extremely having excellent overall sensor performance.
A

 

Logitech mouse

 

is a flexible choice for folks who own both Windows and Mac computers because it is also compatible with

 

macOS

.

Logitech Mouse has an excellent ergonomic design that makes it comfortable to use for extended periods.
One of the greatest options when purchasing computer accessories is a Logitech mouse, whether you want to use it for work, games, or education. It is suitable for many people who frequently use computers because it is cozy, accurate, and simple to use, and it is also reasonably priced. Computer accessories are produced by Logitech. They provide speakers, keyboards, mice, and numerous other components for computers.
Since Logitech mice are optical, they track movement using a light source. An LED included in the mouse glows through the lens and onto the surface of your desk or table. The mouse on your desktop keeps track of how much of this reflected light is being obstructed by various desktop objects as you move the mouse around. The computer then receives this data through a USB cable, converting it into screen cursor motions.
Logitech – Top Peripheral Maker
One of the top makers of peripherals is Logitech. Typically, Logitech mice are extremely well-made and have excellent overall sensor performance. The Logitech G PRO X SUPERLIGHT is the greatest gaming mouse made by Logitech, although the company is in charge of creating a strong array of mice. It is quite lightweight, as its name suggests.
Extremely well made:
The majority of Logitech mice feel robust in the hand. The buttons are snappy and clicky, and the mice don't flex very much.
Outstanding sensor performance:
Logitech is renowned for producing high-performance mouse sensors that are accurate and consistent, especially on their more gaming-oriented models. 
Robust customization possibilities:
The G HUB software from Logitech offers many customization options, whether you want to manage RGB lighting or sensor settings. A Logitech mouse is a flexible choice for folks who own both Windows and Mac computers because it is also compatible with macOS.
Tough cables: 
The strong cords of Logitech's wired mice frequently tangle and hold kinks from the way they were packaged.
Logitech G502 HERO High-Performance Wired Gaming Mouse
Through a free software update from G HUB, all gamers can access the Hero 25K sensor: Our most sophisticated, featuring 1:1 tracking, 400+ IPS, a maximum sensitivity range of 100–25,600 dpi, and zero smoothing, filtering, or acceleration.

There are 11 programmable buttons and inbuilt memory. Custom commands can be assigned to the buttons, and the mouse can store up to five ready-to-play profiles.

Weight system with adjustment to adjust the mouse's weight and balance to your specifications, you can place up to five removable 3.6-gram weights inside of it.

Programmable RGB Lighting and Light sync Technology:

 

Choose from approximately 16.8 million different color combinations to match the colors of your team, wear your own, or coordinate with other Logitech G gear.

Mechanical switch button tensioning:

 

The left and right gaming mouse buttons have pivot hinges and a metal spring tensioning system integrated into them for a crisp, clean click feel and quick feedback.
Logitech MX Master 2S Wireless Mouse 
Cross-computer control:

 You may copy and paste text, images, and files between three PCs without any lag while using Logitech Flow.

Dual connectivity:

 Connect up to three Windows or Mac computers using the built-in Unifying receiver or Bluetooth Smart wireless technology.

Ergonomic design:

 Your hand and wrist are supported by a precisely sculpted, hand-crafted design that is in a relaxed, natural position.

Auto shift scrolling:

 A scroll wheel with speed adaptation automatically switches from

clicking to scrolling at a high speed.

Rechargeable battery:

 Up to 70 days of use on a single charge
Logitech M170 Wireless Mouse
Black, USB, computer, scroll wheel, two buttons, wireless, optical, radio frequency, and radio frequency

Built-in 2-Buttons and a scroll wheel for quick page navigation and improved control over tabs in browsers Wireless connectivity gives users more freedom to handle their PCs remotely

Wireless pointing device technology: radio frequency

Total number of buttons: 2

A USB receiver will be included inside or with a wireless mouse if one is available.
Logitech G Pro Wireless Gaming Mouse 
Developed over two years in collaboration with professional esports gamers, the G Pro Wireless Gaming Mouse combines cutting-edge technologies with an incredibly lightweight design. 
Light-speed Wireless: Pro-grade performance surpasses the conventional constraints of wireless latency, connectivity, and power to give an incredibly reliable, lightning-fast connection.
Hero 25K sensor via a free software update provided by G HUB to all players: With up to 25,600 DPI and 10X the power efficiency of prior generations, Logitech's most precise sensor yet provides the fastest, most accurate, and most responsive wireless gaming experience possible. 32-bit ARM microprocessor
Extremely light: A cutting-edge endoskeleton design produces a remarkably thin yet incredibly sturdy outer shell, allowing the body to be 80 grams in weight and extremely maneuverable.
Ergonomic Ambidextrous Design: Esports professionals collaborated to create a tournament-ready mouse with 50 million click endurance. For maximum personalization, remove the four side buttons. The cable is 1.80 meters long.
Logitech Pebble M350 Wireless Mouse with USB or Bluetooth 
The Logitech Pebble has stand-out simplicity with a design that is pleasant to handle, feels fantastic in your hand, and is easy to carry around. It is contemporary, slim, and has a lovely pebble form.
Enjoy the same click experience with a noise reduction of over 90% with silent clicks and ultra-quiet scrolling.
Dual connectivity: 

use the integrated small USB receiver or Bluetooth wireless technology to connect however you wish.

Long battery life: 

A single AA battery powers the Logitech Pebble for up to 18 months. Battery life may change depending on the user and the environment.

Fast and accurate High-precision Optical tracking: 

The Logitech Pebble tracks where you want to use it
Benefits of Logitech Mouse
It is incredibly pleasant to operate a Logitech mouse, especially if you have small hands or long fingers.

They feel sturdy in your hands and have a nice grip.

Depending on what you want them to accomplish, you can configure the mouse's side buttons to do various functions.

Due to the lack of a cable needed to connect them to your computer, Logitech offers a variety of wireless mice that are simpler to use.

They are suitable for usage in sports as well because they are made to be more precise and accurate.
Users of Logitech Mouse
Logitech mice are great for people with arthritis or carpal tunnel syndrome, as well as anyone else who has trouble using their hands for extended periods.
Things to look for while buying a Logitech Mouse
Weight
It will be challenging to utilize the mouse for extended periods if it is overly heavy.
Design
A good Logitech mouse should fit your hand well and have a comfortable design.
Features:
It should also have the features you need, such as extra buttons for performing various tasks on your computer or gaming console.
Why Logitech Mouse so good?
Because of their excellent craftsmanship and dependability, Logitech mice are particularly well-liked. Even whether you spend the entire day at work or school using a computer, their excellent ergonomic design makes them comfortable to use for extended periods. Since the mouse is wireless, you can move around with it without being hindered by any cords. 
Because it contains an optical sensor, tracking will be precise whether you move the mouse quickly or slowly across your desk. When working on documents or browsing websites online, you can also obtain a resolution of up to 1000 dpi from this device, ensuring that everything seems sharp and clear.
Mid-Range Logitech Mouse
The Logitech G502 HERO is a great mid-range alternative if you're searching for versatility. Although it has a gaming mouse's core functionality, the best Logitech gaming mouse is the one that can also be used for productivity tasks and regular browsing. Additionally, it feels quite strong and has a right-handed design that is suitable for long gaming sessions or demanding workdays. It contains 12 total buttons, any of which can be programmed using the modification software.
Additionally, you can assign a G-Shift button, which enables quick access to the second set of controls. The scroll wheel may be tilted left or right for horizontal scrolling, and you can switch between a faster free-scrolling mode and a more precise notched scrolling option.
Click Latency
It performs well in terms of click latency, so there won't be any lags when you're playing. If you want to discover a level of sensitivity that seems perfect to you, you can carefully alter your CPI settings. All things considered, it is heavy compared to many gaming mice, and while it excels at managing a variety of game genres. The Logitech G502 LIGHTSPEED is a wireless alternative to this wired model, which is available. Surprisingly, this variant performs almost identically and is a little bit lighter. It is, however, considerably more expensive.
Wireless Logitech Mouse
The Logitech G305 LIGHTSPEED is a wireless all-rounder that won't break the bank. This mouse appears to be another gaming mouse, which means that its sensor performance and click latency are excellent. However, it doesn't have any flashing RGB lighting and doesn't have a to aggressive gaming appearance, so it fits in well in a home or office environment.
The Logitech G305 LIGHTSPEED is a wireless all-rounder that won't break the bank. This mouse appears to be another gaming mouse, which means that its sensor performance and click latency are excellent. However, it doesn't have any flashing RGB lighting and doesn't have a too aggressive gaming appearance, so it fits in well in a home or office environment.