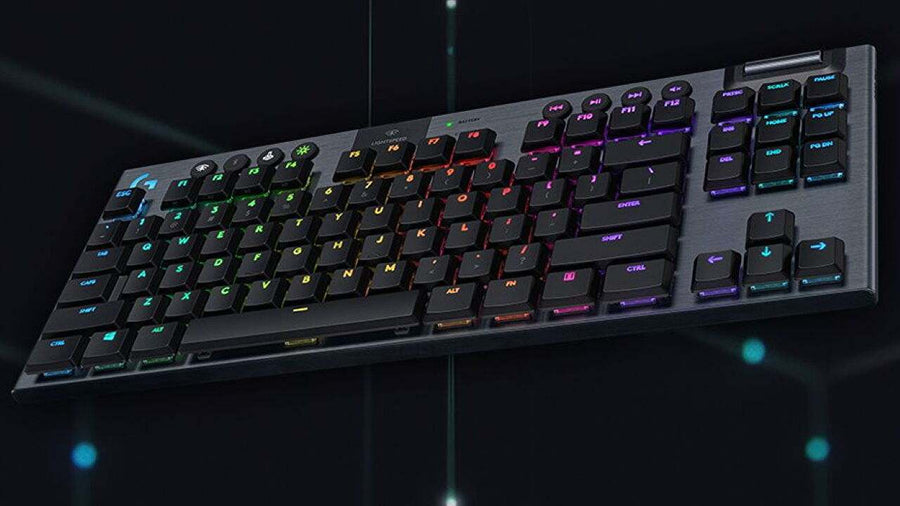 Logitech Keyboards: Why to Buy | Best Logitech Keyboards
Logitech Keyboards: Why to Buy | Best Logitech Keyboards
Logitech Keyboards are compatible with Windows and macOS along with numerous keyboard customization options.
Logitech has ideal keyboards with a wide range of sizes; full-size gaming keyboards and portable keyboards.
Logitech K380 is a preferred option for students and mobile workers because of its portability and affordable pricing.
In addition to offering responsive gaming keyboards and effective office models, Logitech also manufactures highly portable keyboards for mobile devices. You can be sure that you will receive a high-performing product whether you choose a mechanical unit or a straightforward scissor switch unit.
Logitech G915
The Logitech G915 LIGHTSPEED keyboard is the best Logitech keyboard we've tested. Whether you plug in the keyboard using its charging cable or its USB receiver, you'll have incredibly low latency that's ideal for any gaming genre, from slowly-paced puzzle games to intensely competitive battle royales. Additionally, it can be fully customized using Logitech's G HUB software, which allows you to program macros into the specific macro keys on the left side or change the RGB backlighting.
Logitech MX Keys
Maybe you are looking for something a little more basic, without RGB lights, mechanical switches, or bells and whistles. The Logitech MX Keys are a well-liked alternative in this situation and are certain to meet your needs. This wireless device is intended for office use and has a lot of small features to boost productivity overall and typing accuracy.
Keycaps 
One such element is the indented keycaps, which bring your fingertip to the key's center directly and reduce the likelihood of typos. It also offers a low-profile design so you may support your wrists by resting them flat on your work surface rather than bending them upwards as you type. This keyboard features a pleasant extra feature that makes it easy to read the key legends even if you're working late into the night: white illumination that illuminates through the keys.
Given that it contains a Numpad, the full-size MX Keys is a fantastic option for permanent office setups and data input activities. However, the small Logitech MX Keys Mini is also an option if you want something more transportable. It functions quite similarly to the full-size version but is lighter and easier to carry along because it doesn't have a Numpad.
Logitech K780
The Logitech K780 is a good option if the Logitech MX Keys are out of your pricing range. It's a simple keyboard that, like the Logitech MX Keys, makes use of scissor switches for quiet, light typing that is comparable to that of a laptop keyboard.
The K780 includes a device tray that runs the length of the keyboard, in contrast to the MX Keys. The sticky surface of this tray keeps a few mobile devices, including a tablet and phone, securely in place at a visible viewing angle.
Additionally wireless, the Logitech K780 comes with a Unifying receiver that can pair with specific Logitech productivity devices, allowing you to use only one receiver for a variety of peripherals. Alternatively, you can use Bluetooth to connect the keyboard to up to three devices. It doesn't feel quite as well made as the MX Keys, but it still feels fairly sturdy and is a good fit for stationary workspaces that also contain tablets or other mobile devices.
Affordable 
The Logitech K380 is a good choice for students because it is an affordable one. It fits easily into backpacks or laptop bags thanks to its diminutive size and light frame. Additionally, since it is entirely wireless, you won't need to worry about finding room for cables. It is powered by two AAA batteries, and according to Logitech, those batteries can last up to two years.
Why Choose Logitech Keyboards?
Logitech keyboards are a flexible selection for the workplace, gaming, and mobility. Both models for productivity and gaming are produced by Logitech. Whatever your requirements, Logitech probably has the ideal keyboard. Logitech has a wide range of sizes; full-size gaming keyboards and portable keyboards. Most likely, you'll discover the ideal size for your requirements. There are numerous keyboard customization options available with the Logitech G HUB and Logitech Options+ software. Both macOS and Windows work with them.