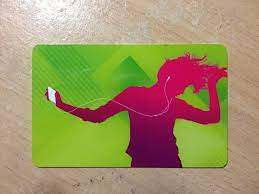 How to buy iTunes Card Online in Qatar, iTunes card Online – iTunes Card Price in Qatar
iTunes Card Price in Qatar
iTunes card online in Qatar lets you buy apps, music, movies, and software, and lets you select a movie or music album just by scratching the card.
iTunes Card online makes you forget going to the mall and suffering through traffic or long lines because everything that you want can be purchased online, therefore, it saves both time and money
There are many websites from where you can buy iTunes cards as a form of reward. So, it is hard to determine which site you should join and which will be worth your time
Apple iTunes Card Online in Qatar is mainly used to buy content online. These are used to expend signing for Apple Music and serve as credit cards. Users can also increase iCloud storage with the help of iTunes cards and these can help buy users real products like accessories or electronic gadgets. These cards are a wonderful gift that allows people to make purchases on the iTunes store. Furthermore, people can buy downloadable content including music, books, apps, and movies. The subscription of iTunes card online gives people access to a broad range of business podcasts, as well as business classes. When used correctly, iTunes online can be a gateway to information that makes a team more productive. 
One of the most discussed Apple-related topics is iTunes which has been around for almost 20 years and since then, it has been developing and changing along with the company's devices, and people around the world have been using it. iTunes Online first began as a music management program, with little business application outside the entertainment industry. The role of iTunes as a gateway to iOS devices makes it a useful tool for enterprises and their employees. It allows them to exchange audio recordings of conferences and transcripts across devices. It is easy to buy iTunes Gift Cards if you live in Qatar and have trouble finding, and purchasing these cards from a reliable source then the iTunes Store have music and movies available in Qatar for you but oftentimes they cost more. People can now easily watch all of the US shows they love. 
How to buy iTunes Card Online in Qatar?

iTunes Gift Card sale are purchased in Apple retail stores, or online to be delivered later by email. When you receive a gift card, you can use it for any in-store purchase, whether it is Apple hardware, accessories, or boxed software. These cards can be utilized for the purchase of accessories, music, products, movies, TV shows, iCloud, and more. Moreover, iTunes card online lets you buy apps, music, movies, software, etc, and users can also select a movie or music album just by scratching the card.
The iTunes Cards Online brings an expensive new gadget within reach of your budget. These are by far the most convenient way to credit to your iTunes Store account where you can buy games, apps, and in-app purchases from the App Store. iTunes Cards can only be used to buy goods and services from the iTunes Store, App Store, Apple Books, for an Apple Music subscription, or iCloud storage. You can redeem these cards on the Apple Online Store or at Apple Retail Stores only. These are issued and managed by Apple Value Services and one can their iTunes cards or codes with their Apple Account or add funds through the App Store to the credit associated with their account to establish an associated balance. 
iTunes Card Online Qatar 
The credit available in the associated balance includes all Apple gift cards online and codes linked to your account and the total credit of all funds added to your associated balance. The iTunes Cards can be used to purchase content, apps, and services from Apple Media Services and items from Apple Retail Stores, Apple online stores, and the Apple Store App. If someone has an App Store and iTunes gift card or code balance or has a balance in associated balance, he can use the gift card, code balance as well as the associated balance to buy both products and content. When you link a digital gift card or code to your account, the balance becomes associated and you will no longer be able to use the digital card or code, including in Apple Retail Stores. 
The iTunes Card is one of the easiest ways to purchase items from international iTunes stores in the absence of valid means of payment for a country. They work as a market store where all the content like media, software, and entertainment can be purchased. People can buy iTunes Card online in Qatar through MyGiftCardSupply as it has a reputation among its customers for delivering authentic cards quickly and steadily via email. These cards can also be bought by going to a retailer or by picking up a physical gift card. It is easier to hop on the website and buy a virtual card and email it to whomever you want.
The iTunes Card you purchase can only be used for the country where your Apple ID is registered. Each iTunes Card has a digital code at its back that can be redeemed from a particular entertainment resource. This code offers some gifts regarding some apps, movies, games, music, and much more. These apps promote such cards as marketing and eliminate the confusion of choosing which movie, music, album, or game to get. 
How is iTunes Card Convenient to Credit iTunes Store Account?
iTunes Cards are the most convenient way to credit to your iTunes Store account. When you redeem an iTunes Gift Card, the updated balance appears in your iTunes Store and whenever you buy something, iTunes deducts funds in the credit until it is depleted. The cards add credit to your Apple ID and are good for any digital service Apple offers. Furthermore, these let you pay for anything, whether it is Apple Music, paid apps, Apple News+ subscription, or iCloud storage.

iTunes Card Price in Qatar 
You can buy iTunes Card Online at the best prices because there are plenty of websites that offer cheap and affordable iTunes cards. To buy, simply select your preferred iTunes amount below, and decide whether you want to purchase once or subscribe. Click Buy Now and checkout. Within some minutes you will be enjoying all the content the iTunes Store has to offer.
iTunes 10$ US – 40 QAR
iTunes 15$ US – 59 QAR
iTunes 25$ US – 98 QAR
iTunes 50$ US – 195 QAR
iTunes 100$ US – 382 QAR
iTunes 200$ US – 763 QAR
iTunes 300$ US – 1142 QAR
iTunes 500$ US – 1949 QAR
How users can redeem iTunes Card?
Every iTunes Card Online lets you buy apps, movies, TV shows, books, audiobooks, and much more. Users have to look for their redemption code if they have an iTunes Store Gift Card. This can be done by scratching the label on the back of the card to disclose the 16-digit code starting with an X. This particular code appears in different places, according to the type of gift card you have. Furthermore, users can redeem their card by following the steps below:
By tapping on iTunes Store, iBooks Store, or App Store on your device, the card amount is credited to your Apple ID that can be used in any store as long as you are signed in to each store with the same Apple ID. 
Tap Redeem on the bottom of the Featured section.
Sign in with your Apple ID and select "Enter your code manually" 
Enter a 16-digit code from the back of the iTunes card. 
The credit of your iTunes account will be updated automatically when you finish redeeming 
The amount on your iTunes Card is credited to every account connected to your Apple ID. You can use the credit to purchase from any of the stores where there is an availability of about 12 million songs, 250,000+ apps, thousands of movies and TV shows, and a dozen libraries' worth of audiobooks. It is very easy if you just know where to look while buying iTunes Gift Card, all you need to do is become a member of some sites and do certain tasks or offers, and you will be able to redeem cheap or sometimes free iTunes gift cards. Many sites offer iTunes cards as a form of reward. Thus, it can be hard to determine which site you should join and which will be worth your time. All the iTunes cards are country-specific and they can only be used in the country of issue. 
How to redeem your US iTunes Card?
iTunes account log out from your device
On the bottom right of the Store, Switch it to the US
Look for a free app and select get.
Create an account.
Select the no card option and make a username and password with a valid email account
Log out of your account on your device
Sign in with a new account 
Open your App Store and choose your profile icon
Scroll down and enter your card in the "Redeem Gift Card or Code" box
Your credit will be filled so buy anything you want to no matter wherever you are
The iTunes Cards in Qatar can be used by anyone, including iOS and Android Users. These are ideal for business boosts as well as for marketing promotions and can be used as a prize for online contests. These work well as giveaways at trade fairs. Another benefit of these cards is they don't have any expiry so you can have them with the assurance that your card would always be there. Both; Android and Apple users are allowed to redeem these gift cards. These can also be sent as gifts to others or swapped for an Android card. In addition to all these features, these cards offer fair resale value and when there is no use for your gift card, you can surely sell it for a fair price.