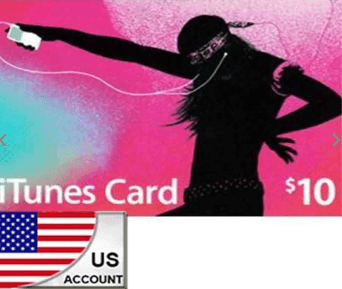 What is iTunes Qatar, iTunes Cards – How to buy iTunes Card Online
iTunes Qatar – How to buy iTunes Card Online
iTunes Qatar is the head of the digital music revolution that provides free, user-friendly means to play and organize digital music and video files. The stored songs on iTunes card qatar are easy to organize across a range of detailed information allowing users to search under a variety of headings, including artist, album, song, or genre. It also contains functions that allow users to create CDs, various playlists, or listen to songs most recently added to the user's library. Additionally, iTunes plays streaming audio from the Internet and connects listeners to radio stations around the world.
iTunes Qatar is a software application to play, download, and manage audio and video files. It also provides users with easy access to the iTunes Store. iTunes was released in 2001. At that time, it provided a media player and a way for Macintosh users to manage their digital music collections and sync them with their iPods. iTunes is a software that lets you add, play and organize your digital media collection on your computer, as well as sync it to a portable device. It works as a jukebox player that can be used on a Mac or Windows machine. The most important difference between iTunes and some other media players is the built-in iTunes Store and its multi-level integration with Apple's portable media player. iTunes offers a lot of features that are expected from a high-level jukebox media player:
Audio file playback
Music streaming
Internet Radio
Graphics
CD Track Info
Management and Organization tools
File type conversion
Playlist creation
Download files to the portable player
Music sharing over other networks
Things to know about iTunes Card Qatar
The iTunes 2022 is one of the best solutions offered by Apple to manage its iPhone and iPad in a very smooth and flexible manner. It has a flexible user interface supporting smooth navigation. iTunes Online Qatar allows users to access all kinds of pictures that they took with their iPhone with the ability to view them with the photo browser or transfer them to the hard disk of your computer.  iTunes gives access to all the information and specifications of the iPhone device, the type of device and information about the battery, and other additional data represented in the serial number and storage capacity. Furthermore, people can manage all the media content stored on their devices through a set of available options. The software helps you delete, move or create additional folders directly inside your phone. With the help of iTunes, you can transfer all of your data to your computer to make a backup copy of all files, including pictures, videos, and contacts.
What iTunes Cards can be used for?
iTunes cards are mainly used to buy content online. 
iTunes cards are used to expend signing for Apple Music.
These cards serve as credit cards.
These cards are used to increase iCloud storage.
These cards let you purchase real products like accessories or electronic gadgets.
These cards are a brilliant gift that allows making purchases on the iTunes store. 
The iTunes cards help you purchase downloadable content including music, books, apps, and movies.
How to operate iTunes online?
iTunes cards allow people to equip a team with software that automates the downloading of company podcasts, manages audio and video media, and handles syncing and backing up iOS devices. It is completely free, allowing you to do this without having to dip into your budget. iTunes is one of the best software platforms integrated with iOS devices in the marketplace. Although various third-party programs can upload audio recordings to iPhones, iPod Touches, and iPads, iTunes is the only program that can handle coordinating operating system upgrades. At the same time, it also manages apps and makes it a fast option whenever employees need to use it daily to exchange company-related media. 
iTunes online offers a range of content that can be useful to employees for improved performance. The installation of iTunes gives them access to a broad range of business podcasts, as well as business classes. If used correctly, iTunes gift card can be a gateway to information that makes a team more productive. Everybody gets a three-month free trial to give Apple Music a shot. After three months, $10 a month is needed to use Apple Music. Apple iTunes is available in 114 countries, as compared to 60 for Spotify. There are about 40 million songs in the Apple Music catalog and you can find almost all the music you want on Apple iTunes. With such a variety of songs, many people would wonder how to find the one they want. 
The iTunes Qatar offers all of the features that we expect from a high-level jukebox media player. It lets you download files, create your playlists, and share music over a network. iTunes supports AIFF, AAC, WAV, MP3, Apple Lossless, audible.com's .aa format, and unprotected WMA audio formats. When you enter the URL in the "Open Stream" dialog box, it allows you to open a stream in iTunes. Moreover, iTunes lets you set internet radio as well as view audio-coordinated graphics on-screen and print jewel-case art for your burned CDs. If you insert a disc into the drive, iTunes displays all available CD information and enables you to edit the information in case it is incomplete or wrong. It also offers both automatic and manual management options for your library.
How to buy iTunes cards Online?
MyGiftCardSupply has a reputation among its customers for delivering authentic cards quickly and steadily via email. PayPal payments offer secure payment and also protect your privacy. To buy, simply select your preferred iTunes amount below, and decide whether you want to purchase once or subscribe. Click Buy Now and checkout. Within some minutes you will be enjoying all the content the iTunes Store has to offer.
Top iTunes Cards Price in Qatar
iTunes 10$ US – 40 QAR
iTunes 15$ US – 59 QAR
iTunes 25$ US – 98 QAR
iTunes 50$ US – 195 QAR
iTunes 100$ US – 382 QAR
iTunes 200$ US – 763 QAR
iTunes 300$ US – 1142 QAR
iTunes 500$ US – 1949 QAR
The iTunes Card is redeemable in the App Store, iTunes Store, and the iBooks store. It is a perfect gift for all music-loving, game-playing, and book-reading people. These cards can be bought by going to a retailer or by picking up a physical gift card. It is easier to hop on the website and purchase a virtual card and email it to whomever you want. The iTunes Card you purchase can only be used for the country where your Apple ID is registered. 
How do iTunes Cards work in Qatar?
The iTunes Cards have a digital code at their back that can be redeemed from a particular entertainment resource. There is a good chance of getting surprised whenever the back of the card is scratched because it offers some gifts regarding some apps, movies, games, music, and much more. These apps promote such cards as marketing and eliminate the confusion of choosing which movie, music, album, or game to get. An important thing about iTunes Qatar is its bridge between Apple products. It means people can use iTunes cards for the app store or any other Apple deal. The lowest withdrawal of the card is $5, moreover, people can also select from other rewards available. 
The iTunes Cards enable its users to choose a movie or music album just by scratching the card. These cards are used as a gift that people send to one another and live the moment of joy. These cards are by far the most convenient way to credit to your iTunes Store account. When someone redeems an iTunes Gift Card, the updated balance appears in their iTunes Store and each time you purchase something, iTunes Qatar deducts funds in the credit until it is depleted. The iTunes Cards add credit to your Apple ID and they are good for any digital service Apple offers. These let you pay for anything, whether it is Apple Music, paid apps, Apple News+ subscription, or iCloud storage.
How to buy iTunes Cards in Qatar?
One of the most discussed Apple-related topics is iTunes. It has been around for almost 20 years and since then, it has been evolving and changing along with the company's devices, and people around the world have been using it. iTunes first began as a music management program, with little business application outside the entertainment industry.
Recently, the role of iTunes as a gateway to iOS devices makes it a useful tool for enterprises and their employees. It allows them n to exchange audio recordings of conferences and transcripts across devices. It is easy to buy iTunes Gift Cards in Qatar. If you live in Qatar and have trouble finding, and buying iTunes cards from a trustworthy source then the iTunes Store have music and movies available in Qatar for you but oftentimes they cost more. People can now easily watch all of the US shows they love.