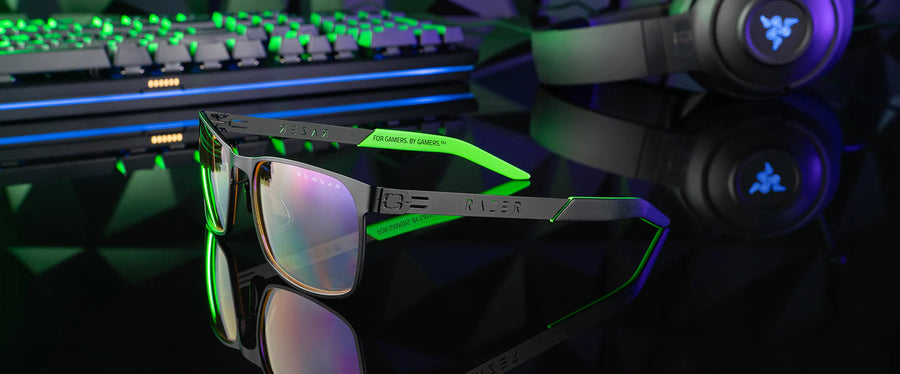 Gunnar Glasses: Reading, Prescription & Computer Glasses by Gunnar
Gunnar Glasses: Reading, Prescription & Computer Glasses by Gunnar
Gunnar Glasses are made to reduce your eyes' discomfort if you encounter symptoms of digital eye strain. 
A variety of blue light protection factors (BLPF) are available in Gunnar Glasses to accommodate your daily screen time.
Your eyes will have an easier time focusing on close-up objects thanks to the superior focusing strength of the Gunnar lens material.
Gunnar glasses are safety eyewear that lessens the strain on people's digital eyes because they were made to fit current lifestyles where people spend a lot of time in front of computers. It is still the only patented computer and gaming eyewear that medical professionals advise.
Improved focusing power: 
The Gunnar lens has carefully calibrated focusing energy to improve vision, which lessens eye strain and its numerous side effects.
Filtering and balancing: 
To lessen artificial blue light from backlit screens, Gunnar glasses' unique tints filter and balance the color spectrum. The Gunnar website claims that the tints also improve your eyes' ability to perceive contrast. Filtering and balancing reduce the amount of time needed to regain clear vision after exposure to light, which helps to protect your eyes.
Why Buy Gunnar Glasses?
Gunnar spectacles are made to reduce your eyes' discomfort if you encounter symptoms of digital eye strain.
Reducing digital eye strain: 
The superior focusing strength of the Gunnar lens material makes it simpler for your eyes to focus on close-up objects, such as your screen, which helps reduce eye strain and improve eyesight.
Preventing dry eyes: 
The Gunnar-wrapped lens design prevents air currents from entering the eyes, preserving the moisture and lubrication of your eyes.
Reducing glare: 
A special lens coating reduces eye fatigue and visual disturbances by blocking glare and reflecting light.
Blue light blocking: 
Gunnar lens tints filter and shield the eyes from the abrasive, synthetic blue light emitted by digital screens. A variety of blue light protection factors (BLPF) are available in Gunnar lenses to accommodate your daily screen time.
Improving sleep: 
Blue light inhibits sleep by interfering with the generation of melatonin and messing with circadian rhythms. The Gunnar lens filters out blue light, removing its influence on melatonin synthesis and fostering unbroken, natural sleep.
Gunnar Glasses for Gamers
Since devoted gamers are among the screen users who use screens the most, it is not surprising that many of them develop digital eye strain. With lenses for particular surroundings and accessories that go well with gaming gear, Gunnar has a wide selection of gaming glasses to accommodate practically every gaming experience.
Gunnar Reading Glasses 
For their daily dose of news or literature, readers are increasingly turning to tablets and computers. Gunnar offers a variety of adaptable reading glasses with fashionable frames for usage both inside and outside to make this easier on the eyes.
Gunnar Prescription Glasses
Untreated vision issues have the potential to significantly worsen the effects of digital eye strain. It is therefore even more crucial to use corrective eyewear when using a screen. To assist, GUNNAR provides a wide selection of prescription glasses that address two problems at once by correcting your vision and preventing digital eye strain.
Gunnar Enigma eyewear
The Gunnar Enigma eyewear combines fashion and function with a strong, contemporary frame and wide-format lenses that offer a wide field of vision. These glasses have a scratch-resistant lens and an anti-reflective coating that help them to block both blue light and UV rays. With a rigid lens mounting area to prevent optics from deteriorating and a three-barrel hinge construction made of high-tensile steel for the best durability, this design is an engineering feat.
Computer Glasses Gunnar
For most people, using a computer all day long has become a necessity, so GUNNAR's extensive selection of computer glasses continues to be well-liked by those who want to avoid the eye strain associated with screen time.