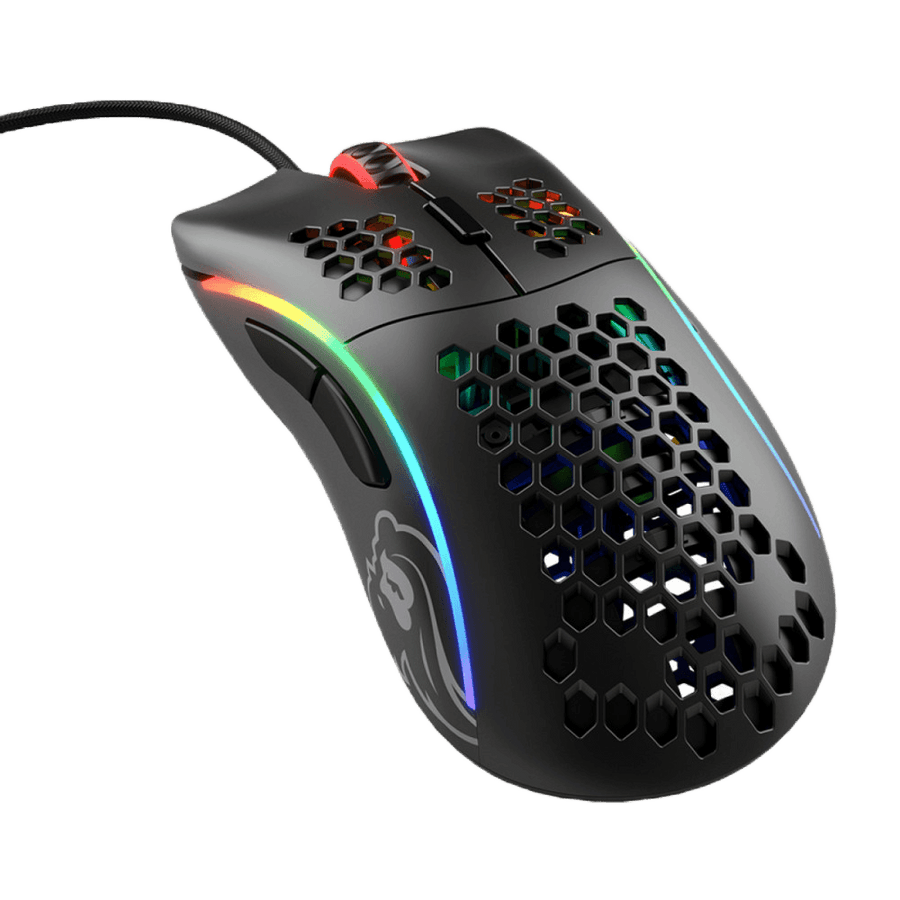 Glorious Gaming Mouse Model D
Glorious Gaming Mouse Model D
The Glorious Model D is a portable behemoth with smooth sensor performance and a functional design for gamers.
FPS games work well with the GLORIOUS Model D. It is a very lightweight mouse with a very low click latency, and its right-angled form makes it easy to use.
The Glorious Model D has a comfortable, ergonomic shape as well as lower click latency. 
A fantastic gaming mouse to be as light as possible is the GLORIOUS Model D. It operates admirably and is an ergonomic improvement over the ambidextrous GLORIOUS Model O. It works well with claw or palm grips and is quite comfortable to use. It is quite lightweight because of the honeycomb pattern design, the feet glide very smoothly, and it even comes with extra skates.
The Glorious Model D is a portable behemoth with smooth sensor performance and a functional design for gamers. It's one of the better options for a tiny gaming mouse, despite the slight movement in the left and right buttons.
Features of Glorious Model D
Wireless, comfortable tournament mouse for right-handed users with thumb buttons
Stylish matte black honeycomb design that weighs just 69 g
Six customizable buttons for various gaming modes.
A 2 m long flexible, braided USB-C charging cable
1,000-hertz polling rate and up to 50 G of mouse acceleration
G-Skates with very little friction
Elegant RGB lights with 16.8 million colors and a range of effects
High-End Wireless
A wireless version of the Glorious Model D Gaming Mouse emerges just when you think it can't be much better! The Glorious Model D Wireless Optical Gaming Mouse, which connects via 2.4GHz wireless with a 5m range, boasts the lowest latency among top-tier mice. With the most recent technology, this gaming mouse won't lose connection, allowing you to play with assurance. Furthermore, you can play games for longer between charges thanks to its 71-hour battery life. When it does, just connect the included USB charging cable and carry on playing.
The Glorious Model D Wireless is ergonomic and lightweight, just like its wired counterpart. The shell design has been tailored to give optimum comfort while lowering strain and fatigue and weighs only 69g. You will be able to work all day and play all night with this optical mouse in supreme comfort.
Latest Performance
The next-generation BAMF optical sensor in the Glorious Model D Wireless Gaming Mouse is what makes it so accurate. This sensor, which is highly responsive and achieves peak performance with little power consumption, accounts for the long battery life of this mouse. The Glorious Model D Wireless is a top-tier mouse with 400 IPS tracking, a polling rate of 1000Hz, and completely customizable sensitivity that goes up to 19,000 DPI.
The Glorious Model D Wireless comes in black or white and has multiple RGB zones. You may fully customize the illumination and synchronize it with other compatible devices using the Glorious Core program. Additionally, this interface can be used to update firmware, develop macros, and change DPI and polling rate settings. With six completely programmable buttons, this gaming mouse allows you to customize it to your specific needs.
Unique Honeycomb 
The unique honeycomb design of the Glorious Model D Wireless Gaming Mouse completes it. This framework isn't only fashionable; it also keeps your hands healthy, enhances grip, and lets the RGB lighting brightly show through. The bezel of this gaming mouse is made of materials that are extremely strong, increasing its total durability. Additionally, Glorious' G-Skates are included with the Model D Wireless. They consist of four tiny pads made of Teflon, which will easily slide over your surface, be it a desk or mouse mat. Additionally, they have an extraordinarily long lifespan and are highly durable.