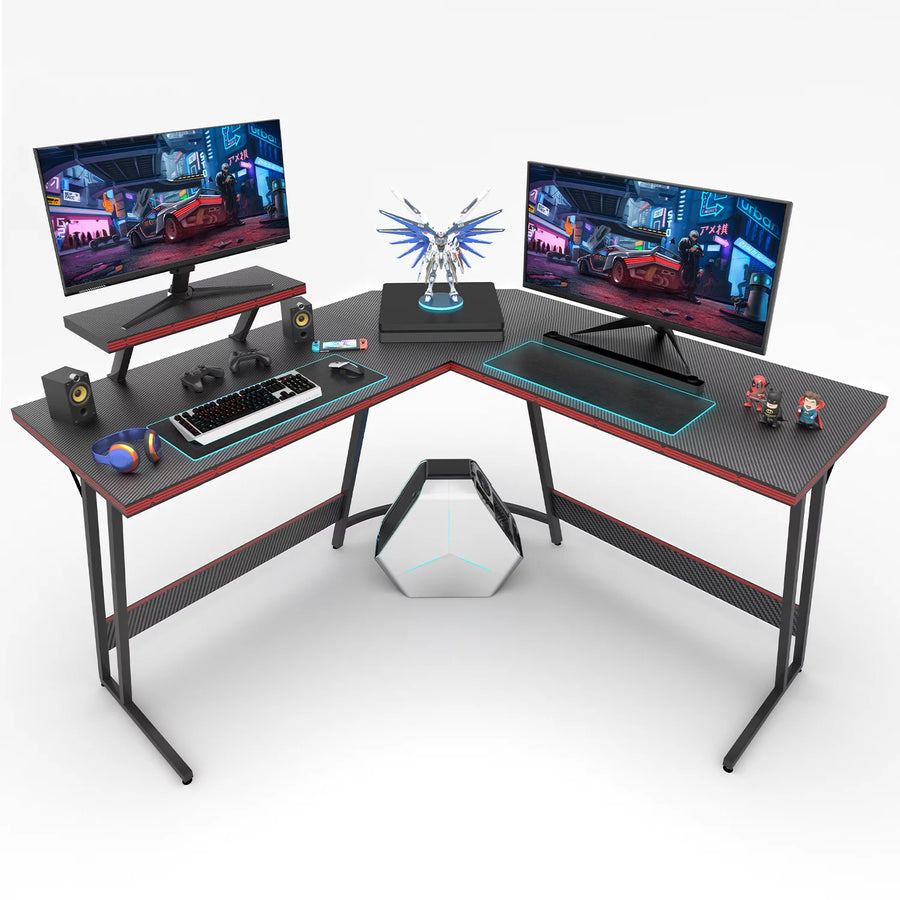 Gaming Tables – Ergonomics, Durability, and Options
You will spend a lot of time at your gaming station as a gamer. Your level of comfort can be significantly increased by having a height-adjustable gaming table.
Gaming Tables provide enough desk space to fit your whole gaming setup and still give you room to spread your arms out comfortably.
To save space, certain gaming desk models come equipped with shelves, drawers, and occasionally keyboard trays.
In contrast to typical desks, gamer's desks not only have a distinctive design as well as added details that give them a more fashionable appearance. Gaming tables are more likely to have an integrated height adjustment mechanism to make them more comfortable for extended gaming sessions. In addition to standing desks, it can be challenging to locate regular desks that can be raised or lowered to meet the height and comfort requirements of various people.
Your monitor and gaming accessories will be at the ideal height for you thanks to the desk's height-adjustable feature. This will aid in avoiding shoulder and neck pain brought on by sitting in an incorrect height-appropriate position. A must-have item is a height-adjustable desk gaming chair. Other gamers prefer to alternate between sitting and standing while playing on dual-purpose desks, which enable them to do so frequently.
By doing this, players can prevent and even treat health issues like back pain and tailbone pain, as well as encourage better posture. Regular desks, on the other hand, cannot be adjusted because they are constructed using standard measurements. Despite being ideal desks, they lack the ergonomics that video gamers sorely need.
Ergonomics and Comfort
Gamers' comfort can be increased by gaming desks in some additional ways in addition to adjustable desk height. The majority of gaming desks are also covered with a full-size mouse pad made of supple microfiber. There are no limitations because the full-size keyboard enables you to move the mouse as much as you like. A comfortable desk and a roomy gaming environment are provided for a better gaming experience thanks to the additional surface area, which also enables you to organize your gaming area.
Regular desks may have some comfort elements, including rounded corners that are smooth, but they lack more crucial functions, like adjustable desk height. Additionally, they do not have a gaming desk-like fundamental design. They work best in settings that are offices.
Durability, Quality, and Capacity
The kind of material used greatly affects the desk's quality, sturdiness, stability, and durability. These desk types are typically made of wood, stainless steel, PVC, particleboard, and even plastic. However, a gaming desk cannot compare to the quality, stability, sturdiness, and durability of a regular, ordinary computer desk.
The bare minimum for a gaming desk is a basic monitor and a few accessories. It most likely won't support more than one PC, though. On the other hand, gaming desks are made of high-quality materials for superior durability, including steel, robust hardwoods, hard plastics, safety glass (tempered glass), and sturdy PVC.
As a result, they can support large gaming equipment without worrying about them collapsing or trembling. Through proper upkeep and care, they are also more durable. Some folks might advise you against playing games at glass workstations. You need not worry, though, as long as it is made of toughened glass, also referred to as tempered glass.
The majority of these units can support a maximum weight of 200 pounds to 400 pounds. As a result, you can have the most configuration possible without being concerned that the desk won't offer enough stability and support.
Space and storage options
In contrast to gaming tables, the majority of normal desks feature smaller desk spaces. Desks frequently don't require as much desktop space as they once did because drawers and shelves now provide plenty of room for storing documents and accessories.
Gaming requires less desktop storage than other hobbies. A gaming desk is a larger gaming surface designed to accommodate several displays, keyboards, mice, and other gaming peripherals with ease. But you can always choose an L-shaped gaming desk, which can easily fit into a corner and doesn't take up much floor space if you want additional under-desk space.
To save space, certain gaming desk models come equipped with shelves, drawers, and occasionally keyboard trays in addition to desktop PC case mounts. Gaming tables frequently have cup holders, controller supports, built-in cable loops for simple cord management, and gaming headset hooks to prevent accidental spills on your pricey equipment. To optimize surface area, some desks also include an integrated monitor stand.