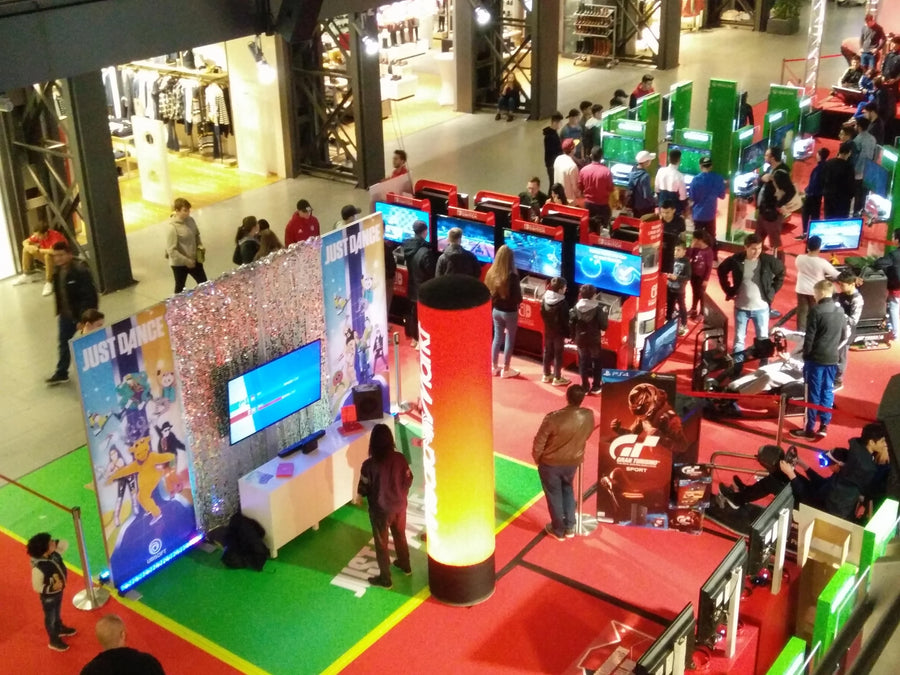 Top Gaming Stores in Qatar with Best Gaming Accessories for Gamers
Gaming stores in qatar
Your gaming setup doesn't matter; all that matters is having some good gaming accessories qatar that elevate the gaming experience. Gaming has grown to the point where it is now all around us and part of our daily life. Almost all the gaming accessories are manufactured for casual and competitive gamers. A vital part of your gaming setup is a chair that not only provides relief but also supports your back and other parts of your body that are needed for long gaming sessions. Furthermore, a good headset for your gaming set-up is a must if you are an online gamer who likes to play with others and needs a method to communicate. 
Gaming is a fun way that de-stress you after a long tiring day. It enables you to connect with friends online and appreciate a fast-paced interactive art form. But to get the most out of the gaming experience, gamers need to choose some of the best gaming accessories that allow them to customize some features. There are a lot of things you would need if you are seriously into gaming. The Gaming Accessories make up a whole gaming setup and give you the best gaming experience. We have listed below some gaming stores in Qatar that have gaming accessories for anyone looking to upgrade their gaming setup or build it from scratch.
Top Gaming Stores in Qatar
Alif Stores
Gamers can upgrade their gaming experience with Alif stores. They can discover the latest gaming accessories, gaming furniture, consoles, video games, controllers, and monitors in the Alif store. Moreover, gamers can shop online as the store offer free delivery on orders above 150 QAR.
Store 974
It is a local business that has become one of the ultimate gaming stores in Qatar for all gaming needs and accessories. The store got gamers covered withal the gaming products and accessories. You can either shop online or shop in-store and get a chance to try some amazing pieces in their store.
Fnac Store
This gaming store provides all the latest gaming products. You can shop for gaming accessories, computers, monitors, consoles, video games, and so much more. The store offers free delivery across Qatar.
Hmv Store
It is another great stop for all your gaming needs. Gamers can even shop online or in-store in Mirqab Mall. From gaming accessories to video games and consoles, it has everything for gamers!
HyperX Computers
The gaming store offers processors, motherboards, Graphics Card, Coolers, as well as other gaming accessories and more products.
Saqr
Saqr It is one of the ultimate retailers for gaming accessories with eleven branches across Qatar. It has a complete range of consoles, gaming PC, accessories, and games both in-store and online. They also have a smartphone app and you can download it from Google Play Store or iOS Store.

Virgin Megastore
The enthusiastic gamers can start their dream gaming setup with Virgin Megastores. It has a complete range of games and accessories, retro gaming products as well as digital codes. They also offer online shopping!
WASD Electronics
This gaming store gives you an experience of immersive gaming. It is an online gaming accessory store in Qatar providing gaming furniture, peripherals, and monitors.

Falta
Falta might be the missing piece to your gaming setup. The store lets you game in style with its products, you can either shop in-store at the Pearl, Qatar, or online. They offer free delivery for orders above 299 QAR.
Geekay Games
At Geekay Games you can shop for prebuilt PCs, PC Accessories, PC Modules, Gaming Furniture, Monitors, PC Games, and much more.
How do Gaming Accessories work in Qatar?
The gaming accessories in Qatar carry greater importance, including precisely advanced keyboards, joy pads, dedicated monitors, and incredible headsets. One must know their proper functionality and the real concern. The gamers know that action games are all about maintaining accuracy and precision. Though, experts have interestingly revealed that the gaming hardware qatar or accessories are found to be imperative to make the experience worthwhile. Nobody wants their headset keeps going out during gameplay. Also, it is a real drag when you are trying to take a killer shot and your mouse won't click. Whether you are playing on your PC, Xbox, PlayStation, or any other device, if you don't own good gaming accessories, you won't have a great gaming time.
We care about your gaming experience and this is why we ensure to steer you towards the best gaming accessories in the market. Pro gamers should have the best gaming gear on hand. The gaming accessories give gamers the advantage over others they are playing against and make sure to never take risk of tech interrupting their expert battle ability. Upgrading your PC gaming accessory is definitely worth the investment, particularly if it improves your performance in the process. It doesn't matter whether you play for fun or business, everyone can benefit from high-quality gaming gear. 
All the gamers out there should take the time to research all the different accessories to ensure they choose the ones that best suit their gaming objective. Every gamer knows that having kick-butt gaming gear is the most important thing they need to think about. They also need some gaming devices to increase their comfort while engaged in long gaming sessions, as well as to help them in fragging enemies and getting to the top of the leaderboards. We have made a list of top gaming accessories chosen by the best customers.
Best Gaming Accessories in Qatar 2022
Gaming Headset
If you are going to play online multiplayer games with friends, a good gaming headset is an essential gaming accessory. Nothing brings you right into the gaming action like being fully immersed and engulfed in truly high-quality sound.
Turtle Beach Stealth 600 Wireless Gaming Headset
Features:
Works with PlayStation and Xbox
15-hour battery life
Fantastic audio drivers
Ergonomic Gaming Chair
For those long gaming sessions that lead to serious back pain, you need to have the right gaming chair that provides both comfort and support. Every gaming chair is designed to avert arm, back, and wrist strain during gaming sessions while cushioning your posterior comfortably.
DXRacer Air Mesh Gaming Chair Modular Design Ultra-Breathable D7200
Features:
Soft, lightweight responsiveness and durability
Adjustable height 
Adjustable armrests 
Ability to lean back up to 180-degree
Stereo Speakers
Some gamers prefer speakers to headsets and for those, stereo speakers are one of the best sets of mid-sized bookshelf speakers they can get.

High-Resolution Gaming Monitor
There is no better way to appreciate good gaming graphics than on a high-resolution monitor. Of all the gaming accessories, a good gaming monitor is most important because the better the graphics, the better will be your gaming experience.
ASUS TUF Gaming VG259QM Gaming Monitor 
Features:
Adaptive-Sync technology
Extreme Low Motion Blur technology
280Hz fast refresh rate
IPS technology
G-Sync compatibility
Remarkable gaming performance
A Full-Sized Keyboard
The Gaming Keyboards qatar are designed to help make Gaming PC qatar more comfortable, and more fun. The gaming keyboards feature textured keys and colored backlighting that can be used to play in any type of illumination. The top gaming keyboards include: Razer BlackWidow Chroma V2 Gaming Keyboard and Corsair Vengeance K70 Gaming Keyboard.
Redragon K585 DITI One-Handed Gaming Keyboard
Features:
Superior spring-activated key switches
Programmable and adaptable lighting
Detachable wrist-rest section
RGB Gaming Mouse
Fast-paced games need precise mouse movements to help improve accuracy. One of the most popular gaming mice is the Razer DeathAdder Elite 16000 DPI Optical Gaming Mouse. It has been one of the most well-known and go-to names in gaming mice. The gaming mouse we recommend is Logitech G402 Hyperion Fury.

Razer Gaming Mouse Bungee Gaming Accessory
Features:
A weighted base that offers support
Great cable management
Anti-rust design
The best accessory for gaming is a broad phrase, and it could mean some popular upgrades, such as headsets, mice, keyboards, laptops, computers, controllers, and more. When it comes to which gaming gear for your own gaming experience and skills should be upgraded, it will eventually come down to personal preference. Some professional gamers prefer an old mechanical keyboard and beat-up mouse pad; but, when it comes to their mouse, headset, and overall PC rig, they are constantly on the prowl for the latest upgrades. Some gamers are okay with just about any gaming gear as long as it works, while some are consistently trying to get that edge over their opponents in any way possible.