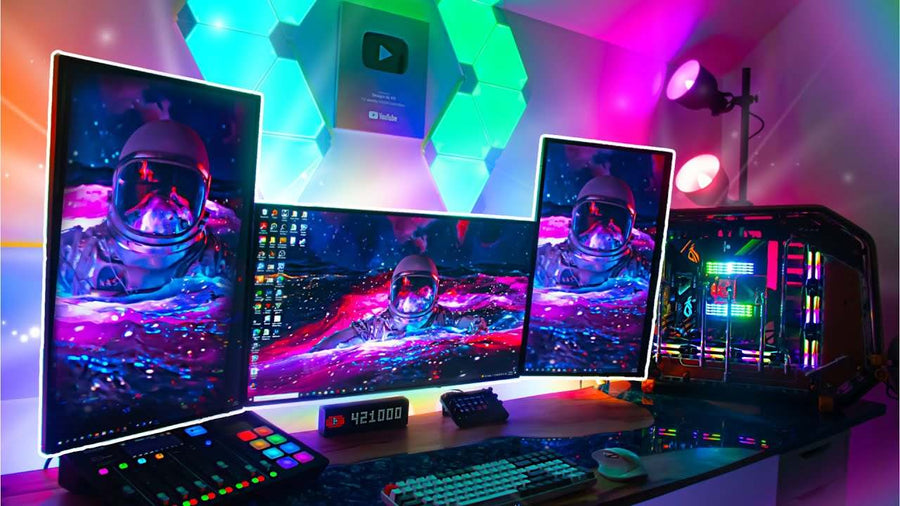 Gaming Room Setup: Unique Gaming Setup Ideas | Ideas for Small Room
There is no reason why an ideal gaming setup can't be as fashionable as it is functional for playing your favorite video games.
When you have all the basics in place, you can decorate to uplift and personalize your gaming setup.
Having your gaming area can be energizing so it is important to ensure it is properly outfitted for an ideal gaming setup.
A gaming setup is comprised of a gaming chair, a gaming desk, a keyboard and mouse, one or more monitors, and the PC itself. When you have the basics in place, you can accessorize to elevate and personalize your gaming setup.
More than just a man cave, a game room is meant to relieve stress and anxiety for the whole family. Look around and turn that lovely area into a gaming area, or designate a spot in your living room to maintain the experience's purity at all times.
Gamers spend a lot of time sitting in a gaming chair therefore, it is important to choose a chair that is well-suited to their comfort needs. It can be alluring to choose a less expensive desk chair for your gaming setup, however, sacrificing comfort is never a good idea.
You can be a little precise when choosing a gaming desk. Eventually, what matters most when deciding on a desk shape and size are your space requirements and the size of your gaming chair.
It is crucial for your PC gaming setup to comfortably accommodate your monitor. Minimizing neck strain is important, comfort is key when organizing your gaming monitors. Moreover, it is important to make sure your gaming setup is not chaotic.
One should make sure that the keyboard and mouse are placed on a combination keyboard and mouse pad beneath them. Your speakers should be mounted on a desktop or floor speaker stands to improve sound quality as well as minimize desk clutter. Your cables should be kept under control with cable management solutions.
Ultimate Gaming Setup Ideas
It doesn't matter if you are a professional streamer, a casual gamer, or anything in between, your gaming setup will make all the difference in your gaming experience.
Choosing Color Scheme
While setting up your gaming place, it is good to choose a color scheme to make your gaming room score big. Generally, it is best to go with one primary color and then punctuate the space with one or more accent colors for extra visual appeal. When you add more hues, it will become harder to make things look cohesive and clean, so stick to as few as possible.
Decor Dial
Your gaming setup reflects your personality so you should make some special touches. Gaming collectibles, statues, wall art, and toys can all help to make your gaming space an extension of who you are. 
Cable Management  
If you want a sharp gaming setup, cable management is the key! A sleek, neat-looking gaming room has well-managed cords either around the desk or through the wall. Desk cable trays or cable ties are also used to help turn a maze of wires into a single neat bundle. Additionally, it is great to choose wireless mice, keyboards, and controllers to avoid mess.
Small Room Gaming Setup
The small gaming room idea is affected greatly by the choice and type of lighting you have installed. A large number of people prefer darker themes when it comes to gaming. Therefore, they are more likely to opt for dim lights. Although darker themes are ideal, the lighting should be enough to avoid any eye strain and similar eye issues. So, setting up a desk lamp or task lamp is the right solution for a small gaming setup room.
Many people confuse modest spaces with rooms devoted exclusively to gaming when thinking of gaming room ideas. Since it is not realistic for every home to have a private gaming room, a small area designated for gaming will suffice. Owning one's gaming area can be both energizing and rewarding, so you need a few pointers to make sure it is properly outfitted for the ideal gaming setup.