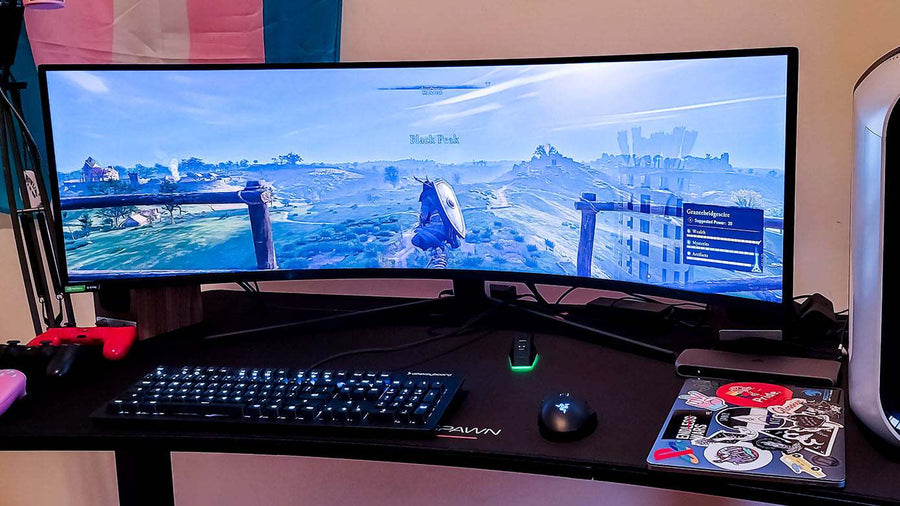 Gaming Monitors and Gaming Centers in Qatar - Think24
Gaming monitor qatar
The gaming monitor market in Qatar is growing and it is becoming easier to find the ideal monitor for your needs. Depending on the games you play and the equipment you use, you will need a different monitor as compared to someone else. Some high-end gaming monitors have a fast response time with very little blur motion and extremely low input lag. Furthermore, some extra technologies improve the gaming experience, like HDMI 2.1 bandwidth and variable refresh rate (VRR) technology. The high-resolution gaming monitors give you an immersive gaming experience with a higher refresh rate and lower resolution.
The Gaming Monitors offer lower input lag, faster response times, and higher refresh rates than TVs. These are more responsive and allow you to enjoy competitive console gaming. Moreover, gaming monitors are excellent bang for your buck if you would like to play both PC and console games. A gaming computer is not complete without a gaming monitor. A simple 19-inch monitor gets the job done, but it doesn't scream the ultimate fragging machine. On the other hand, there are a lot of genuine reasons for the existence of gaming monitors. These days Gaming Monitors have a wide range of motion than conventional monitors. It often allows movements in up to four axes providing gamers full flexibility to find the most comfortable position to match their gaming preference. The type of monitor you need depends on what you play and how. Each gaming monitor in the market is more valuable than others, with higher resolutions and heavier refresh rates.
Gaming Centers in Qatar

Gaming centers make money by charging customers to use their facilities, normally by the hour or per day. These centers also rent out their facility for private events, such as birthday parties. A gaming center enables people to play video games, compete in tournaments, and form a community of their own. A gaming center is helpful in the growth of your community's esports program where community members can use gaming personal computers or consoles. But, this is not limited just to esports and gaming. It is also useful for programs in game design, 3D animation, and many other technologies.  
What is the purpose of the Gaming Center?

The gaming centers offer people fun and friendship and let them enjoy the freedom games provide. Also, these centers engage their creative side. The positive values within the gaming centers are numerous and they are the reason that gaming is so popular. Gamers and streamers and participants tend to be effusive in their enthusiasm for the center and the opportunities it provides and the values it promotes. The world wouldn't have 2.5 billion gamers. if gaming didn't lead to positive experiences! The excitement of meeting like-minded gamers appeals to every person. When you share tactics and exchange ideas with other players, it brings about knowledgeable discussions. As people are moving into an era of acceptance of esports, the gaming centers are growing in prominence and becoming identical to gaming community centers.
The gaming centers are a community and an environment where multiple PCs are connected and are mainly used for gaming. This typically includes a fee that the customer pays for hourly usage of the machines. The gaming centers come in various sizes and designs from smaller locations (20-30 PCs and consoles) to larger facilities (100+ gaming stations). These require high-end PCs, good peripherals, and network hardware as well as a fiber internet connection because most of today's games are played online and need fast ping times for in-game tracking and correct movement to the game manufacturer's server.
Why Do You Need a Gaming Monitor?

When it comes to gaming accessories, everyone knows it is vital to have a high-performance computer, but the impact of a monitor is sometimes overlooked. When the refresh rate is high, the monitor will display more frames, resulting in smoother visuals. The refresh rate of a gaming monitor determines how many frames per second your monitor can display. If the monitor has a 144 Hz refresh rate, you will be able to use and see 144 frames per second, which will provide you with smoother gameplay and dramatically reduced motion blur. This allows mouse tracking, aiming, and flick shots easier since you have more frames to work with. Generally, the regular monitors have refresh rates of 60Hz, which also translates to 60 frames per second. However, many good gaming rigs with powerful GPUs are more than capable of putting out far higher refresh rates. In this way, the extra frames are either lost or result in screen tearing.
The response time is often mentioned as input lag. It is how long it takes for an action from your mouse/keyboard/controller to display on the monitor. The lower the response rate, the faster the monitor can display your actions. It is vital to have a monitor that can keep up with your actions because every millisecond counts. A low response rate gaming monitor is capable of showing actions almost in real-time, hence allowing you to respond to in-game actions more quickly. 
Screen tearing usually occurs when the gaming monitor's refresh rate is not in sync with the video feed to the device. To cure this, companies have come up with anti-tearing technologies like AMD FreeSync, Adaptive Sync, and Nvidia G-Sync built into a gaming monitor. AMD's FreeSync lets your gaming monitor synchronize its refresh rate to your GPU while staying in the variable refresh rate window of your monitor. Whereas, Adaptive Sync changes the display's refresh rate to the different gaming content being displayed. And for Nvidia's G-Sync, both hardware and software solutions are used to reduce screen tearing in-game, regardless of the gaming monitor's refresh rate.
Best Gaming Monitors in Qatar
Xiaomi Mi 2K Gaming Monitor 27 inch – 1749 QAR
OMEN 27i IPS 165Hz 2K Gaming Monitor 27 inch – 2099 QAR
Asus Rog Strix XG17AHP-AE Portable USB Type-C Gaming Monitor – 2699 QAR
Asus TUF Gaming VG27BQ HDR WQHD Gaming Monitor 27 inch – 1949 QAR
Asus Rog Strix XG258Q Gaming Monitor 25 inch – 1799 QAR
Asus Rog Strix XG27UQ DSC 4K Gaming Monitor 27 inch – 4399QAR
Asus Rog Swift PG32UQ HDMI 2.1 4K UHD Gaming Monitor 22 inch – 4799 QAR
Asus Rog Strix XG32VQR Curved HDR WQHD Gaming Monitor 31.5 inch – 2699 QAR
Over the past two decades, gaming monitors have advanced the technology leaving the bulkiness of CRTs behind and embarking on a much more exciting LCD future. Gone are the days when there were bigger and bulky monitors. Gaming monitors these days boast a whole host of impressive design features, immersive attributes and performance specifications. Everyone knows that gaming monitors require several different factors to be classed as high performance. The resolution, response time, refresh rate, and input lag are the main factors that provide smooth gaming and ensure visuals are optimized.
The best gaming monitors show more color and depth from narrow viewing angles. You can see clearer images which is a must thing for gaming. After all this, now the only thing left to discuss is the future of display technology and what it has in store for gamers. The gamers are provided with faster response times, deeper blacks, higher contrast ratios, wider viewing angles, and greater power efficiency. While investing in a gaming monitor, you are likely to have a substantially better experience than if you had just stuck with a regular screen. These gaming displays are important because they put the gaming experience first and foremost above all else. So, if you want to take your games to the next level, you need to start with a top-quality monitor.