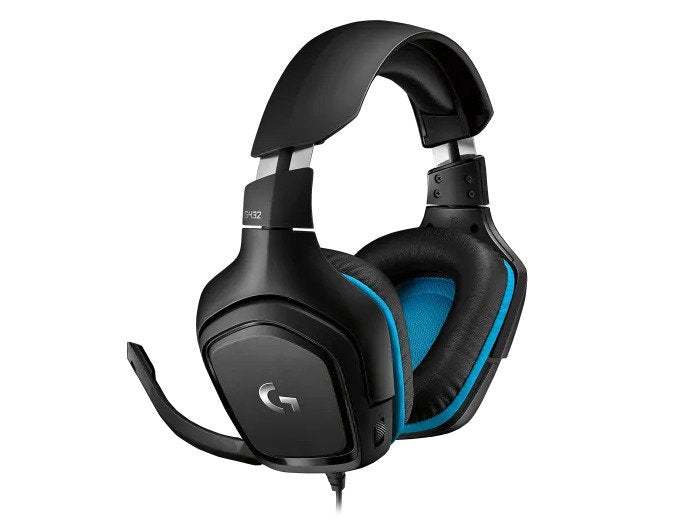 Gaming Headset | Logitech G432 Specs & Features
Gaming Headset | Logitech G432 Specs & Features
The Logitech G432 is a simple wired gaming headphone with a good microphone for online games.
Logitech G432 Gaming Headset is enhanced with advanced soundscape technology and you can hear more of the game with huge 50 mm drivers.
DTS Headphone: X 2.0 surround sound produces accurate in-game positional awareness for optimum immersion
The days of settling with the inexpensive, fragile headset that comes with a game console are long gone. Players entrust these gadgets with their virtual life and rely on them for communication and sound. There are several options available to hunt for a gaming headset. While some brands are easily recognized, others are not.
One might wish to buy from a reputable business, but that could result in an expensive price tag. Fortunately, the majority of businesses provide a wide range of costs across their headset lineup. One of those businesses is the well-known electronics firm Logitech, which recently unveiled a cost-effective product backed by its stellar reputation.
Logitech G432 Gaming Headset
It can be worth giving up the wireless functionality of the more expensive entries in favor of a wired headset if you're looking for a true bargain. The advantage of using a wired headset is that you may adjust the audio coming from your computer or gaming console. If the audio is too quiet, you can add interfaces or digital-to-analog converters (DACs) in between.
You may get a wired setup from Logitech G432 that has respectable audio for the price. The microphone offers good quality for talking on the phone as well, but don't use it for anything else. There's a volume control on the back for easy tuning, with a lightweight frame and fake leather cups on the earphones that won't get too sweaty over hours of game time.
The revised G432 is a part of the new lineup of headsets that Logitech has added to its lineup. It's a successor for the dependable G430, which has been around for years, so an update was long overdue. The drivers and the microphone have experienced major improvements, although the appearances have only undergone small alterations.
Complete your Game
Utilize the G432 gaming headset to fully immerse yourself in the game. Get the rush of being immersed in the action and always heard for a full gaming experience.
50 MM Drivers
A comprehensive, spacious sound is produced by large 50 mm audio speakers for a more immersive gaming experience. Your favorite games will now finally sound amazing, as they should.
Clear & Loud
Your squad will be able to hear you thanks to the improved, larger 6 mm mic. When you don't want to be heard, the flip-to-mute boom keeps you silent and collapses out of the way.
2.0 DTS Headphone
For next-generation DTS Headphone:X
2.0 surround sound, Logitech G HUB gaming software is required. You may hear foes coming up behind you, special ability hints, and immersive environments all around you thanks to Logitech G HUB software. Experience 3D audio that uses more than 7.1 channels to place you in the heart of the action.
All Platforms, One Headset
Your headphones can be used with your PC or Mac using the provided USB DAC or 3.5 mm connection or with mobile devices such as the PlayStation 4, Xbox One, and Nintendo Switch as well as game consoles.
Comfort & Endurance
The comfort of these headphones is everything. The luxurious, lightweight leatherette headband and ear cups are designed to relieve pressure on your ears. For convenience, ear cups can rotate up to 90 degrees. Utilize the volume wheel that is located on the earcups to conveniently and rapidly control the volume on any platform. The design simplicity of the Logitech G432 Wired Gaming Headset is exchanged for greater utility.
Logitech G432 – Surround Sound
The Logitech G432 7.1 Surround Sound Wired Gaming Headset is a shining example of a well-known electronics manufacturer providing a more affordable solution for consumers who are concerned about their wallets. The Swiss-American multinational corporation was established in 1981 and has more than 40 years of experience producing high-quality computer hardware and software.
For gamers who don't want to spend every single dollar in their wallet, their G432 wired gaming headsets are a perfect choice. Here is a detailed analysis of the G432s and what makes them a smart investment for gamers worldwide.
Is Logitech G432 Affordable?
Those who don't think a high-quality product is possible at this price point will be pleasantly surprised by the Logitech G432 headset. Gaming headsets come in literally hundreds of different varieties. Those who don't think a high-quality product is possible at this price point will be pleasantly surprised by the Logitech G432 headset. This set outperforms its price range in large part because of the powerful sound produced by the 50 mm speakers, the surround sound functionality, and the loud and clear 6 mm microphone.
Microphone
Simply wired gaming headphones with a good microphone for online games are like Logitech G432. They offer a warm sound profile that can be used to highlight gameplay sound effects like footsteps. They're also cozy to wear during extended gaming sessions, but some people might find them a little snug. They won't be very adaptable for usage other than gaming and don't isolate against background noise either. They are reasonably configurable and compatible with the G HUB app, which is a plus. They also work with just about any platform and provide fantastic value all around.
Connectivity
The Logitech G432 is a wired gaming headset that typically connects via a 3.5mm TRRS connection. Simply put it into the controller (or the top of the Switch) if you're using a system like the PlayStation 4, Xbox One, or Nintendo Switch that is not docked.
The supplied 3.5mm splitter will work if you want something analog or can't bear to give up a USB port, and the USB adapter has you covered if you want access to surrounding sound if you're gaming on a PC without a TRRS connection. If the 3.5mm connectors on your PC are not correctly grounded, this can result in a layer of static in the headphones, so the USB adapter is also a good option.