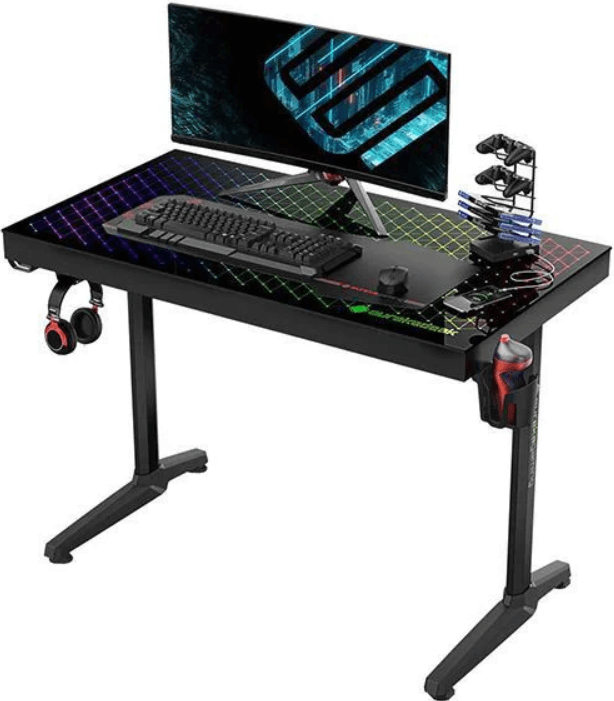 Gaming Desk – Why it is Important? | Advantages
Gaming Desk – Why it is Important? | Advantages
A gaming desk serves as the centerpiece of a gaming setup, providing an essential location for storing all of your significant gaming tools and gadgets.
In terms of style, Gaming Desk manufacturers have taken it to the next level to provide avid gamers with the best-looking gaming battle stations.
It is worthwhile to have a look at the gaming desks available today if you have outgrown your present desk or are simply seeking an update.
If you are looking for a new computer desk, you have certainly seen those that call themselves, "Gaming Desks." But what separates a gaming desk from a regular computer desk? In other words, a gaming desk is equipped with amenities that make life easier when using a computer game. Every year, cooler, better workstations are produced thanks to the features and improvements in the gaming desk market.
Advantages of Gaming Desks 
Aesthetics and Style
Gaming desk manufacturers have gone above and beyond in terms of style and aesthetics to provide die-hard gamers with the best-looking gaming battle stations. In contrast to typical desks, which merely have a simple design, gamer's desks not only have a distinctive design but also added details that give them a more fashionable and visually pleasant appearance.
Height-Adjustable
Gaming Desks are more likely to have an integrated height adjustment mechanism to make them more comfortable for extended gaming sessions. In addition to standing workstations, it might be challenging to locate regular desks that can be raised or lowered to meet the height and comfort requirements of various persons.
You will spend a lot of time at your gaming station as a gamer. Your level of comfort can be significantly increased by having a height-adjustable workstation. You may modify the desk's height so that your monitor and other gaming equipment are at the ideal height for you.
This will aid in avoiding shoulder and neck pain brought on by sitting in an incorrect height-appropriate position. A must-have item is a height-adjustable desk gaming chair. Other gamers prefer to alternate between sitting and standing while playing on dual-purpose desks, which enable them to do so frequently. By doing this, players can improve their posture and potentially prevent and treat health issues like back discomfort and tailbone pain. Regular desks, on the other hand, cannot be modified because they are constructed using standard measurements. Despite being ideal desks, they lack the ergonomics that video gamers sorely need.
Comfort and Ergonomics
Gamers' comfort can be increased by gaming desks in some additional ways in addition to adjustable desk height. We're referring to rounded, smooth edges that occasionally curve forward to allow you to sit closer to the desk's center.
Quality, Sturdiness, and Capacity
The kind of material used greatly affects the desk's quality, sturdiness, stability, and durability. These desk types are typically made of wood, stainless steel, PVC, particleboard, and even plastic.
Space and Storage
Both office employees and gamers require a large amount of space for their tools and other necessities. In contrast to gaming workstations, the majority of normal desks feature smaller desk spaces.
Desks frequently don't require as much desktop space as they once did because drawers and shelves now provide plenty of room for storing documents, piles of paper, and larger office equipment like printers, scanners, and even towers.
Final Thoughts
Gaming Desks are required to provide enough space. There are genuine advantages to owning a gaming desk, regardless of whether you're a die-hard player or just enjoy playing occasionally. Modern gaming workstations, which feature height adjustment and true ergonomics, make excellent work desks, even if you don't play video games.