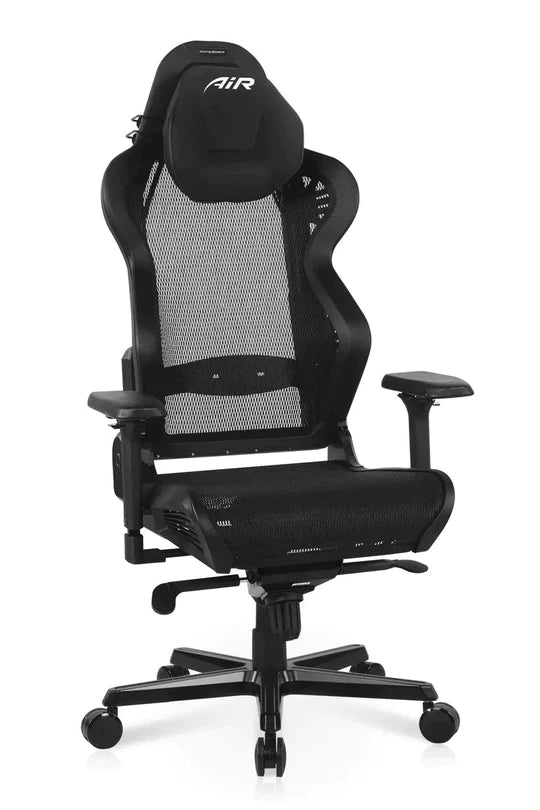 DXRacer Gaming Chairs – Best DXRacer Gaming Chairs in Qatar
Gaming Chairs in Qatar
The best gaming chairs qatar are pretty expensive but they are worth it for the support. A simple office chair may work fine in the beginning, but if you are thinking to upgrade your gaming setup, an ordinary chair is not a good option. A firm gaming chair is essential if you are going to spend long hours in front of your gaming rig. The gaming chair not only keeps you comfortable and focused, but its ergonomic quality prevents you from developing back and neck issues over time. As a part of your gaming gear, you need a chair that improves your gaming experience and once you figure that out, it makes a lot of sense to choose a reliable brand. 
Gaming chairs in qatar are on the rise and when it comes to choosing a gaming chair, comfort is the king. After all, a gamer doesn't want his back and neck cramping up in the middle of a gaming session. Moreover, gamers want features that prevent them from developing any chronic pain from merely enjoying their gaming. Casual gamers, regular users, or office workers can sit on DXRacer chairs for many hours without experiencing discomfort, fatigue, or pain due to its ergonomic design. As a passionate gamer looking to get the best DXRacer chair, you would not want to settle for less, especially when you want something that will boost your overall gaming experience. Overall, the DXRacer Gaming Chairs are amazing. It is one of the best ergonomic solutions for gamers and streamers.
Why DXRacer Gaming Chairs are the Best?
For a very long time, DXRacer Chairs has been the dominant name in the world of racing-style gaming chairs. Its brand-new Craft series brings a reinvigorated sense of quality. The brand uses polyurethane leather on the body of its gaming chairs. The material plays nicely with lumbar support to keep you feeling supported even during the most intense gaming sessions. DXRacer is a developer in gaming chairs that started as a manufacturer of car seats for luxury sports cars. The company has been at the forefront of gaming chair technology for the past 21 years. The company provides technology that delivers deep comfort and targeted support right where you need it. The core values for DXRacer gaming Chairs are better quality and design and the company is always striving to go further in these domains. 
The prices of DXRacer Gaming Chairs in Qatar are modest as compared to other gaming chairs. But, the quality does not suffer due to the attractive price. These gaming chairs are comfortable, durable, and ergonomic. The cushions of DXRacer chairs are firm but comfortable which means your body will not sink into the seat, and there will be no slouching or imbalances in posture. If a gaming chair consists of a soft cushion, your pelvis and thighs would not be fully supported. In this case, if your weight was not evenly distributed, one side of your body would sink further into the chair adding excessive strain to your pelvic bones, hips, spine, and muscles. 
The DXRacer chairs include a tilt mechanism that enables the backrest to be lowered to any angle down to 130°, with an ability to lock in place at any point. Recline feature of these gaming chairs is excellent because reclining decreases compression force on the discs in your lower back. The bucket-seat design of the chair prevents sideways leaning of the trunk which might create abnormal strain on your core muscles, trunk muscles, and spine. The armrests are equipped with two adjustment mechanisms; one to move them lower or higher and the other to turn them inward or outward. The height adjustment has six levels, so you can find the spot where your forearms lie on the armrests without pushing your shoulders upward towards your ears.
Best DXRacer Gaming Chairs
DXRacer 275LB Gaming Chair High-Back Racing Recline
Features:
Large seat
High-density foam
Ergonomically designed
Exceptional for gaming
DXRacer OH/TS29/N Tank Series Gaming Chair
Features:
Large and comfortable seat
Soft leather
Easy to maintain
Manufactured with durable materials
DXRacer Ergonomic Office PC Console Racing Seat for Gamers
Features:
Affordable
Recline and Tilt mechanism
Mobility
DXRacer PC Racing Style Office Gaming Chair
Features:
Durable foam
High-Quality construction materials
Adjustable and Customizable
DXRacer Adjustable Ergonomic Office Reclining Swivel Game Seat
Features:
Metal frames
Adjustable armrests
Reclining backrest
Lumbar and Headrest support
Gaming Chair Prices in Qatar
The material of a gaming chair is really important to consider, equally what is packed inside and what is wrapped around it. The price of gaming chairs depends on the material and features they cover. Most of these chairs use polyurethane leather-like synthetic material for the covering and dense foam for the padding. These are significantly expensive. The DXRacer Gaming Chairs are pretty large, with backrests extended high enough to support your head, along with large armrests and a swiveling base to spin freely. The gaming chairs are better than basic office chairs because gaming chairs support proper posture while sitting. 

DXRacer Prince Series P132 Gaming Chair – 597 QAR
Features:
1D Armrests 
High backrest
Tilt mechanism
Sturdy inner steel frame
Quality gas piston
It is a modern ergonomic chair designed for the requirements of demanding PC users, office workers, computer gamers, and managers. The chair offers safety, comfort, seating ergonomics, and an unrivaled design popular all over the world.
DXRacer Air Mesh Gaming Chair Modular Design – 1309 QAR 
Features:
Ultra-Breathable Mesh
Environmentally reinforced mesh
4D Armrest
Multi-functional Tilt
Rail-mounted lumbar support 
Highly resilient foam
DXRacer DM1200 Master Series Leather Gaming Chair – 1350 QAR
Features:
Adjustable Arms
Built-in lumbar support
Multi-functional Tilt
Lockable synchronic-tilt mechanism
4 Gas Lift Class
Robust aluminum base 
DXRacer Prince Series P132 Gaming Chair – 638 QAR
Features:
1D Armrests with a soft surface 
Solid base
High backrest 
Tilt mechanism for up to 150 degrees
Quality gas piston
DXRacer Master Series Gaming Chair – 1460 QAR
Features:
Aluminum base Adjustable arms
Adjustment Height
135º Inclination 
Silent and highly durable wheels
Benefits of using a Gaming Chair
Correct Posture: 
When you sit for long hours doing office work or playing games, correct posture is very important. A gaming chair helps you sit in a correct posture as it comes with an adjustable headrest, lumbar, and armrest. The chair provides proper support to your spine and gives comfort to sitting for long hours as compared to an office chair.
Proper Vision:
When you sit in front of a PC for long hours, it gives pressure on your eyes. Therefore while gaming, you should maintain a proper distance between your eyes and screen. An appropriate posture helps gamers to maintain a proper distance between the eyes and the screen.

Suitable Movement and Easy to Adjust:
A gaming chairs qatar lets you easily move the chair as you want. The parts of a gaming chair are completely adjustable and you can adjust or tilt the backrest and headrest as per need. These can be adjusted in four different directions according to the features a gaming chair has. 
Good for Long Hours Sitting: 
Gaming chairs are a really good option to sit for long hours because they have more space to sit and come with high-quality foam to give maximum comfort.
Perfect for Heavy People:
Some gaming chairs use a metal base so that a heavyweight person can also sit comfortably and use all the features of a chair. A lot of top gaming chairs can be used by heavy weighed people as well as by those who are tall.
The entry-level and mid-range gaming chair models tend to have memory foam lower back and neck cushions rather than built-in support mechanisms. Most of the biggest names now also offer smooth chairs with adjustable lumbar support for added comfort. In the end, it all depends on your need, either you want to save some money or need to splurge for the proper support. Almost everything is online today and everyone has to sit for long hours on a chair in an office or at home doing a lot of work. For the offices, we see ergonomic office chairs for sitting but if we compare an office chair with a gaming chair, we will get to know that a gaming chair has more advanced functions than a basic office chair. People think that a gaming chair is only used by a gamer and not for usual use, but it is not true. If you compare both chairs then you can find a wide range of differences between them. Many offices use gaming chairs for their employees. It is because a gaming chair is comfortable for sitting for long hours.