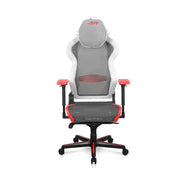 Gaming Chairs, DXRacer Air Mesh Gaming Chair
Series of DXRacer chair qatar
You may have notices that DXRacer gaming chair and office chairs are the two predominant types of options available in the markets. At first, you might think that two different types of chairs have simple aesthetics, but this is not the case. These chairs have some ergonomics features to consider and both of them are different from one another in terms of specifications. Based on their common features, it is very easy to tell whether the chair is made for gaming or office work. Most of the gaming chairs feature a design inspired by race car bucket seats. The design usually feature oversized frames to support helmets from behind and strengthened sides to keep racers in place while they are turning hard. The gaming chairs help gamers in long stretches of sitting in place. An oversized backrest ensures that your entire back is supported and the side bolsters support your legs and back so you can sit up straight for long time without any discomfort. These chairs have support pillows that attach to the frame via stretchable straps. Moreover, the gaming chairs offer seat height adjustment, tilt lock, adjustable armrests and the unique ability to lean back up to 180-degrees. These days some Gaming Chairs are equipped with heating pads and cooling fabric. For and aesthetically cool experience, a handful of gaming chairs come with RGB lighting as well.
Gaming Chairs Qatar – Common features
An oversized backrest with wings
Bucketed seat
Support pillows
Large logos
Bright colors
Overall back support for better posture
Over the past few years, the gaming industry has witnessed immense advancements and the involvement of Gaming Chair has added more fun to the advancement of this industry. The developers pack the gaming chair with amazing features to make gaming experience a perfect escape for many. A Dxracer Gaming Chair in Qatar as well as all over the world guarantees your ultimate comfort. Its amazing design makes you feel good while sitting on it. The gaming chair features high-quality padding on the headrest, backrest and armrest for the best cushioning. Gaming is fun and one would not want to play with unnecessary interruptions and this is what the gaming chair is all about! The gaming chair prevents discomfort caused by a neck strain, backache, and arm pain. The cushioning level of the gaming chair makes it an ideal piece for your relaxation and play. A good posture is extremely important both for your comfort and general health. When you spend long hours on screen, it is imperative that you sit comfortably without subjecting your back to pressure. Therefore, a gaming chair gives you perpendicular sitting to prevent back pain. The chair also helps in aligning your arms with your screen. A good performance is a combination of different features including: comfort, skills, experience, concentration, good health and modern technology. In order to achieve perfection, it is mandatory for you to incorporate these features into your life. The gaming chair is a great advancement in gaming industry that guarantees maximum support and promotes good sitting.
DXRacer Air Mesh Gaming Chair, Modular Design Ultra-Breathable D7200 – 1500 QAR
This Gaming Chair has a feature of adjustable height with ergonomic head cushion and lumbar support. Its ultra-breathable mesh improves extensive airflow and decreases heat and moisture build-up. It keeps gamers fresh during long & intense gaming sessions. The reinforced mesh coupled with exclusive suspension springs creates lightweight, responsive cushioning and extends the durability of the chair. The rail-mounted lumbar support is attached to the rigid steel skeleton that smoothly regulates the height of back of the seat for an extra level of comfort. The chair's foam headrest is made with highly resilient memory foam that adjusts to the shape of the neck and adapts to any movement you make.
Best DXRacer Gaming Chairs 2022
DXRacer Formula Series Conventional Mesh and PVC Leather FD101 – Red & Black
This DXRacer gaming chair delivers high-performance comfort and support. It swivels 360-degrees and features a tilt control option that supports a variety of reclining positions. A perfect piece for a variety of gaming postures! The price is approx. 1200 QAR
DXRacer Formula Series Conventional Gaming Chair Mesh FD01 - Black & Red
This is a functional gaming chair that features seat height adjustment, tilt tension, tilt lock, and a 135-degree reclining seat. This gaming chair includes a removable head pillow and a lumbar pillow for added support and comfort during long hours of competition. The price for this Gaming Chair in Qatar is 1200 QAR.
DXRacer Racing Series PRO PVC Leather RV131 – Red & Black
This race-car style gaming chair is a stylish addition to your gaming station. The 135 degrees reclining back and adjustable angle with a removable headrest pillow and lumbar cushion make every second you are in the chair more relaxing than the last. 399
DXRacer King Series Modular Gaming Chairs
DXRacer Extra Wide Seat Large Backrest D4000 – Black & White
DXRacer Gaming Chair Extra Wide Seat Large Backrest D4000 – Black
DXRacer Gaming Chair Extra Wide Seat Large Backrest D4000 – Blue & Black
These three are DXRacer King Series modular that are upgraded for bigger comfort. Their seat base and backrest are made 15% larger than others to give you the style, endurance and comfort that is needed for long-haul gaming sessions. The price for these gaming chairs in Qatar is 1,800 QAR.
Overall Best Gaming Chairs 2022
Secretlab Titan Evo 2022
Secretlab Omega
Logitech G x Herman Miller Embody
NeueChair
AndaSeat Kaiser 3 XL
NobleChairs Hero
Corsair T3 Rush
DXRacer Craft Series
Some Final Thoughts:
The gaming chairs are pretty large, with backrests extended high enough to support your head, along with large armrests and a swivelling base that let you spin freely. Probably, you have seen some executive office chairs that look pretty similar, however Gaming Chairs have a few main differences, though. A gaming chair's material is also important to consider, equally what is packed inside and what is wrapped around it. Most of the gaming chairs in the world use polyurethane leather (PU). It is a leather-like synthetic material that is used for the covering, and dense foam for the padding. This is known as the most common configuration for a gaming chair, but it is not really the only option. Some gaming chairs have fabric shells, whereas others are available in genuine leather and those are significantly expensive. Covering all of the above discussion, the gaming chairs are better than usual office chairs because gaming chairs support proper posture while sitting.
An average employee in France spends around 10 hours sitting each day at work. For United Kingdom, people spend around 60% of their working hours sitting and for the office workers; the number goes up to 75%. While sitting on a usual office chair, your spine has to hold up your arms and head against gravity. When your back gets tired from the strain, it curves into a slouch and with the passing time, slouching becomes more prevalent. With the use of a gaming chair, you can actively enjoy longer hours of gaming without any discomfort. Apart from this, you will not suffer from muscle pain because all the gaming chairs come with interactivity features to help relax your body. The gaming chair purely offers more fun and motivates you to enhance your overall gaming performance.
Furthermore, every component of the gaming chair allows adjustability and therefore, you can easily adjust your gaming chair to prevent spine and back injuries. When we talk about responsive gaming, nothing beats a gaming chair and this is the most important reason to invest in a gaming chair. The gaming chair is loaded with a lot of inbuilt technologies to help you enjoy full control of the game. Speakers, AFM equipment, wireless and wired connectivity features and many other multisensory interactive features, all of that in a gaming chair. The gaming world advancing like never before! We should embrace technologies that offer supreme flexibility to stay on top of the game. Every gaming chair provides adjustable recline, swivelling and rocking features to complement your gameplay. You will enjoy different control and display settings of your games. There is only a need to determine what suits you to adjust the gaming perfectly. From all these reasons, it is clear that a gaming chair is an essential addition to your gaming world. You can also enjoy customizable gaming chair features according to your budget.