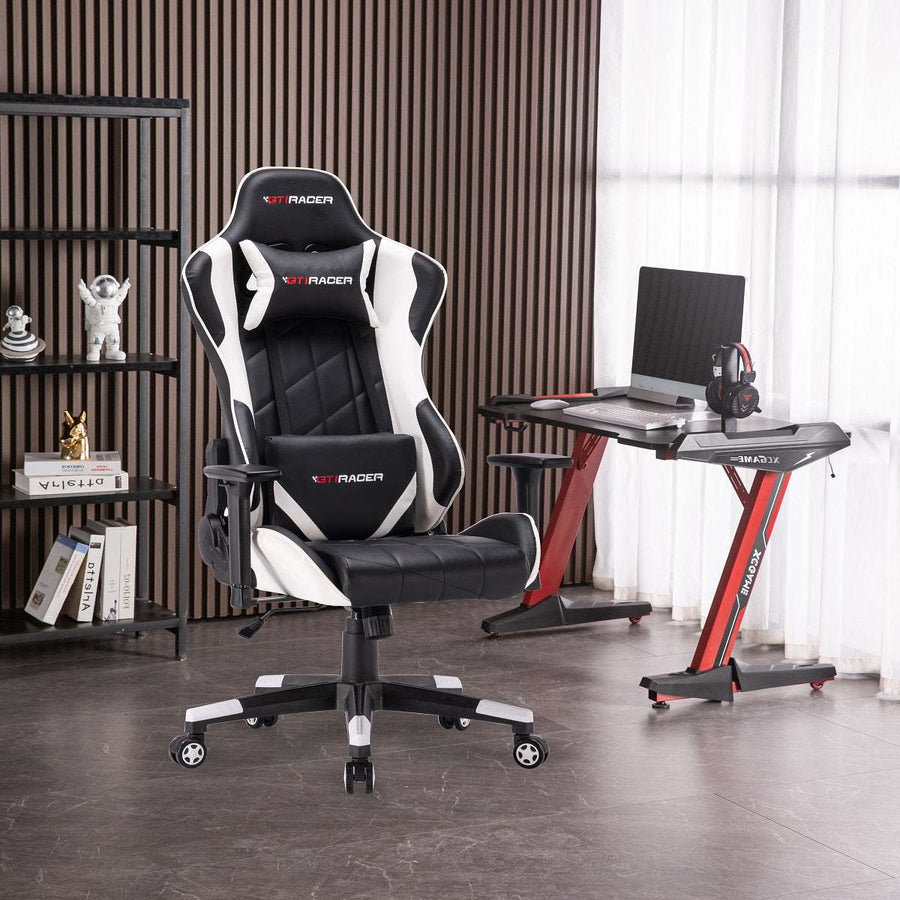 Gaming Chairs: Benefits, Aesthetics & Ergonomics
The specifics of comfort-focused features can differ depending on the brand and the type of gaming chair you select.
A gaming chair is undoubtedly valuable given that you can add features that are tailored to your interests and preferences.
To provide the highest level of comfort during prolonged gameplay periods, modern gaming chairs have been ergonomically designed.
Gaming chairs are ergonomically designed seats made with playing video games in mind. In general, there are three major categories of gaming chairs: rocker, floor, PC, and racing. Most gaming chairs that are used as office chairs can be adjusted to offer the highest level of comfort. Therefore, if floor gaming seats are not your thing, you should switch to an adjustable gaming chair.
Gaming Chair's Advantages
Compared to office chairs, dining room chairs, sofa couches, and any other seats people commonly use when playing video games, gaming chairs have a variety of advantages.
Increased comfort and ergonomics
Modern gaming chairs have been ergonomically created to offer the greatest level of comfort during extended gameplay sessions. They frequently have some kind of lumbar and spine support, as well as substantial padding running through them. The weight restriction of your gaming chair is another aspect of ergonomics that you should think about.
On the other side, PU leather gaming chairs occasionally have a strange mix of comfort and discomfort. This is because a chair constructed of an unbreathable material makes it simpler to perspire. In such case, you'll want to learn how to stop sweating on a gaming chair if you perspire a lot when sitting in your chair.
Excellent Adjustability
To meet the needs of a wide range of customers, gaming chairs frequently have a great degree of adjustability. These chairs offer numerous customization options, including height adjustment, seat width adjustment, headrest, armrest swivel, tilt, and tilt tension. Regularly sitting in a chair with lots of adjustments can lessen back pain and improve general health. To get the most out of your adjustment settings, find the ones that work best for your particular body.
Aesthetics
The availability of gaming chairs in a variety of forms and patterns is one of the main reasons they have become popular among kids and well-known live streamers around the nation. You need to be able to locate a gaming chair that meets your requirements, no matter your interests or aesthetic tastes.
Durability
The majority of gaming seats are intended to survive prolonged everyday use; thus they are very sturdy. They frequently have premium, durable, and heavier-than-average components. The lightest gaming chairs typically weigh around fifty pounds, but they can weigh as much as 100 pounds or more. Additionally, these chairs typically come with lengthy warranties of at least two years.
Gaming-centric Features
Some gaming chairs come with a variety of accessories and game-specific features, like mechanical movement, built-in speakers, and USB hubs. If you do your research, you should be able to locate a gaming chair that meets all of your requirements. Given that you can add features that are personalized to your tastes and preferences, a gaming chair is unquestionably worthwhile.