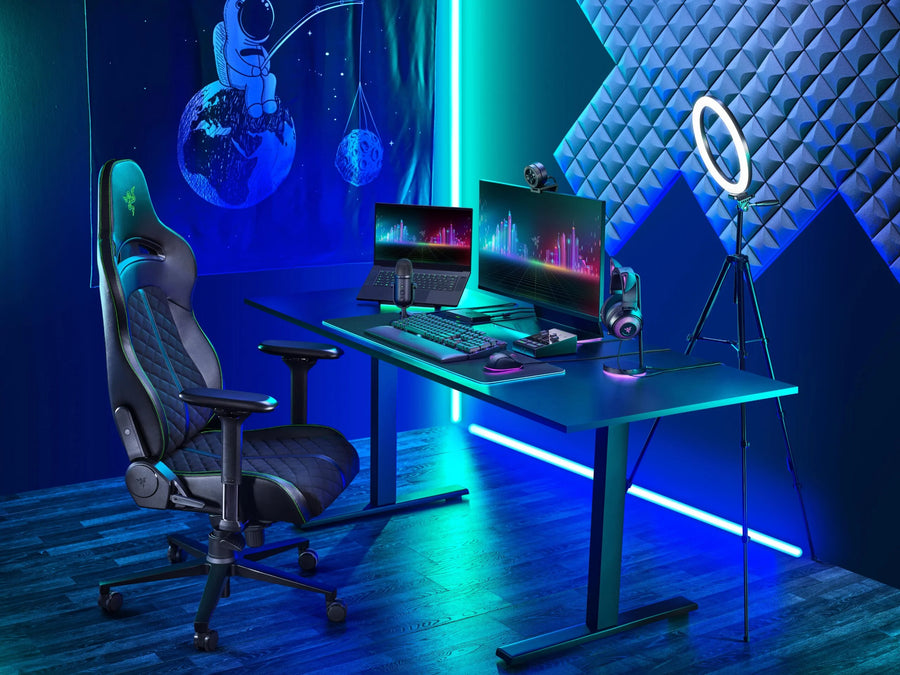 Gaming Chair Price in Qatar - Think24
Gaming Chair in Qatar
The prices of gaming chairs in Qatar vary according to the specifications a chair comes with. The prices of best gaming chairs in Qatar are:
Razer Enki X Black/Green Gaming Chair – 1299 QAR
This gaming chair is designed to provide optimal weight distribution as it achieves a sweet spot that will always keep you in the comfort zone.
Features:
All-Day Comfort
Weight-adjusted tilting
Lumbar Arch
Cushier feels with firmer seat
Plush textured fabric
Cougar Outrider Gaming Chair – 1099 QAR
This gaming chair meets the needs of professional gamers with a combination of comfort and durability.
Features:
High-quality shaping foam
Steel frame
Metal base
Reclining backrest
Perforated premium PVC leather
Adjustable Design
Playseat Forza Motorsport Gaming Seat – 1790 QAR
These days everything is online and everybody has to sit for long hours on a chair in an office or at home doing a lot of work. For office use, we see ergonomic office chairs but if you compare an office chair with a gaming chair, you will get to know that a gaming chair has more advanced functions than an office chair. Like other gaming components, a gaming chair is also an important part of a gaming setup. Some cheap gaming chairs in the market are built with low-quality materials resulting in comfort and durability issues. However, high-end brands make gaming chairs according to users' comfort and ease. The X Rocker is a globally recognized brand with over 15 years of experience in the gaming industry. It uses only the latest and greatest technology in sound and lighting. All products by X Rocker are tested and engineered to the highest possible standards to ensure a quality and safe product for you and your family.
This chair is the official licensed racing chair for all Forza fans. It has a unique Playseat quality. The Playseat gaming hairs are used by professional drivers.

Features:
Gaming Platforms Supported
Comfortable leather look
Unique Playseat Quality
Vertagear PL4500 Gaming Chair Swarovski Special Edition – 2699 QAR
Swarovski has a natural magic of light along with superior brilliance and clarity. The technology is based on scientific principles having advanced optical measurements and high-quality cutting that delivers premium crystals with complex sophisticated surfaces.
Features:
Precision Cuts
Luxury diamond shaped pattern
Ultra-Premium High Resilience Foam
Penta RS1 Casters
5 Star aluminum alloy base
Steel Frame
Gas Lift
Lumbar and Neck Support
Adjustable Seat Height
Adjustable Backseat
Adjustable Tilt with Locking System
Adjustable 3D Armrests
Corsair T3 Rush Gaming Chair Charcoal – 1999 QAR
The gaming chair has a racing-inspired design with contoured comfort having a breathable soft cloth exterior, a padded neck cushion and memory foam lumbar support.
Features:
Breathable soft fabric exterior
Padded neck cushion to relax
Easy Glide
Adjustable seat height and armrests
Corsair T3 Rush Gaming Chair Gray/White – 1999 QAR
This gaming chair comes with a racing-inspired design with a breathable soft cloth exterior, padded neck cushion and memory foam lumbar support.
Features:
Breathable soft fabric exterior
Padded neck cushion to relax
Easy Glide
Adjustable seat height and armrests
XRocker X-Pro 4.1 Pedestal Video chair for gaming desk Comfy Folding Game Player – 1050 QAR
Features:
Wireless/Bluetooth dual control panel
4.1 Multi-Stereo speakers and rear mounted subwoofer
A gunstock, deep padded seat, armrests and headrest cushion
XRocker Nintendo Super Mario Gaming Chair, Pedestal Folding Chair with 2.1 Audio Built-In – 799 QAR
Features:

Nintendo's Super Mario Series
2.1 audio systems
Padded faux leather material
Stereo audio system with bass speaker for impactful audio
Compatible with all Nintendo Gaming Systems
XRocker Premier Maxx RGB 4.1 Multi-Stereo Storage Gaming Chair – 1530 QAR
Features:

4.1 sound, tri-motor vibration feedback
Vibrant Neo Motion LED Technology
4 speakers & 1 subwoofer
Wireless Connectivity with a wireless DAC transmitter
XRocker Monsoon RGB 4.1 Stereo Audio Gaming Chair – 1190 QAR
Innovative Neo Motion LED technology
Supercharged with wireless/Bluetooth dual control panel
Wireless DAC transmitter
Monsoon RGB 4.1
Faux leather finish with sturdy pedestal base
XRocker Sony Playstaton Legend Gaming Chair 2.1 – 1049 QAR
Unrivalled style 2.1 Audio Speaker System
2 mounted speakers for increased audio immersion
Built-in Subwoofer
Sound Reactive Vibration
Wireless and Bluetooth Ready
DXRacer Air plus Series Gaming Chair – 1650 QARFeatures:
Wider seat base and larger backrest
Unrivaled freedom of movement and comfort
Environmentally reinforced mesh
Suspension springs
DXRacer Air Mesh Gaming Chair Modular Design Ultra-Breathable D7200 – 1500 QARFeatures:
Most Breathable Mesh
Suspension Springs
Unmatched support
Adjustable armrests
DXRacer Air Mesh Gaming Chair Modular Design Ultra-Breathable D7100 – 1500 QARFeatures:
Suspension springs
Rail-Mounted Lumbar Support
Headrest Pillow
Leading-edge modular design
DXRacer Air Mesh Gaming Chair Modular Design Ultra-Breathable D7200 – 1500 QARFeatures:
Ultra-breathable mesh
Exclusive suspension springs
Adjustable lumbar support
Memory foam headrest
Modular Design
The gamers often experience back, neck and shoulder pain after long gaming sessions. But it doesn't mean they should give up on their next campaign or switch their console off for good. Rather, it is important for them to just consider buying a good gaming chair to provide the right type of support and comfort for long gaming sessions. One of the most significant features of gaming chairs is their long back. The seatback is important thing to consider because it can help keep the back in a straight and upright position and prevent back pain. The back of gaming chair should be at an appropriate height in order to support your pelvis, spine, and back well. The Gaming Chairs in Qatar have ergonomic features that adapt to the needs of the user. All of these specifications support good posture and movement while sitting. A good sitting posture while gaming extends breathing, improves blood flow, and reduces muscle strain. In addition to this, a gentle seated movement strengthens core muscles by keeping them active. All the gaming chairs offer seat height adjustment, tilt lock, adjustable armrests and the unique ability to lean back up to 180-degrees.
You may have noticed that gaming chairs and office chairs are the two predominant types of options available in the markets. At first, you might think that two different types of chairs have simple aesthetics, but this is not the case. These chairs have some ergonomics features to consider and both of them are different from one another in terms of specifications. Based on their common features, it is very easy to tell whether the chair is made for gaming or office work. Most of the gaming chairs feature a design inspired by race car bucket seats. The design usually feature oversized frames to support helmets from behind and strengthened sides to keep racers in place while they are turning hard.
The gaming chairs help gamers in long stretches of sitting in place. An oversized backrest ensures that your entire back is supported and the side bolsters support your legs and back so you can sit up straight for long time without any discomfort. These chairs have support pillows that attach to the frame via stretchable straps. Moreover, the gaming chairs offer seat height adjustment, tilt lock, adjustable armrests and the unique ability to lean back up to 180-degrees. These days some Gaming Chairs are equipped with heating pads and cooling fabric. For and aesthetically cool experience, a handful of gaming chairs come with RGB lighting as well.
Gaming Chairs Qatar – Common features
An oversized backrest with wings
Bucketed seat
Support pillows
Large logos
Bright colors
Overall back support for better posture
Over the past few years, the gaming industry has witnessed immense advancements and the involvement of Gaming Chair has added more fun to the advancement of this industry. The developers pack the gaming chair with amazing features to make gaming experience a perfect escape for many. A
Gaming Chair in Qatar
as well as all over the world guarantees your ultimate comfort. Its amazing design makes you feel good while sitting on it. The
gaming chair features
high-quality padding on the headrest, backrest and armrest for the best cushioning. Gaming is fun and one would not want to play with unnecessary interruptions and this is what the gaming chair is all about! The gaming chair prevents discomfort caused by a neck strain, backache, and arm pain. The cushioning level of the gaming chair makes it an ideal piece for your relaxation and play. A good posture is extremely important both for your comfort and general health. When you spend long hours on screen, it is imperative that you sit comfortably without subjecting your back to pressure. Therefore, a gaming chair gives you perpendicular sitting to prevent back pain. The chair also helps in aligning your arms with your screen. A good performance is a combination of different features including: comfort, skills, experience, concentration, good health and modern technology. In order to achieve perfection, it is mandatory for you to incorporate these features into your life. The gaming chair is a great advancement in gaming industry that guarantees maximum support and promotes good sitting.