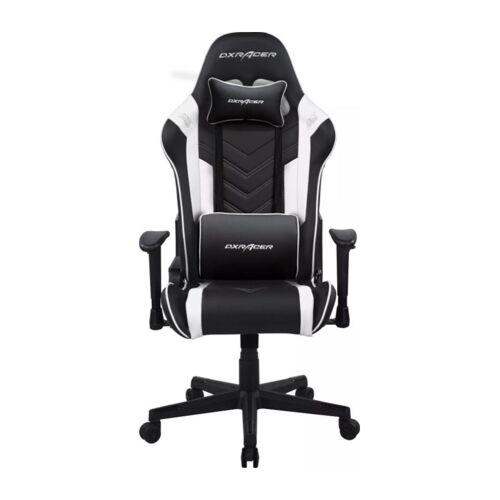 Gaming Chairs: DXRacer Gaming Chair, DXRacer Air Mesh & Master, X Rocker Chair
DXRacer

Gaming Chairs are All designed to be used for prolonged periods while sitting down to play games or work at a desk.

The sturdy steel skeleton of the

DXRacer

Air Mesh Gaming Chair is equipped with rail-mounted lumbar support.

The X Rocker Chair is created with game-changing ergonomic comfort, multi-platform connectivity, and cutting-edge RGB lighting technology.

DXRacer

Master Chair is one of the first to use the innovative modular design with two distinctive chair features.
Today, everything is online, and people spend a lot of time working while seated in an office chair or at home. The majority of us mistakenly believe that a gaming chair is only used by gamers and that an office chair is sufficient for everyday use. A comparison of an office chair and a gaming chair will reveal a variety of distinctions between the two types of chairs. Long periods can be spent relaxing in a gaming chair. While seated in a gaming chair, people can play for extended periods. The ergonomic design of gaming chairs, particularly the lumbar and head/neck support, is their main advantage.
There are some ergonomic office chairs, but if you contrast them with a gaming chair, you'll see that the latter offers more sophisticated features. High-end manufacturers design gaming seats with consumers' convenience in mind. DXRacer provides an intriguing assortment of models. One of the most successful gaming chair brands in the market was the DXRacer brand. The company originally produced seats for high-end sports automobiles. After then, the company narrowed its focus to the gaming chair market and produced a few distinctive model lines.
DXRacer
Gaming Chairs
There are many different heights, body shapes, preferences, and weights available for the DXRacer Gaming Chairs. It's because you'll spend a lot of time sitting on your gaming chair, so it's crucial to get the right size. These gaming seats promote good posture when sitting. One of the first things you notice, aside from the RGB, is how cool-looking gaming chairs are. The features and build quality of these can vary.
All DXRacer gaming chairs are designed to be used for prolonged periods while sitting down to play games or work at a desk. Their goods provide an impressive range of features and a wide range of customization possibilities. One of the most well-known brands of gaming seats that have built a solid reputation for high-quality chairs is DXRacer.
Comfort 
These gaming chairs are incredibly cozy, sturdy, and practical. These can also be altered to meet specific requirements. By one's body measurements and place of employment, the height can be smoothly adjusted to a suitable position. Additionally, the armrests are adjusted to provide complete support for your wrists and elbows based on the measurements of your body. These chairs also have high consistency shape-retaining foam, which keeps its shape even after extended periods of use.
Best
DXRacer
Gaming Chairs
Many gaming chairs have a style that was influenced by race car bucket seats. Large frames are typically used in the design to hold the helmets up from the back, and the sides are frequently stiffened to keep racers in place while they're spinning quickly. The DXRacer gaming chairs support players during extended periods of stationary play. The side bolsters support your back and legs, and the big backrest makes sure your entire back is supported. The support pillows on these gaming chairs have tilt locks, seat height adjustments, pliable armrests, and the unusual ability to lean back up to 180 degrees.
DXRacer
Air Mesh Ultra-Breathable 
Features:
Adjustable armrests

Suspension Springs

Unparalleled support
DXRacer
Air Mesh Modular Design D7100 
Features:
Suspension springs

Headrest pillow

Rail-mounted lumbar support

Cutting-edge modular design
Features:
Modular Design

Ultra-breathable mesh

Unique suspension springs

Adjustable lumbar support
DXRacer
Air Mesh
Large armrests, backrests that extend high enough to support your head, a rocking foundation that allows you to freely spin, and large armrests are all features of the gaming chairs. A gaming chair's material should be taken into consideration for both the packing within and the covering around it. The best gaming chairs in the world have padding made of dense foam and polyurethane leather, a synthetic substance that resembles leather. Although it is the most popular design, there are several options for a gaming chair.
High-density memory foam was used in the construction of this gaming chair, and it has an adjustable headrest that can be adjusted to fit the form of your neck and respond to any movements you make. It offers ideal comfort and neck support.
This chair's ultra-breathable mesh enhances thorough ventilation while reducing heat and moisture buildup. During extended, furious gameplay hours, the mesh keeps players energized. The mesh is inherently strengthened, and racing cars use special suspension springs in conjunction with it. These increase the chair's longevity while producing responsive, lightweight cushioning.
The sturdy steel skeleton of the Air Mesh Gaming Chair is equipped with rail-mounted lumbar support. It easily adjusts the seat back's height for an added layer of comfort. The chair features a stunning modular design that offers users modular components for a conspicuous and ground-breaking gaming experience.
DXRacer
Master Gaming Chair
One of the first to use the innovative modular design with two distinctive chair features was DXRacer Master Series. The first is a backrest with adjustable lumbar support, and the second is a sliding headrest with a rail-mounted design. The Master gaming chairs are different from the other chairs and belong to a separate category.
Higher-quality microfiber leather is used on this chair, along with cushioning for comfort. The gaming chair accommodates users up to 6'2" well in terms of height and allows them to sit comfortably. The master series uses premium microfiber to provide a luxury touch and comfort that has won awards.
Ergonomic
DXRacer
Gaming Chairs
All of the DXRacer gaming chairs are ergonomic, sturdy, and comfy. Additionally, the DXRacer gaming seats are adaptable and configurable, and you can simply change the height to fit your body dimensions. According to your body proportions, there are adjustable armrests that provide complete support for your wrists and elbows. These chairs include high-quality, built-in shape-molding foam that guarantees your comfort and keeps its shape even after extended use.
X Rocker Chair
One company leading the way in popularizing low-profile floor seats is X Rocker. While some 
enjoy the style because it allows them to connect wirelessly via Bluetooth or USB to gaming consoles and computers, others prefer the comfort of being low to the ground.
This floor rocker gaming chair, which costs a little over $95 and has an Amazon rating of 4.3, might be just what someone needs to truly separate work from play. The chair even folds for maximum storage and rocks far enough back for comfort at almost any position.
X Rocker Chairs – Gamers Choice
With game-changing ergonomic comfort, immersive wireless and Bluetooth surround sound systems, multi-platform connectivity, and cutting-edge RGB lighting technology, the X Rocker gaming chairs were created with gamers in mind. These seats will enhance your gaming experience. We've got your back, no matter your style.
The increased level of comfort compared to traditional gaming seats is one of the main reasons gamers choose rocker chairs. The rocking motion increases comfort and enjoyment while also reducing neck, shoulder, and back strain brought on by prolonged gaming.
To offer a relaxing and pain-/fatigue-free gaming session, we made sure to only include seats with those comfort-enhancing characteristics. There is a good chance that if you have read this far in the guide, you still don't know which X Rocker gaming chair is the best choice for you.
X Rocker Super Mario
Customers can choose from an incredible selection of gaming chairs at X Rocker. Super Mario's characters are a fantastic match since everyone needs an occasion to smile, and no one does this better than Mario and his pals. For younger gamers and aficionados of Nintendo, the Super Mario Gaming Chair is ideal. With X-Cool thermal regulating foam, which absorbs temperature while gamers are seated and release it when you get up, the fans can stay cool in the heat of the action.
The X Rocker Super Mario Chair is made up of chairs with the likenesses of Mario, Luigi, Princess Peach, Yoshi, and Bowser. Each chair is painted in vivid, eye-catching hues that reflect the characters' distinctive color schemes. The set will be based on Video Rocker, the company's best-selling chair type targeted at younger gamers.