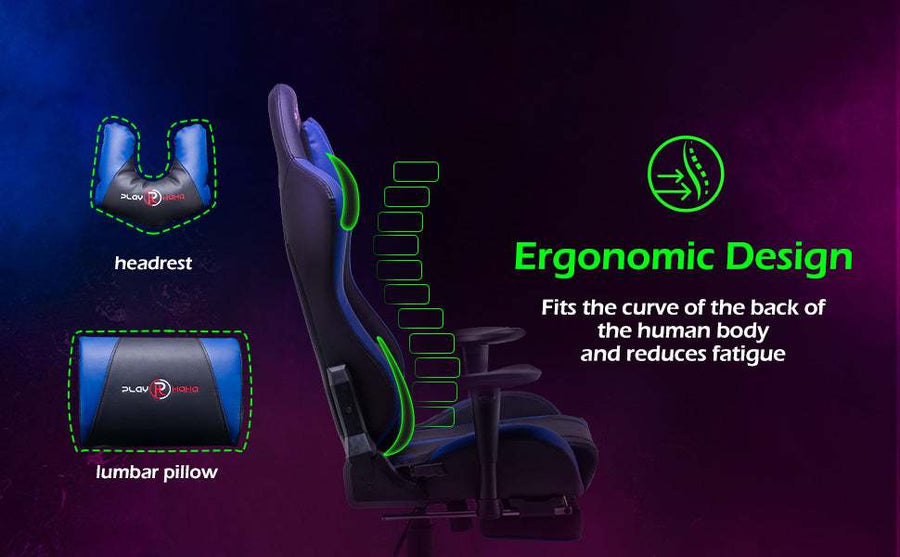 Gaming Chair in Qatar – Price, Best Gaming Chairs Qatar
Gaming Chair in Qatar – Price, Best Gaming Chairs Qatar
A decent Gaming Chair allows the user to move, tilt, shift, and rock to achieve the ideal posture for gaming while ensuring maximum comfort.
A Gaming Chair provides for height and reclines adjustments while a standard office chair does not allow for these adjustments.
There was a period when people believed gaming chairs to be extremely uncommon and unusable. However, it seems like everybody now owns a gaming chair.
Because they play for an average of six hours every day, gamers need gaming seats. The demand for gaming seats has surged as video games become more and more popular. Games have become more commercialized as the gaming industry evolved from board games to expensive video games. People are becoming more attracted to PC and video games since gaming is a high-end form of leisure as electronic gadgets gain in popularity. The production and development of ergonomic chairs are the biggest trends in the gaming chair industry because using traditional gaming chairs can lead to hand and back pain.
Characteristics of Gaming Chairs
On the other hand, ergonomic gaming chairs urge professional gamers to buy them because they provide full-size lumbar support. These seats help gamers maintain better posture while allowing them to play for extended periods. The gaming chairs were created specifically for gamers. For ultimate comfort, they offer lumbar support and a head cushion. For serious gamers, a gaming chair is a necessary piece of equipment. These come in a range of hues, dimensions, and price points.
Price of Gaming Chairs 
Instead of built-in support systems, entry-level and midrange gaming chair models sometimes have lower back and neck cushions made of memory foam. Today, the majority of the most well-known brands also include smooth seats with adjustable lumbar support for greater comfort. In the end, it all comes down to your needs; you may need to invest for the right assistance or may wish to save some money. Gamers, whether amateur or professional, value comfort, thus they seek out gaming chairs that meet their needs. This product industry can be difficult to navigate. Although they don't have to, gaming seats can run into hundreds of dollars. The finest gaming chairs under $100 can be right for you if money is limited.
Accepting that this chair won't last forever is the key to finding a capable and economical gaming chair. You'll utilize a gaming chair that costs less than $100 until you can afford a nicer one. This does not imply that all gaming chairs under $100 are useless pieces of plastic, though. Several wise investments will either meet a necessary need or serve as the ideal chair for use. Gaming chairs have a purpose; they emphasize posture and ergonomics.
Even the lower-end models emphasize these elements because they are designed to provide entire body comfort while gaming. Additionally, there are few differences between chairs, thus selecting the best gaming chair for under $100 is not about price but rather the tiniest details like headrests and speakers.
Affordable Gaming Chairs
For casual gamers, there are a ton of cheap gaming seats available, but if you want to take your gaming to the next level, you should think about spending more money on a high-end chair. Additional features on the premium gaming chairs include the ability to recline, a memory-foam headrest pillow, a cup holder, and many more. You deserve to feel comfortable when playing games, whether you prefer playing on a PC or recently placed an order for a new PlayStation. The top-rated high-end gaming seats for 2022 have been compiled in this list. These chairs are all from reputable companies and feature ergonomic designs.
Best Gaming Chairs in Qatar
Logitech x Herman Miller Embody Gaming Chair
This extremely expensive gaming chair is the result of a collaboration between Logitech and Herman Miller. It has some high-end features, including cooling foam and cutting-edge spinal support. This ergonomic gaming chair has adjustments for every feature to ensure a perfect fit.
SMAX Gaming Recliner
This recliner gaming chair has a 4-star rating and has been enlarged for increased comfort. Additionally, to a headrest and adjustable lumbar support, it has a cup holder and a side pocket.
Razer Enki Pro
Your gaming setup looks excellent with the Razer faux-leather gaming chair. For optimal comfort, it incorporates a magnetic memory-foam headrest cushion and built-in lumbar support.
Razer Iskur X Gaming Chair 
Razer's ergonomic steel-reinforced gaming chair has a multi-layered synthetic leather covering and fully adjustable tilt, recline, height, and armrests.
Gaming Chairs Qatar
After a 10-hour gaming session, or if you work all day and game in the evening like most of us at PC Gamer towers, you'll be glad you invested in one of the best gaming chairs. The gaming seats in Qatar combine comfort and style, and each suggestion has been thoroughly evaluated by the staff to ensure that it is up to par. Your spine should be the top consideration while looking for the best gaming chair for you because your body is a delicate flesh temple that requires a solid foundation. Although a good gaming chair is not inexpensive, it is a wise investment if you choose one that offers ergonomic advantages.
Why Gaming Chair is Important?
Every gaming chair is ergonomic, which means it makes better use of available space than competing models. The stylish and functional design of gaming chairs allows them to take up less room while offering more functionality. Your spine and other back regions are designed to be in the most neutral and pain-free position thanks to the way gaming chairs are made. Many people turn to game chairs to get rid of their shoulder, neck, and back ache. A gaming chair enables height and reclines adjustments, but a regular chair cannot be modified to your preferences.
When you sit for extended periods doing office work or playing video games, good posture is crucial. Every ergonomic gaming chair has a headrest, lumbar support, and armrest that can be adjusted to assist individuals to sit with good posture. When opposed to an office chair, these seats give your spine the proper support and make it easier to sit for extended periods. Long periods spent in front of a screen put a strain on the eyes. Therefore, it's important to keep enough space between the screen and the eyes.