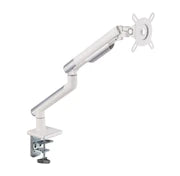 Everything you need to Know about Monitor Stand
Buy online Monitor Stand

If somebody owns more than one monitor, pairing them with the right stand can push your productivity to the next level. This will enable you to easily move, angle, and adjust each screen to better fit your needs, as well as switching to a single monitor stand instead of two individual stands will make your desk tidier. The monitors have come a long way toward being more space saving and less bulky. Earlier, monitors weighed dozens of pounds and took up nearly an entire desk but today, flat-screen monitors are relatively lightweight. Computers can host two or more monitors with dual monitor stands that allow each screen to be used for a different purpose.
A monitor stand might be dedicated to spreadsheets or data entry, whereas a second monitor can display online research or show closed-circuit security camera feeds. The connectivity to a second monitor means no need to switch back and forth between applications on a single monitor. Additionally, dual monitor stand helps position multiple monitors at an optimal height for viewing while keeping the desk space less messy and more organized. The best dual monitor stand differs depending on work habits, work space size, and monitor sizes.
Monitor Stand Qatar
There are various ways through which you can mount a pair of monitors. Most of the dual monitor mounts come in four basic types: Freestanding, Desk-mounted, Desk riser, and Wall-mounted. It all depends on the size of monitor, some are better than others for different situations. Dual Monitor stand are versatile that allow you to make numerous adjustments and re-adjustments to the height and tilt of your screen rather than being restricted to a single viewing position. The dual monitor stand lets you share information with coworkers or clients by moving your arms from side to side. People who own dual monitor stand setups experience more productivity because they have complete control over the visual display of their work. Monitor mounts are one of many excellent tools for a more ergonomic workplace because they give a comfortable posture in various working positions. The Monitor Mounts offer more productivity to the users by giving them complete control over the visual display of their job. Monitor stands are one of many wonderful instruments that deliver ergonomic workstation since they allow for a comfortable posture in a variety of working situations.
Freestanding mounts feature two monitor arms with a single weighted base that can be positioned anywhere on a work surface. This type of stand is best suited for relatively small and lightweight monitors because users can quickly move it to a different location without much trouble.
Desk-mounted stand have a screw clamp at the bottom that attaches to the work surface to keep the monitors' weight from overbalancing the stand. This mount is more stable than a freestanding mount and can secure heavy and large monitors.
Desk risers are simple boxes that come in widths up to 36 inches to suit different desk sizes. These sit on a desk surface to elevate monitors to a comfortable eye level. Desk risers own a space for storing notebooks, paper, or other desk accessories.
Wall-mounted stand are like wall-mounted TV stands, and these dual monitor mounts attach to wall studs for stability. These mounts are suitable for offices where freeing desk surfaces is a goal.
Desk risers come with metal arms and stand attachments designed to hold the monitors securely. Through its adjustable arms you can move and tilt the monitors to the perfect angle, and many require some assembly. Wall-mounted stands need more detailed assembly and installation, and the users have to locate wall studs in order to securely attach the stands to the wall. Riser stands are often made from wood, laminate, or molded plastic. They usually come pre-assembled and ready to place on a desktop.
Dual Monitor Mount
There is a variety of dual monitor stands available. Almost every monitor stand has a capacity limit of weight and size it can safely support. The maximum weight for each of the monitor stands ranges from around 15 to 30 pounds. The maximum size for each of the monitor stand ranges from around 20 to 35 inches. Both monitor mounts; Desk-mounted and wall-mounted come with extendable arms that allow easy movement of the monitors into an optimal position. The arms can be extended 8 to 20 inches forward or to the side, depending on the model. Some desk-mounted monitor stands also swivel up to 360 degrees.
Cable Management
The cables attaching monitors to both an electrical source and the computer are necessary, but they can make an office look messy. With a dual-monitor stand, a minimum of four cords will likely be in plain view. Cord organizers help keep cords orderly, but monitor stands with cable management offer the simplest way to hide the cords. These stands feature channels or clips along with the arms where users can tuck monitor cords out of sight. The clip version keeps cords tidy, but they will still be visible, while the inner channel version will hide the cords from view.
Mounting Capability
Most of the flat-screen monitors today have universal stand holes in the back that are especially designed to fit mounting plates that meet Video Electronics Standards Association (VESA). Some manufacturers of monitor stands offer a list of compatible monitor stand, but many only list the VESA mounting-hole configuration. An easy way to know whether a monitor will fit a particular stand is to consult the monitor's manual. Otherwise, you can also use a ruler with millimeter markings to measure the horizontal distance between the sets of holes and the vertical distance. Both of these numbers will tell you whether your monitor will fit a specific stand.
Monitor Wall Stand can also upgrade the home office and gaming battle station. When the mounts are combined with monitors optimized for home office spaces, the best monitor wall mounts can create a comfortable environment that for users' neck and eyes while helping clear off the top of your desk. Monitor wall Mounts directly attach to your wall, and computer desk setups work best for them. The best wall mounts can simply affix onto the wall once a viewing sweet spot has been established. It is often beneficial for monitor wall mounts to have swiveling arms and increased maneuverability. In this way, a monitor can be adjusted according to an individual's height. Moreover, the monitor should be able to be moved closer or further away for different purposes; study or casual viewing of streamed programs. Monitor Wall Mounts create a good environment for home office or a place where people spend an increasing amount of time. All these monitor wall stand come with ergonomic designs and simple installations.
An adjustable monitor stand for your desk allows you to change your body position throughout the day. It alters the height and angle of the screen, offering a second-best option to leave your desk regularly to stretch. In terms of flexibility, you will be able to position your monitor as you please with minimal effort. When you use a regular monitor stand, you do not get nearly as much freedom or flexibility when it comes to monitor position. Dual monitor stands are also great tools for people who are very particular a clean look on their desk. An improperly placed monitor forces a person to slouch or hunch over at their desk, it can cause severe back pain and stiffness. But using a monitor stand allows a person to adjust the position of their monitor to promote proper posture. This also applies to people who use a sit/stand desk.
Mounting the monitor on the wall is a great choice, because when you raise your head to look at the monitor on the wall your upper and lower cervical vertebrae do not have to rotate much. Additionally, the weight of your head is more equally distributed amongst your neck extensor muscles. Whether it is for work or gaming, monitor mounts enhance one's focus, prevent strain-related neck and back injury, and give one's desk a professional aesthetic. The monitor Mounts attach to the back of a monitor allowing you to mount it in virtually any location. There is a variety of different models and styles that can be used in many different situations. The understanding about how to use a monitor mount is important for everyone from an individual home-user to major IT facilities.