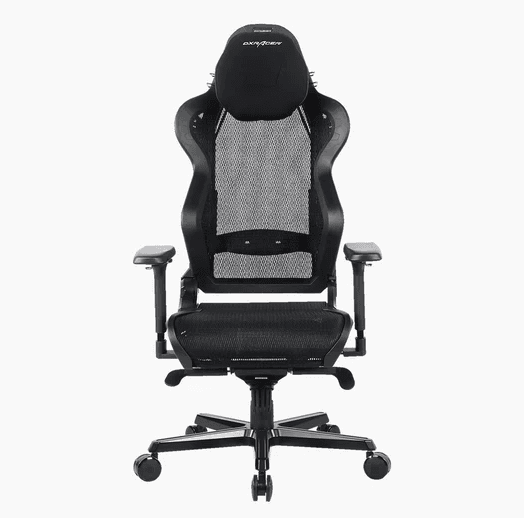 DXRacer Gaming Chair Qatar Series - Think24
Series of Gaming Chair Qatar
DXRacer offers an interesting mix of models and off all these models, the King, Air Pro, and Master Series chairs are by far the best. DXRacer Gaming Chair reigned as one of the most successful gaming chair brands in the industry. DXRacer started its operations in 2001. It started as a manufacturer of seats for luxury sports cars. Later, the company evolved its focus to the gaming chair space and produced some unique model lines. DXRacer Gaming Chair offers a pretty wide swing of chair types, some on the lower end of the spectrum and some of higher quality. DXRacer Gaming Chair Qatar has plenty of different body shapes, heights, preferences, and weights. It is because when you buy a gaming chair you will sit on it for long hours so it is important to pick out the best size for you. DXRacer gaming chairs encourage proper sitting posture. There are chairs that support users below 6'0. These are DXRacer's most traditional and popular racing-style chairs.
DXRacer Gaming Chair
The Formula Series is one of DXRacer originals. These chairs are smallest in height as compared to other gaming chairs and have more room than other traditional racing chairs. Another popular category of DXRacer is gaming chairs that support users 6'2 and up to 275 lbs. These gaming chairs feature modular support. Some DXRacer gaming chair use PU Leather that is softer synthetic leather and is smooth to touch. This type of leather is similar to genuine leather of DXRacer base synthetic leather types. The other material is PVC leather which is not as smooth as PU leather but is more durable and stain-resistant. DXRacer also use Microfiber material in their gaming chairs which is softest and smoothest leather. It is long-lasting and silky to touch and provides an extra layer of luxury. In addition to these, the traditional mesh another one that is breathable and durable and very similar to most traditional office chair cushions. Lastly, the Air Mesh on DXRacer Air chairs is made from recycled materials with durability in mind. It is known to give the most breathable experience in gaming chairs.
Best DXRacer Gaming Chairs
The DXRacer Modular gaming chairs let you extend a chair's functionality with extra components. Some latest modular gaming chairs join the iconic Racing Series in DXRacer's premium collection.
DXRacer Master: Executive modular gaming chair
DXRacer Air:: Full mesh modular gaming chair
Craft Series: Artsy compact gaming chairs with integrated lumbar
Gladiator Series: Racing-style modular esports chair
King Series: Extra-wide version of the G-Series
DXRacer Master Series
DXRacer Master is the first gaming chair that introduced the pioneering modular design. The design consists of two standout chair features. The first one is adjustable lumbar support integrated into the backrest, instead of a pillow and the other one is a sliding headrest featuring a rail-mounted design. DXRacer Master Series is a huge deviation from the other chairs and is in a class of its own. This gaming chair uses microfiber leather that is a much higher quality than anything seen on DXRacer's other chairs. With padding, these gaming chairs look better both up close and from a distance. This design goes well with the aluminum base that can support up to 275 pounds of weight. This gaming chair works well in the height department and allow users up to 6'2" to sit comfortably. There is no need to worry about a lumbar support pillow since this support is built into the chair itself. DXRacer master series are quite wide at 21.5", and you can recline as far back as 155° if you so wish. It is nice to have this extra flexibility for gaming. Furthermore, the DXRacer Master series adopt premium microfiber material to deliver luxurious touch and award-winning comfort.
DXRacer Formula Series
The formula series by DXRacer are part of a legacy collection. These gaming chairs have 1D armrests, 135° recline, and limits of 5'8" and 200 pounds. The lower side contains nylon base and PVC leather. Formula Series Chairs also use some mesh in places. The Formula Series by DXRacer is an entry-level model that is the blueprint for pretty much every other gaming chair in the market. All chairs in the DXRacer Formula Series collection have the same features and dimensions.
Formula Series Master Series
Weight: 48.5 pounds (22 KG) Weight: 68.1 pounds (30.9 KG)
Strong Mesh & PVC Leather Microfiber Leather
Chair Width: 19.5 inches Chair Width: 21.5 inches
Recommended User Height: 5'8″ (173 cm) Recommended User Height: 6'2″ (188 cm)
Max Weight: 200 pounds (90 KG) Max Weight: 275 pounds (125 KG)
Recline: 90° to 135° Recline: 90° to 155°
Adjustable height: 4 inches Adjustable Height: 3 inches
5 wheel nylon base 5 wheel aluminium base
1D Armrests 4D Armrests
Back support pillow and head cushion Back support and head cushion
Master Series
Weight: 68.1 pounds (30.9 KG)
Microfiber Leather
Chair Width: 21.5 inches
Recommended User Height: 6'2″ (188 cm)
Max Weight: 275 pounds (125 KG)
Recline: 90° to 155°
Adjustable Height: 3 inches
5 wheel aluminium base
4D Armrests
Back support and head cushion
DXRacer Gaming Chair serves up a strong set of options for gaming chair fans in 2022. Remarkably, while most brands have raised prices, DXRacer prices have not changed. DXRacer Gaming Chairs consistently pump out rugged, high-quality products that work exactly as advertised. DXRacer Gaming Chair offers a great variety in its 2022 collection. Gamers, executives, short heighted people, and teens on a budget all have great options.
DXRacer Master Removable Replaceable Seat Cushion Backrest DM1200 – 1,950.00 QAR
The DXRacer Master Series DM1200 DXRacer comes with height adjustable recliner with ergonomic head pillow and lumbar support. Gamers can experience a new level of comfort with DXRacer Master gaming chair. It is made with top-grade microfiber leather, built-in lumbar support, as well as the most advanced module design to give you an unparalleled sitting experience. This gaming chair is suitable for office, gaming, dormitory, and other indoor environments. Everyone know what a chair means to you during long gaming sessions, this is the reason why we adopt premium microfiber leather that surpasses industry standards for an extra touch of luxury and extended comfort. The material feels soft, smooth and retains good resistance as well as tensile strength, inviting you to sit comfortably.

Top-grade microfiber leather
Lumbar support
Advanced module design
Unparalleled sitting experience
The DXRacer sliding foam pillow conforms better to your head and relieves more pressure points. It helps to avoid muscle pains and aches. A fully adjustable headrest, open for customization, enables you to own a pillow that matches your style. The gaming chair is engineered with ergonomics in mind. The lumbar support integrated into the backrest is optimized for incredible spinal support through your entire back. Furthermore, a side-mounted rotary dial, normally found in the seating of premium automobiles, enables the Master chair to be effortlessly adjusted for exceptional comfort. The chair's lockable synchronic-tilt mechanism ensures joy of a top-notch experience away from discomfort. Just simply unlock the rocking mode to lean back and enjoy the comfort / flexibility of the chair, you can easily lock the rocking mode at any angle to meet your finest position. The Master Gaming Chair offers 4D armrests with a new metal internal for optimal support and resting position of the forearm. Also, the PU padding provides greater durability and ease of maintenance. The aluminium base is solid and robust, is highly resistant to external forces and supports up to 120 kg, even with the use of tilt mechanism for reclining and relaxing. Lastly is the use of a Safety Class 4 hydraulic gas lift and heavy-duty aluminium casters that glide effortlessly across any surface.
DXRacer Formula Series Conventional Gaming Chair Mesh FD01 – Red & Black
This is a functional gaming chair that features seat height adjustment, tilt tension, tilt lock, and a 135° reclining seat. This formula series DXRacer gaming chair includes a removable head pillow and lumbar pillow for extra support and comfort during long hours of competition.
Final Verdict:
All the DXRacer gaming chairs are designed for extended periods of sitting and playing games or working at a desk. Their products also boast an impressive array of features as well as many customization options. DXRacer is one of the most popular gaming chair brands that have built a good reputation for quality chairs. From its entry-level Formula Series to the flagship racing series chairs, DXRacer has something for every gamer.
The DXRacer gaming chairs are most durable, comfortable, and ergonomic; these gaming chairs are worth it. Moreover, the DXRacer gaming chairs are customizable and adjustable to suit different needs. One can easily adjust the height to an appropriate level according to their body measurements and work desk. Similarly, the armrests can also be adjusted to offer full support for your wrists and elbows, again, depending on your body measurements. A high density shape molding foam Is also included that not only ensures your comfort but retains its shape even with long stretches of use.