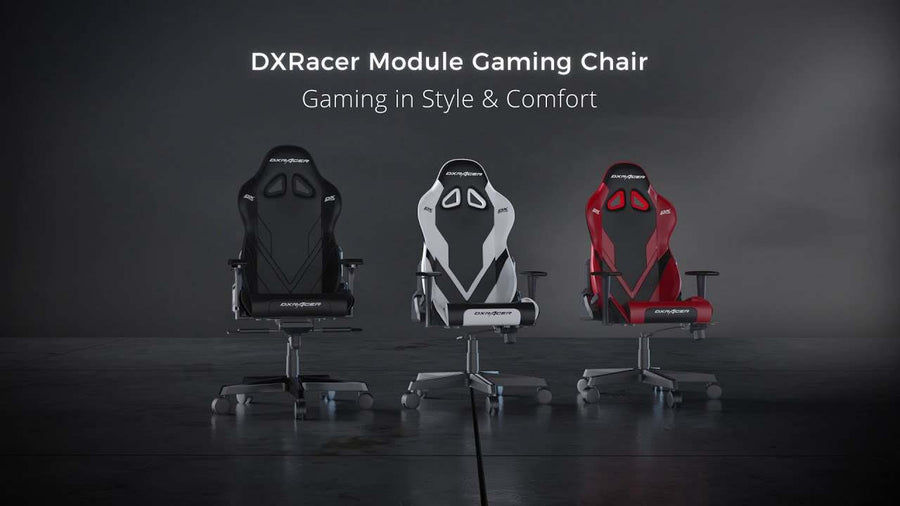 DXRacer Chairs | Best Gaming Chairs
DXRacer Chairs | Best Gaming Chairs
Every chair made by DXRacer has an ergonomic design that distributes the user's weight uniformly and lessens the possibility of muscular strain.
DXRacer Gaming Chairs are designed for prolonged periods of sitting while engaging in computer games or office work.
The support pillows on DXRacer gaming chairs have tilt locks, seat height adjustments, pliable armrests to provide good back support.
DXRacer initiated the gaming chair craze back in 2006 and is still a prominent participant in the industry. These gaming chairs are fantastic all around and offer some of the best ergonomic options for gamers and streamers, and their chairs are well-made.
Adults are the primary market for the majority of DXRacer's products, especially gamers and people who work in occupations that involve prolonged sitting. Every chair made by this company has an ergonomic design that distributes the user's weight uniformly and lessens the possibility of muscular strain during prolonged work or gaming sessions.
The DXRacer Gaming Chairs come in a wide range of heights, body types, preferences, and weights. It's important to get the correct size because you'll be sitting on your gaming chair for extended periods of time. While seated, these gaming chairs encourage good posture. Aside from the RGB, one of the first things you notice is how stylish gaming chairs are.
Cost
The chairs from DXRacer cost between $280 and even $700. Generally speaking, their higher-end versions should have more features and better materials. Nevertheless, even the less expensive items have molded foam inners that are compression-resistant and, at the very least, tilt functionality. 
DXRacer Range
There are 17 different chairs with the logos of video games, as well as some made for use in simulators. The DXRacer Master series offers a built-in headrest pillow and lumbar support, unlike ordinary gaming chairs. It's as modest as a gaming chair can go, making it the perfect choice for anyone who appreciates discreet things that double as home office furniture.
It initially gives off the impression of being a high-end car seat, complete with a side-mounted dial for lumbar support adjustment and premium microfibre leather. For naps or to unwind during breaks, the backrest can recline to 155 degrees.
Material
Some gaming chairs employ PU Leather, a smoother and softer synthetic leather. This kind of leather is comparable to the genuine leather-based synthetic leather kinds used by DXRacer. The alternative material is PVC leather, which is more resilient and stain-resistant but is less smooth than PU leather. It offers a redundant subcase of luxury and is long-lasting and smooth to the touch.
Sitting Experience
All of the DXRacer gaming chairs are designed for prolonged periods of sitting while engaging in computer games or office work. Their products include an astonishing array of features and several options for customization. One of the most well-known brands of gaming chairs that has built a solid reputation for high-quality chairs is DXRacer.
Comfort & Durability
These gaming seats are exceptionally comfortable, reliable, and useful. These can also be changed to match particular needs. The height can be easily altered to an appropriate position based on a person's body dimensions and place of employment. Additionally, the armrests are modified based on your body proportions to offer total support for your wrists and elbows. Additionally, the high consistency shape-retaining foam used in these seats maintains its shape even after prolonged use.
Design & Features
Race car bucket seats have impacted the design of many gaming chairs. The sides are sometimes strengthened to keep racers in place while they are spinning swiftly, and large frames are frequently employed in the design to hold the helmets up from the rear. Players are supported by the DXRacer gaming chairs while engaging in prolonged stationary play. Your back and legs are supported by the side bolsters, and your entire back is supported by the large backrest.
These gaming chairs' support pillows offer flexible armrests, tilt locks, seat height changes, and an uncommon ability to lean back 180 degrees. The gaming chairs from DXRacer provide good back support. These chairs contain adjustable ergonomic characteristics that adapt to the user's needs. All gaming chairs have adjustable armrests, tilt locks, lockable seat height, and the unusual ability to lean back up to 180 degrees.