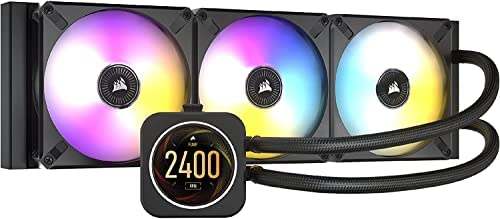 CPU Coolers: Cooler Master CPU Cooler | Types | Best Cooler Master CPU Cooler
CPU Coolers: Cooler Master CPU Cooler | Types | Best Cooler Master CPU Cooler
Choosing a reliable CPU cooler is an important choice when designing your PC because it frequently prevents your system from overheating.
There are numerous varieties of CPU coolers and almost all of them fall into one of three main categories, known as custom/open-loop cooling systems.
With a heavy load and at maximum RPM, Cooler Master can generate up to 26 dBA of noise and has a 42CFM airflow.
The main function of a CPU cooler is to regulate CPU temperature and keep your processor from overheating. You should invest in a better CPU cooler when your processor generates temperatures greater than 100 degrees Celsius and your stock cooler is unable to control them. The majority of computer parts, especially the processor, are built to produce some heat while operating. A fan above the Processor helps lower this elevated temperature.
Types of CPU Coolers
CPU coolers are the most popular. The majority of the time, manufacturers include an air cooler to lower the CPU's additional heat. On a PC used for routine chores, the Stock Cooler performs flawlessly.
Stock Coolers
Choosing a reliable CPU cooler is an important choice when designing your PC. If you're wondering why, a CPU cooler frequently prevents your system from overheating, especially when it's under stress. To begin with, the cooler you select can have a big impact on how much fun you have while gaming. When you overclock your CPU, a cooler that can control the heat output is necessary to prevent throttling, maximize the performance of your system, and enable lag-free gaming. Given the abundance of options on the market right now, you might be perplexed.
CPU Cooler Price
The most crucial consideration to make is your budget. Even the costliest (about $100) air coolers can be less expensive than equivalent AIOs. Air coolers are often less priced than other choices, starting at around $25. To be clear, an air cooler often offers more cooling power for your money. You are already aware that AIO coolers cost a little more than standard air coolers. They can cost far over $150 and start at $60. Depending on their brand, size, and other features, some models in the US may have more than 150. The pricing of the system will depend on the size of the radiator and the quantity of RGB LED fans and lights.
The expense of creating a unique liquid loop is the most expensive part of the process. A tailored liquid loop will be substantially more expensive overall than a closed-loop system. What does this increased cost mean for you, then? Starting, depending on your system configuration, you can get better performance. Adding cooling to other components, such as the graphics card, and changing the setup's coolant or tube color are also options. Everything is ultimately up to you.
Cooler Master CPU Coolers
Under heavy load and at maximum RPM, Cooler Master can generate up to 26 dBA of noise and has a 42CFM airflow. It supports a number of sockets, including LGA2066, LGA2011-v3, LGA2011, LGA1200, LGA115x, LGA1366, AM4, AM3+, AM3, AM2+, AM2, FM2+, FM2, and FM1. It is a straightforward air cooler.
Best CPU Cooler by Cooler Master
The Hyper 212 series of coolers from Cooler Master have been around for a while and have developed a reputation as well-known affordable options. They perform well and are more expensive-effective than stock fans.
Cooler Master Hyper 212 
For individuals who don't want to spend more than $100, the second choice for the best CPU air cooler is a low-cost alternative. A $35 CPU cooler that competes favorably with some of the top coolers available is the Cooler Master Hyper 212 Black Edition. The Hyper 212 cooler from Cooler Master has been in existence for well over a decade. These coolers have been on recommended lists for many years, but Cooler Master still finds a way to meaningfully update them so that they remain current. The Hyper 212 Black Edition is an enigmatic black-colored variation that retains all the knowledge from some of the older coolers.
Made-up
Four direct contact heat pipes, an aluminum heatsink, and a 120mm high airflow fan are all included in the Cooler Master Hyper 212. It has a relatively simple design that effectively transfers heat from the CPU IHS. The maximum RPM for the PWM fan that is included is 2,000. Anyone wishing to replace the default CPU cooler should check out the Cooler Master Hyper 212 air cooler. It might not be sufficient for a high-performance unlocked CPU operating at a constant speed of up to 5.0GHz, but it is a good choice for people with a straightforward budget build.
RGB
If you want to incorporate a little RGB into your build, there is also a variation with RGB lights. Cooler Master offers a few Hyper 212 variations with minute visual differences. We haven't yet found a suitable replacement for it, even though it is the most affordable cooler in our collection.