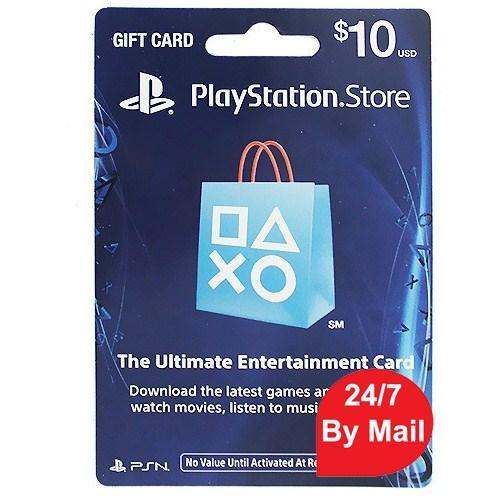 Can you buy PlayStation Network Card online?
Buy PlayStation Network Card online from PSN Card Shop

The PlayStation Network card (PSN) put money on your PlayStation account. These cards have monetary values. PlayStation Gift Cards can be purchased online, and after the purchase, the confirmation is sent to the purchaser, along with a PSN gift card code. This PSN collection can be redeemed by anyone who sees it. So, it can be sent the to a friend or use it on your own account. When someone enters the code on the account, it redeems all the money from the PlayStation Store gift card on that same account, giving them money to spend on the PlayStation Store. A lot of PlayStation cards can be sent to the same account or purchased by a single person and sent to multiple friends. PlayStation Network Cards are the online service that powers PlayStation games consoles. A large number of content for video games these days is available only online, with only a small portion of it available in retail stores. With a PlayStation gift card, you can access a huge online shop full of new content that cannot be found in physical stores. 
How to Activate a PSN Gift Card?

It is really easy to activate a gift card once you have it. If you purchase the gift card for yourself, the code will be sent to you, and you just need to enter the code to redeem its cash value on your account. When someone sends you the code, you go through the same process, and your gift card's cash value will be unlocked instantly. When the code is activated, it cannot be reused again. If you try to use the same code, a message will pop up saying the code has been used and is now invalid. When the PSN code is activated, the cash remains on your account until you are ready to use it. There is no rush to spend it right away. You can have as many gift cards on your account as you like, building up cash for bigger purchases.
How to Buy PlayStation Gift Cards Online?

You can purchase PlayStation Gift Card through the PSN store directly or from third party suppliers. Sometimes you will pay less for a third party PlayStation Store gift card. You can also buy a PlayStation Plus card that provides a specified amount of PlayStation Plus membership ranging from 3 to 12 months giving access to a whole host of online services and content.
You can play any game on PlayStation online without an active PlayStation network card but if you want to transfer your PS Now game saves from console over to PC for any reason, you will need a PS Plus membership to do so. PlayStation was released in 1994. Its initial version of the console represented a significant improvement in terms of graphic quality over the existing cartridge players of the early 1990s. Sony had huge success with the launch of PlayStation two years ago. The primary use of PlayStation 4 is to play games on, but it is also capable of doing much more.  Some features that were lacking upon release are now present. All thanks to new apps or firmware updates! Here are some of the things PlayStation offers that are not a part of its gaming DNA. These are all the reasons you will consider it as your next home entertainment machine rather than just a console.  The new 1TB option has plenty of storage to ensure you fit all your games and plenty of media content on board too.
PlayStation Network Card Qatar

PlayStation Network Card lets you redeem against anything on PlayStation Store from thousands of games, add-ons, subscriptions and more. You can pre-order, preload and play with it. You can also find exclusive deals on top games. The PlayStation Network Card has regular deals and discounts and there is always something to play at a price you will love. PlayStation Network Cards helps you download purchases remotely and you can add your purchases to your download queue from anywhere online and start playing sooner. You can choose various network cards pricing from $10 to $100 to buy your favourite games, add-ons or subscriptions. All the content that you purchase from PlayStation Store is added to your library, as well as being downloaded to your console. This lets you delete any digital game from your console and keep them safe in your library, ready to download whenever you want to jump back in. You can discover thousands of PlayStation games on PlayStation Network Card. It is an ultimate entertainment gift Card for gamers. These network cards fill your PSN Wallet with cash that allow you to download new games, DLC, and videos, as well as stream movies and music.
SONY PlayStation Network Card $100 – 427 QAR
SONY PlayStation Network Card $50 – 199 QAR
SONY PlayStation plus Card, 1 Year Membership – 199 QAR
SONY PlayStation Network Card 25$ - 99 QAR
SONY PlayStation pus Card, 3 Month Membership Card – 92 QAR
These are the most exciting things you can do with your PlayStation 4:
Watch Blu-Ray DVDs
Play old PlayStation games
Add more internal storage for games
Use share Play with friends
Rent games without leaving home
Listen to music while gaming on Spotify
Get Exclusive Destiny DLC
Play games anywhere via remote play
Virtual reality experience through PlayStation VR
Watch live TV shows through PlayStation Vue
Stream 4K Movies and TV Shows from Netflix and more
How to redeem PlayStation gift card?

Fortunately, redeeming a PlayStation gift card is easy no matter what console you have, or if you would rather do it on a computer. First things first, though, you will need the code to redeem your gift card. You must check your email for the digital code or scratch off the back of your physical gift card to reveal the code. If you redeem your gift card online, simply head to the PlayStation Store and click on your avatar on the top of the screen, and select Redeem Code from the drop down menu. In order to redeem the gift card on your console, follow these steps:
Head to the leftmost icon and go to the PlayStation Store
Scroll down to Redeem Codes
Enter the redeem code provided in the email sent to you or on the back of the gift card
Other ways to redeem PlayStation gift card:
Add whatever you would like to buy into your cart
Select Proceed to Checkout
Select Redeem Codes and Gift Cards 
The PlayStation Store Gift Cards have been labelled as such and not as PS4 or PS5 specific cards. It means that gift cards purchased can be used on the PS4 are inherently useful on the PS5 as it uses the same content store. For this reason the PS4 owners who picked up a PS5 continue to use the same profile. This enables to play both the PS4 and PS5 at the same time with the same profile online. You will also have over purchases, store credit, friend's lists, and trophies. That is a convenient transition for gamers which mean there is no need to be concerned about which console a PlayStation Store gift card is for. It works for both. With all the new console generations, Sony has refreshed the look and usability of the PlayStation Store. Furthermore, you will have to get used to a new location for menus and settings.
Recently, there have been some big changes to Sony's gaming subscription services. One thing that was once two separate services has now been rolled into a single service, with three different membership tiers. The PSN network has roughly 80 million monthly active users. People are buying PSN gift card online, play favorite games and benefit from never having to leave their house to buy their PSN gift cards. SONY also let you purchase a PlayStation Plus subscription with your PSN gift card and the PlayStation Plus subscription provides immense value to your gaming experience. Being a subscriber, you will pay just $5 a month, and you will get:
Exclusive discounts
Free games
Ability to play with friends