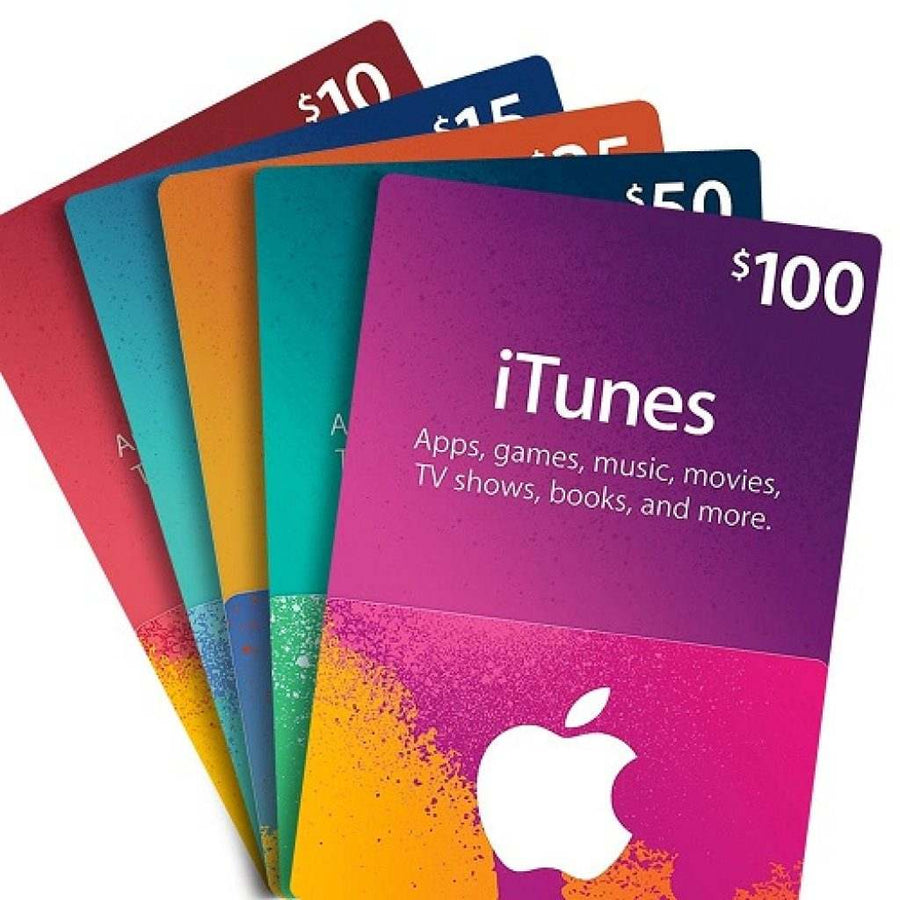 Can I get iTunes card in itune store Qatar?
The iTunes Store allows users to purchase/download items directly to portable Apple devices. Apple offers three apps which provide access to certain types of content. The Apple App Store sells apps for iOS, and delivers updates to these apps. Apple Gift Card gives you products, apps, games, accessories, music, movies, TV shows, iCloud+, and much more. Apple Gift Card is solely for the purchase of goods and services from the Apple Store, the Apple Store app, the App Store, iTunes, apple.com, Apple Music, Apple Books, Apple TV, and other Apple properties.
Apple Account balance is a quick and convenient way to pay when shopping at an Apple Store or apple.com. You can use the balance to buy Apple products, accessories, games, apps, and more. To add your Apple account balance, simply redeem an Apple Gift Card or add money directly. You can add money to your Apple Account balance anytime and there is no gift card needed. It is fast, secure and can be done easily directly from your device. In case your balance is running low, the auto-reload feature handles it well.
Simplified Spending:

Add money to your Apple account balance on your terms to control monthly spending and minimize multiple charges.
Just a tap away:
There is no need to make an extra trip to the store for a new gift card. You can simply add money to your Apple Account balance right from your device.
Opt for auto load:

The auto reload option can automatically add money to your account balance on a regular basis or when funds run low, so your balance stays where you need it.
How Apple Gift Card is used in Business?

The Apple Gift Cards can be given to the people who mean everything to your business.
Give, get, receive, or redeem

Apple Gift Card can be used as great promotional incentives, customer appreciations, employee gifts, or rewards for a well done job.
Easy to buy, Simple to use

Apple Gift Card comes in multiple denominations, and is available as physical cards with free shipping or digital codes.
Recently, Apple has launched its single gift card for all things Apple. The gift card can be used at the App Store and other online services as well as to buy products and accessories in the Apple Store. Before the single gift card launched, there were two separate Apple gift cards available: iTunes cards – used for ‌‌App Store‌‌, iCloud storage, and iTune Store purchases, and ‌‌the other is Apple Store‌‌ gift cards – used for buying goods at Apple's online and brick-and-mortar retail stores. Customers can decide what amount they want on the gift cards, which can be used to add money directly into an Apple Account balance to pay for things like Apple accessories, products, apps, games, music, movies, TV shows, and more. Apple gift cards have distinctive design, with coloured Apple logos. There are five designs, and the gift cards can be purchased, personalized and received via email using Apple's online purchase portal.
How to Buy ITunes Gift Card?

The iTune gift card is redeemable in the App store, iTune store, and the iBooks store. This means they make perfect gifts for all your music-loving, game-playing, and book-reading friends and family. You can buy iTunes gift card by going to a retailer and pick up a physical gift card. But it is easier to hop on the website and buy a virtual card and email it to whomever you want. The iTunes Gift Card you buy can only be used for the country where your Apple ID is registered. For instance, if someone owns a Canadian Apple ID, the gift cards sent via email will only work in the Canadian App Store.
The Apple iTunes Gift Cards have some code at its back that can be redeemed from a particular entertainment resource to have fun with them. There is a good chance of getting surprised whenever the back of card is scratched because it will offer some gifts regarding some apps, games, movies, music, and much more. In fact, they promote such cards as marketing.  The iTunes gift card has eliminated the confusion of choosing which movie or music album or game to get. The significant thing about iTunes is its bridge between Apple products. This means you can use an iTunes Gift card for the app store or any other Apple deal. There is a legit reward platform, Freeward; that lets you earn free iTunes Gift cards for doing simple and fun activities. The lowest withdrawal is $5, and you can also select from other rewards available. There are many advantages of iTunes Gift Cards, such as:
With Apple iTunes Gift card, the users can choose a movie or music album just by scratching the card.
ITunes Gift card can be used as a gift also; people can send each other and live the moment of joy.
Buy ITunes Gift Cards
ITunes USD200 Gift Card (US) Discount Promo – US $ 197.00
ITunes USD100 Gift Card (US) Discount Promo – US $ 98.00
ITunes USD70 GIFT CARD (US) Discount Promo – US $ 69.30
ITunes USD50 GIFT CARD (US) Discount Promo – US $ 49.50
ITunes USD3 Gift Card (US) Discount Promo – $ 3.09
ITunes USD2 Gift Card (US) Discount Promo – US $ 2.06
ITunes USD5 Gift Card (US) Discount Promo – US $ 5.15
ITunes USD20 Gift Card (US) Discount Promo – S $ 20.60
ITunes USD25 Gift Card (US) Discount Promo – US $ 25.75
ITunes USD10 Gift Card (US) Discount Promo – US $ 10.30
ITunes USD35 Gift Card (US) Discount Promo – US $ 36.05
ITunes USD30 Gift Card (US) Discount Promo – US $ 30.90
ITunes USD50 Gift Card (US) Discount Promo – US $ 51.50
ITunes USD70 Gift Card (US) Discount Promo – US $ 72.10
These iTunes Gift Cards are simple to use and a perfect gift. You can purchase them in a variety of denominations as per your needs. Every iTunes Gift Card works in Mac App Store, App Store, iBooks Store and the iTunes Store to top up your iTunes account credits for app or in-app purchase uses. The iTunes Gift Card is by far the most convenient way to credit to your US iTunes Store account. When you redeem your iTunes Gift Card (US), the updated balance appears in your US iTunes Store and each time you purchase something, iTunes deducts funds in the credit until it is depleted. The iTunes gift cards add credit to your Apple ID. They are good for pretty much any digital service Apple offers. ITunes Gift Cards let you pay for anything, whether it is paid apps, Apple Music / Apple News+ subscription, or more iCloud storage.
Why to use iTunes Gift Card?

ITunes Gift Cards are flexible

The iTunes gift card is usable by anyone, including iOS and Android Users.
ITunes Gift Cards are ideal for business boost

The iTunes gift card is best for marketing promotions and can be used as a prize for online contests. These cards work well as giveaways at trade fairs. 
ITunes Gift Cards never expire

A lot of Gift Cards have an expiry date, but iTunes card is not among those! You can have this gift card with the assurance that your card would always be there. 
Android users can also redeem iTunes gift cards

ITunes Gift Cards can be redeemed on both Android and Apple. These can be sent as gift to another person or swapped for an Android card.
ITunes Gift Cards can be used online

ITunes Gift Cards make you forget going to the mall and suffering through traffic or long lines. While buying your gift card online, you save time and money.
Fair value

The iTunes gift card offers fair resale value. If there is no use for your gift card, you can surely sell it for a fair price.
ITunes Store

The iTunes Store is a digital media store that is operated by Apple Inc. It was opened on April 28th, 2003 and till April 2020; iTunes offered 60 million songs, 2.2 million apps, 25,000 TV shows, and 65,000 films. The iTunes Store is the number one music store in the whole world. It offers millions of songs, albums, videos, and more for purchase, as well as many free items, such as podcasts and educational lectures. Every item that you buy, download or rent from the iTunes Store is added instantly to your iTunes library. The automatic downloading set up can also be made so that items you download from the store are downloaded to all your computers and devices, not just the one you used to get the items. All the songs offered by the iTunes Store come without Digital Rights Management (DRM) protection and are known as iTunes Match, have no usage restrictions and feature high-quality, Advanced Audio Coding encoding.
ITunes Store Gift Cards can be used to purchase products or accessories at an Apple Store. You can buy games, apps, as well as in-app purchases from the App Store. ITunes Store Gift Cards have acquired credit that can be used to purchase a variety of goods and services from the Apple Store. ITunes Store Gift Cards can be used to purchase iPhones, iPods, MacBooks, and other Apple products from any Apple retail store. These cards are issued either as physical cards or as E-codes and the money denominations normally range from $5 to up to $200. ITunes Gift Card is issued by Apple but have some characteristics that distinguish them from one another.