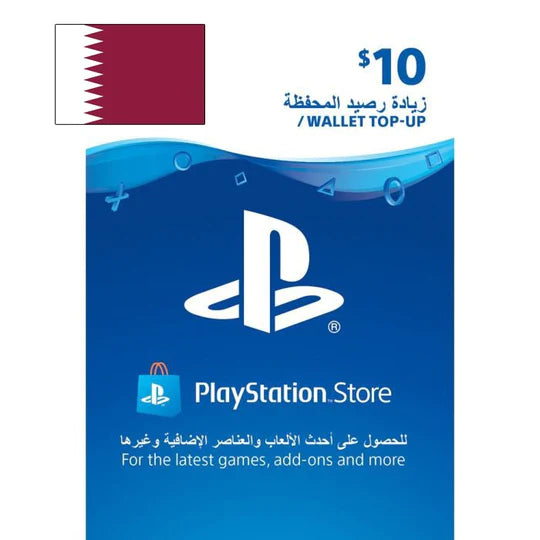 PlayStation Network Cards – Why to Use PlayStation Store Cards, PlayStation Gift Cards - Think24 Qatar
Playstaion network card -
Psn collection
Playstation network card qatar lets you redeem against anything on the PlayStation Store from thousands of games, add-ons, subscriptions, and much more. People can pre-order, preload, and play with it. The playstation card qatar has regular deals and discounts and there is always something to play at a price you will love. These help you download purchases remotely and you can add your purchases to your download queue from anywhere online and start playing sooner.   One can choose various PlayStation Cards pricing from $10 to $100 to buy favorite games, add-ons, or subscriptions. All the content purchased from the PlayStation store is added to your library, as well as downloaded to your console. This also lets you delete any digital game from your console and keep them safe in your library, ready to download whenever you want to jump back in. Around thousands of games can be downloaded on PlayStation Network Card. These cards are an ultimate entertainment gift for gamers and they fill your PSN Wallet with cash that allows you to download new games, and videos, as well as stream movies and music.
How does PlayStation Gift Cards work?

The PlayStation Gift Card can be purchased from an online retailer and then the retailer will email you a code to redeem via our digital store on your PlayStation console or via any web browser. Like every other digital store, the PlayStation Store also has a Gift Card program, and people can buy these gift cards anywhere either physical or digital. 
The Psn collection are used to make purchases and give access to online playing and can also be used to purchase games for download. When someone buys a PlayStation Store gift card from an online retailer, the retailer will email a digital code to redeem via the digital store on your PlayStation console or via any web browser. The PlayStation Store is a digital store that has the world's largest library of PlayStation content covering thousands of games, add-ons, in-game credit, season passes, and much more.
The PlayStation Network Cards add funds to your PlayStation wallet without the need for a credit card. These cards also load up the wallet to purchase exclusive games, add-on content, movies, music, and more through PlayStation Store. For gamers, the psn card qatar are the best gift to have to access the wide range of games and add-ons available on the PlayStation platform. The gift card works as a digital currency that can be used to purchase content from the PlayStation store. The PlayStation Plus subscription is a 12-month program that allows gamers to play online and offers monthly discounts on certain video gaming titles. The PS Plus gift card is the most cost-effective and easy way to reach the PlayStation Network group as well as take advantage of all of the PS Network's features.
How to Redeem PlayStation Gift Card?

You can easily redeem a psn gift card qatar no matter what console you have, even if you have it on a computer. You will need a digital code to redeem your gift card and you can check your mail for the code or you can scratch off the back of your physical gift card to reveal the code. To redeem the PlayStation Card, follow these steps:
Head to the leftmost icon from the dashboard on your PlayStation and go to the store.
Scroll down all the way to Redeem Codes.
Enter the digital code 
How PlayStation Gift Cards are used?

When you get a PlayStation Gift Card, it opens a whole lot of ways to use it. Here is how:
Buy Games 

PlayStation Store Gift Cards are useful for you to purchase games without breaking the bank and within the comfort of your home. Just open your console or any web browser, type in the digital code, and enjoy new games. Also, you can even download add-ons with your gift card.
Subscription of PlayStation Plus

If you are an online or multiplayer gaming person, PlayStation Cards are an easy way to subscribe to PlayStation Plus. You can use the credit of your gift card to register or continue existing subscriptions for endless gaming fun.
Add Funds to PlayStation Store Wallet

When you cannot decide whether to download new games or subscribe, you can store your gift card's credit in your playstation store gift card qatar wallet. In this way, you can have some funds in-store when they have attractive deals in the PlayStation Network Store.
Download Music and Movies

It is so much fun to play that you often forget PlayStation also doubles as an entertainment and media console. The redeemable codes from your PlayStation Cards allow you to download movies and shows.

Share with Others

PlayStation Gift Cards work for your convenience, and they get better when you share them with others. You can send gift cards or codes to your friends and colleagues and it allows them to have thrilling games, download movies and music, load up their store wallets or even pay for their PlayStation Plus subscription. 
Run Contests and Give It as a Prize

The Gift Cards make great prizes for games and contests. Anybody can sponsor one online or at work, and give gift cards as a part of the paid raffle. This will surely excite everyone and have all of the raffle slots full in no time.

Raise Funds 

Another way to use Gift Cards is to support worthwhile causes in your community by raising funds. These can be turned into raffle prizes, and you can get everyone's support in exchange for all the benefits with a simple purchase. This will not only help the community but also build a network of socially responsible gamers.
Sending to Others

You can help someone purchase some best survival games or use the amount anyway they want. You might not know who the actual receiver could be; however, just a single thought of making someone happy is a sure reward.

Contribute To Gift Exchanges

In case you got more than a handful of PlayStation gift cards during the holidays and have some extra ones, you can participate in a gift exchange and swap them for other gift cards. Additionally, you can trade them with others and have gift cards for essentials.
Add Excitement to a Care Package

You may include one or two gift cards in a care package for someone special. These can be given with food and other essentials. This gesture will surely make them feel valued with such as ensemble of all their must-haves.
Why Use PlayStation Cards?

Playstation card qatar shows know what you need the most as far as your games are concerned. You can use the redeemable code of cards to raise your game with add-ons, try out new games, or build your fund in your wallet. You can use the amount for music and entertainment as well. Apart from using PlayStation Cards on your console and gaming experience, you can also share with your friends and family as is or as part of a care package. These cards help you establish connections with co-workers and the community when used as prizes for games or donations for generous causes.
PlayStation Store Gift Cards also let you subscribe to PlayStation Plus, and that subscription will grant free games and you can enjoy these games as long as your subscription lasts. When you activate your gift card, funds are added to your wallet and you will be able to use your savings to purchase items from the Store. Many PlayStation Store Gift Cards ensure that you get to keep them till the end of time. Every purchase you make is connected to your account, much like the funds themselves, so there is no need to worry about how to access it in case you switch devices. 
When you own a psn qatar card, you are at an advantage of saving your time, as there is no need to run to the gaming store when you want to make any purchase. These cards have made playing and purchasing things simple. The PlayStation Network Card is the latest craze of every gamer and it helps them to meet their specific needs and provides various other immense benefits. It can easily recharge your PlayStation credit to purchase PlayStation games, memberships, and in-game credits. It works as a digital gift card that makes it possible for you to buy the product directly from the PlayStation Store.