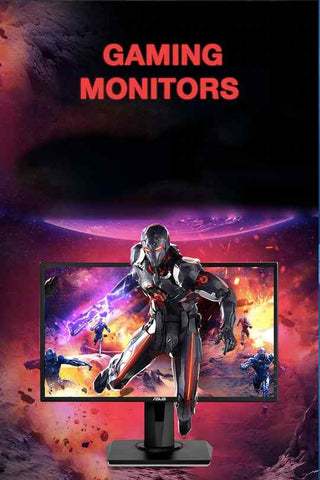 Best Accessories for Your Gaming Setup – Best Place to Buy Gaming Monitor
Gaming Accessories provide you the option to alter several characteristics, particularly lighting, to enhance the atmosphere and excitement of the game.
Being a PC gamer today is exciting, but choosing the finest gaming monitor for your setup is becoming more challenging by the day.

Gamers must pick the greatest gaming accessories nevertheless if they want to maximize their experience as these add-ons give provide the freedom to change several characteristics.
PC Gaming is a highly enjoyable way to unwind after a stressful day, connect with friends online, and enjoy an interactive art form that moves quickly. However, you will need to invest in a couple of the top gaming accessories if you want to get the most out of the experience. Yes, you may use the mouse and keyboard you use for work to play games, but they often aren't made with ergonomics in mind. While Bluetooth gaming gadgets are fantastic for keeping your desk clean, they also bring latency, which is hardly noticeable when you are browsing the web but can mean the difference between (virtual) life and death.
Additionally, gaming accessories provide you the option to alter several characteristics, particularly lighting, to enhance the atmosphere and excitement of the game. The world of computer peripherals is vast, but we've done the legwork for you by compiling a list of 13 essentials for a fantastic PC gaming setup. We have you covered for everything from keyboards and mice to the best Wi-Fi routers to utilize.
If you enjoy playing video games, you should be aware that getting a top-notch gaming computer is the most crucial consideration. To get the most fun out of their gaming experience, players need more than just a powerful setup that can easily handle today's graphics-intensive games. Gamers require a few gadgets to improve their comfort during extended gaming sessions as well as to aid in slaying adversaries and topping leaderboards. The greatest consumers' picks for the best gaming accessories are presented on this list. These accessories are among the goods with the highest ratings.
Gaming Headset
A good gaming headset is an absolute necessity if you plan to play online multiplayer games with pals. The Cloud Revolver over-ear headset from HyperX has steel bands for durability and ultra plus earcups for comfort. Its actual stereo sound support or simulated 7.1 surround sound 
can help you hear adversaries coming from all sides, and its detachable microphone enables you to speak effectively and in real-time with your teammates. Because the Cloud Revolver is a wired headset, you just need a cable to keep it connected to your computer.
This may seem restrictive, but it guarantees that you won't experience any latency (lag) when communicating with allies or listening to enemies. The headset can be connected to a VR headset, a PlayStation 4, an Xbox One, an Xbox Series S, or a mobile device. The HyperX Cloud Revolver is the first improvement to make to your PC gaming setup if you have been playing online matches with a standard pair of Bluetooth headphones.
Gaming Keyboard
The gaming industry is expanding rapidly, and a more complicated game requires a more complex controller. The gaming keyboard is the answer to this issue. The majority of gamers use a keyboard to steer the action in their games. It has been demonstrated that gamers who utilize a gaming keyboard and mouse combination rather than a game controller regularly perform better. You need a keyboard that is both built to withstand heavy repetitive use and comfortable enough to use for extended periods. A gaming keyboard's ability to be customized greatly aids in programming different keys for quicker and more fluid gameplay. The gaming keyboards have textured keys as well as multicolor backlighting, allowing you to play in any lighting.
Size & Keys
A gaming keyboard is compact and secondary, made specifically for playing games. Its few original keys are organized in a more ergonomic way to encourage rapid and effective keystrokes during gaming. These gaming keyboards are updated and personalized variations of the factory-standard keyboards that are used in many homes and workplaces. The reprogrammable keys on gaming keyboards can be used for any purpose you give them.
Customization
Gaming keyboards frequently come with an integrated joystick that, when used with a mouse enables the user to smoothly and effortlessly manipulate many axes of movement at once. Additionally, several gaming keyboards strive to be more ergonomic for users. A personalized sticker overlay is another fantastic feature of many gaming keyboards. Some keyboards have a custom overlay that allows the labeling of the keys to be customized. It might also have a chic graphic of some kind. Some gamers, on the other hand, prefer not to clutter their gaming keyboard with these visuals because they can quickly recall which buttons do what.
Gaming Mouse
A good gaming mouse is essential, as all gamers are aware. You need an ultra-fast responsive 
mouse with accuracy, comfort, and a few extra buttons to assist you to stay one step ahead of the online competition to have an exceptional gaming experience. The standard mouse that comes with your computer won't cut it, so you'll need to spend money on a model that is specifically made to provide accurate and quick responses.
The Razer DeathAdder Elite 16000 DPI Optical Gaming Mouse is one of the best-rated gaming mice. One of the most well-known and popular gaming mice is this one. The smooth ergonomic design and rubber side handles of this gaming mouse are created to offer the utmost comfort during those extended gaming sessions. The switches of this mouse are developed for quick response times and a lifespan of up to 50 million clicks. With this professional-grade gaming mouse, you can quickly destroy the opposition while enjoying a terrific feel in your hands.
The Razer DeathAdder
Gaming Monitor
The majority of individuals believe that all monitors are the same. A gamer, however, is aware of the necessity of a gaming monitor for fluid, quick, and ghost-free gameplay. The most crucial gaming accessory is a good gaming monitor because the better the graphics, the more enjoyable the gaming experience will be.
Gaming Chair
You should be seated on a comfy chair if you want to spend a lot of time in front of a computer screen. A typical office chair won't be comfortable for gamers. They require a product that was made specifically with their back, arms, and wrists in mind. Gaming chairs are made to prevent arm, back, and wrist pain while providing comfortable back support during extended gaming sessions.
Why Gaming Accessories are Essential?
No matter how your gaming setup is set up, having quality accessories can improve the experience. We can all agree that gaming has become increasingly popular to the point that it permeates every aspect of our daily lives. All types of gamers, both competitive and leisurely, can use the gaming accessories that several companies have produced. A chair that offers support for your back and other body parts that need it as you play for extended periods is an essential component of a gaming setup.
If you enjoy playing online games with others and require a way to interact, you need to include a nice headset in your gaming setup. After a stressful day, playing games is a good way to unwind. It makes it possible for us to communicate with friends online and enjoy a dynamic interactive art form. Gamers must pick the greatest gaming gear nevertheless if they want to maximize their experience. These add-ons give you the freedom to change several characteristics, most notably the lighting, to make the experience more enjoyable and enticing.
Best Place to Buy Gaming Monitor
The variety of gaming monitors keeps expanding thanks to new brands, features, and expanding capabilities. Being a PC player nowadays is thrilling, but it also means that choosing the finest gaming monitor for your setup is getting trickier by the day. The options range from screen-smoothing technology (like Nvidia G-Sync and AMD FreeSync) to incredibly fast refresh rates that can go as high as 360 Hz, which might be overpowering.
For those who can't get enough pixels, there are thick 4K panels, which are as expensive to operate as the newest graphics cards. Fortunately, you may upgrade your dated monitor from one of our many top recommendations.
Selecting Best Gaming Monitors
With new brands, features, and expanding capabilities, the selection of gaming monitors keeps expanding. Being a PC gamer today is exciting, but choosing the finest gaming monitor for your setup is becoming more challenging by the day. The variety is sometimes overwhelming, ranging from screen-smoothing technologies (like Nvidia G-Sync and AMD FreeSync) to extremely fast refresh rates that can go as high as 360 Hz. Dense 4K panels are available for pixel enthusiasts, but they're as expensive to buy as the newest graphics cards. Thankfully, you may replace your dated monitor with one of our many top choices.
What to Consider while Buying Gaming Monitor?
FreeSync or G-Sync
G-Sync only functions on computers with Nvidia graphics cards, whereas FreeSync only functions on machines with AMD graphics cards. Although performance isn't guaranteed, G-Sync can be used with a display that only supports FreeSync. Although FreeSync monitors often cost less, their performance is equivalent. See our Nvidia G-Sync vs. AMD FreeSync comparison article for a thorough comparison of the two technologies' performance.
Image Quality
Generally speaking Due to their worse viewing angles, TN monitors are typically the fastest but least expensive. Compared to VA monitors, IPS screens offer somewhat slower response times but superior color. VA displays are the most contrast-efficient for gaming, although VA can have longer response times.
Larger Refresh Rates
This value, expressed in hertz (Hz), indicates how frequently your monitor refreshes with new information each second and, consequently, how many frames per second (fps) the monitor can display. Smoother visuals result from larger numbers. For the best gaming experience, you should aim for a display with the lowest reaction time you can find and a refresh rate of at least 75 Hz (most gaming monitors give at least 144 Hz).
Full HD, Quad High Definition, and 4K 
For gaming displays, Full HD (1920 x 1080), QHD (2560 x 1440), and 4K are the most common screen resolutions (3840 x 2160). A screen's image should appear sharper the more pixels it has. As a result, a 4K monitor will be able to display an image with greater clarity and detail than a Full HD panel. In general, monitors with the lowest resolution have the highest refresh rates; often exceeding 360Hz. 4K monitors typically reach their maximum refresh rate of 144Hz since they must push many more pixels.