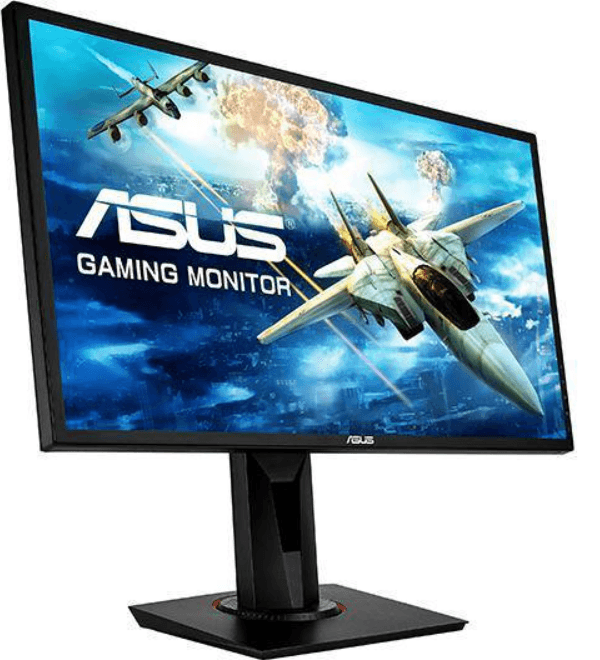 ASUS ROG Swift PG32UQ | Price – ASUS TUF Gaming VG28UQL1A | Price
ASUS ROG Swift PG32UQ | Price – ASUS TUF Gaming VG28UQL1A | Price
The TUF Gaming VG28UQL1A 4K UHD gameplay monitor has an NVIDIA G-SYNC compliant Fast IPS display and blazing-fast 144 Hz gaming.
The HDMI 2.1 functionality of the ASUS ROG Swift PG32UQ allows you to connect it to both PCs and the newest gaming consoles.
The ASUS TUF Gaming VG28UQL1A has a 90% DCI-P3 gamut and complies with Display HDR 400 standards.
ASUS ROG Swift PG32UQ
The ASUS ROG Swift PG32UQ is a 28-inch UHD (3840 x 2160) Fast IPS gaming monitor with a 144 Hz refresh rate and 1ms (GTG) response time, designed for professional gamers. The HDMI 2.1 supports native 4K 120 Hz gaming without chroma subsampling (4:4:4) on PlayStation 5 and Xbox Series X.
It has ASUS Extreme Low Motion Blur Sync (ELMB Sync) technology that enables ELMB and variable-refresh-rate technologies to work simultaneously to eliminate ghosting and tearing for sharp gaming visuals with high frame rates.
It is NVIDIA G-SYNC Compatible, AMD Free Sync Premium, and has an exclusive Variable Overdrive technology that ensures seamless, tear-free gaming. The High dynamic range (HDR) technology with Display HDR 400 compliance and 90% DCI-P3 professional color gamut provide amazing color performance.
ASUS TUF Gaming VG28UQL1A
The 28-inch TUF Gaming VG28UQL1A 4K UHD gaming monitor is NVIDIA G-SYNC Compatible and has a Fast IPS screen for blazing-fast 144 Hz gaming. Buttery-smooth gaming on PCs is made possible by its ingenious integration of Display Stream Compression (DSC), ASUS Extreme Low Motion Blur Sync (ELMB Sync), and AMD Free Sync Premium technologies.
Visuals
The TUF Gaming VG28UQL1A supports up to 4K 120 Hz visuals via HDMI 2.1 without chroma subsampling, so console gamers can also get their fix. To provide exceptional colors and contrast, it also complies with Display HDR 400 compliance standards and has a 90% DCI-P3 gamut.
Overall, the Asus TUF Gaming VG28UQL1A stands out as a superb gaming monitor packed with features, including a super-fast IPS panel, 4K 144Hz, Free Sync and G-Sync compatibility, and a host of image-focused features. The monitor is simply incapable of anything, earning it our Editor's Choice award for mid-size 4K gaming monitors.
ASUS PG32UQ Price
A $1,000 high-end gaming display, the PG32UQ is still available. However, compared to other comparable displays on the market, it is not an absurd price tag, and for anyone other than high rollers, it will be more alluring than the $3,000 PG32UQX.
But the PG32UQ may be the more appealing purchase for reasons other than just price. With this display's HDMI 2.1 compatibility, you can connect it to both PCs and the most recent game consoles and enjoy full 120Hz or 144Hz experiences without experiencing any bandwidth restrictions.
A modern 4K high refresh monitor must have this function, however, the more expensive PG32UQX lacks HDMI 2.1, which limits its compatibility with Xbox Series X and PlayStation 5. The cheaper PG32UQ, a bit of an outlier in the ASUS lineup, has none of these problems. With DSC, you get a DisplayPort 1.4 port as well as two HDMI 2.1 ports.
Design & Form
The monitor's three-pronged metal stand legs look nice and feel expensive, but the rest of it is made mostly of standard plastic and has the typical ROG gamer look. On the back is a sizable RGB LED logo as well.
Display Performance
Although Asus lists this monitor's maximum refresh rate as 144Hz, the PG32UQ can be overclocked to 155Hz thanks to an OSD feature. Because not every display will be able to operate at 155Hz in a stable manner and because the slightly higher bandwidth requirements of that refresh rate at 4K may cause some setups and cables to malfunction, we assume Asus is segmenting out the 155Hz functionality into an OC mode.