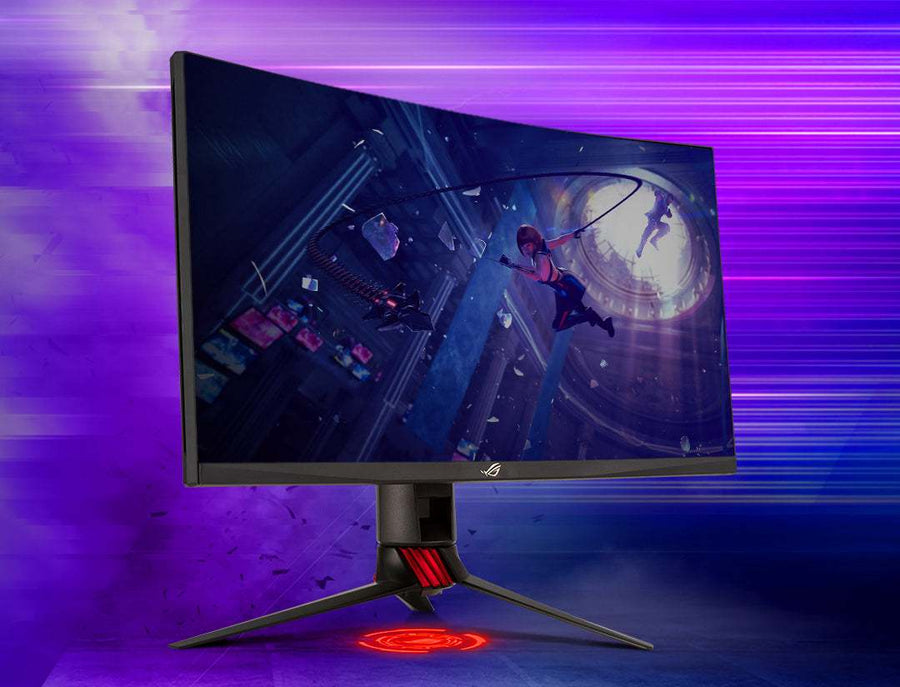 ASUS Monitors: Asus ROG
ASUS Monitors: Asus ROG
The primary focus of ASUS monitors is gaming, and as a result, they provide excellent gaming performance with quick response times.
The ASUS ROG Swift PG279QM is a good choice if you're looking for the finest ASUS gaming monitor because it offers a 240Hz refresh rate and a 1440p resolution.
Asus doesn't only focus on gaming but also the go displays with its few portable monitors.
Since ASUS primarily focuses on gaming monitors, you can find a few excellent gaming options from ASUS' ROG lineups, including the ASUS ROG Swift PG279QM, if you're looking for the best ASUS monitor. As long as your graphics card can handle it, it's an impressive gaming monitor with a 1440p resolution and 240Hz refresh rate that gives you sharp images and a fast refresh rate.
It is one of the few native G-SYNC ASUS monitors, making it ideal for those who want to maximize the performance of their NVIDIA graphics cards. It works with NVIDIA's Reflex Latency Analyzer, which calculates the overall setup's latency so you can identify the sources of the most lag. When viewing sources at high frame rates, it has a low input lag; when viewing sources at 60 frames per second, however, the lag increases.
Motion seems fluid across the full refresh rate range because of its quick response time, and it offers a flicker-free backlight to ease eye strain during extended gaming sessions. The ASUS ROG Swift 360Hz PG259QN, which has a higher refresh rate of 360Hz but a lower 1080p resolution for competitive esports gamers, is another option to consider. However, the PG279QM offers a better balance of resolution and refresh rate if you're looking for the best ASUS gaming monitor.
ASUS ROG Strix XG279Q
An upper mid-range ASUS monitor might be a better fit for you if you're not a competitive gamer and won't be using the 240Hz refresh rate on the ASUS ROG Swift PG279QM. The ROG gaming series includes the fantastic ASUS ROG Strix XG279Q, which is perfect for gaming. Its large 27-inch screen, which has a 1440p resolution, allows you to see more of your game at once.
You won't experience any problems using it in a bright environment because of its high peak brightness and excellent reflection handling. As it has wide viewed angles that make the image look accurate from the sides and the ergonomic stand is simple to adjust, it's also great for screen sharing with a friend for co-op gaming.
It has a 144Hz refresh rate that can be overclocked to 170Hz, which is ideal for gaming because it isn't as taxing on your graphics card as the PG279QM. Additionally, it has outstanding motion handling throughout the entire refresh rate range, making it possible to move around without tearing while gaming or even scrolling through lengthy documents.
ASUS ROG Strix XG27AQ
A mid-range gaming monitor like the ASUS ROG Strix XG27AQ is a wonderful option if you want to save some money. Although it is a newer model of the ASUS ROG Strix XG279Q, it is less adaptable due to its somewhat inferior ergonomics and lower brightness. A mid-range monitor should have a lower refresh rate than the ASUS ROG Swift PG279QM, but it still has the same 1440p resolution for clear visuals. Although AMD has not certified it for native FreeSync compatibility, it nevertheless works flawlessly across the entire refresh rate range and is G-SYNC compatible if you have an NVIDIA graphics card. It is impressive for gaming.
Although it boasts low input latency for a snappy and fluid gaming experience, like several other ASUS monitors, the input lag at 60Hz increases, making it an unwise choice for console players. The extremely quick response time makes motion appear fluid, and it offers an optional backlight strobing feature in case you encounter persistent blur. Its variable refresh rate (VRR) support, which not all monitors can do, works in tandem with the BFI features. Because of its wide viewing angles and good ergonomics, it's also fantastic for co-op gaming