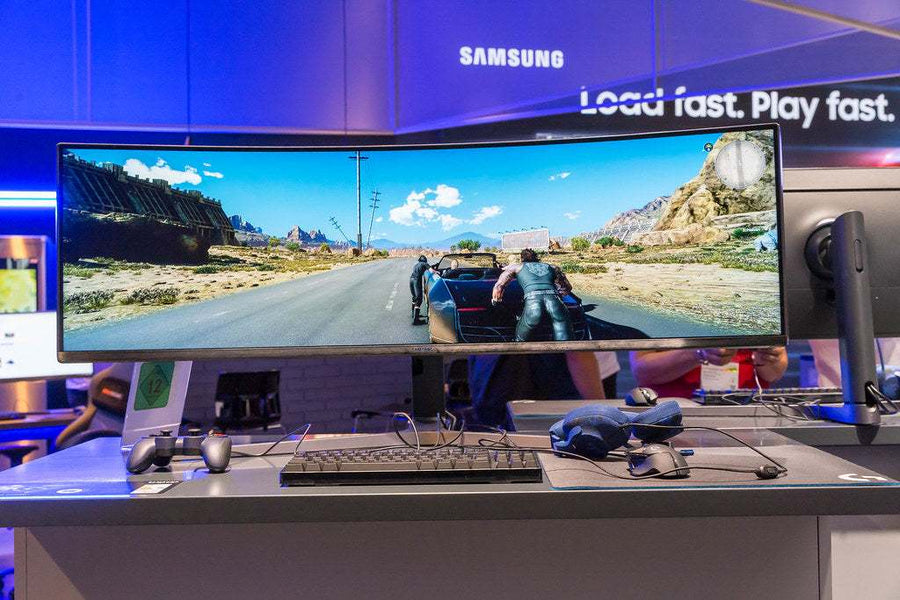 AOC C27G3 27" Curved Gaming Monitor in Qatar
Qatar is furnished with the required frameworks to accomplish its National Artificial Intelligence Strategy. Internet, speed, data and processing power, Qatar delivers on what enables AI today! The future of gaming industry in Qatar is advancing exponentially.
This 27" Curved Gaming Monitor with Full HD 1920 x 1080 goal conveys staggering visuals and elite responsiveness. It features Adaptive Sync anti-tearing technology, HDR mode visual enhancement, 165Hz refresh rate and 1ms response time. It gives 178 viewing angles as well as consistent image quality from all angles.
Delivering Immersion and Eye Comfort – The C27G3 27" gaming monitor comes with Low Blue Mode and Flick-Free technology to ensure eye comfort. For convenient connectivity, 2 types of DisplayPort interface and 2 HDMI ports are also available. The curved design wraps around you and puts you at the center of the action for an immersive gaming experience.
1000R CURVED – A 1000R radius for curved gaming monitors is the highest option you can get. Dive deeper into the virtual worlds around you and enjoy your favourite games with a perfect view.
165HZ Refresh Rate – A 165Hz refresh rate makes gaming smooth as silk.
1MS Response Time – For an enhanced experience, a 1ms response time means speed without the smear! This will make fast moving actions and dramatic transitions run smoothly.
Minimal Bezel Distraction – The narrow border and frameless design gives the minimal bezel distraction for an ultimate battle station.
Free Sync Premium Technology – It ensure that monitor's refresh rate are synchronized providing tear free gaming at highest performance. The Technology offers a refresh rate of 120Hzfor a more life-like experience.
Better Console Gaming – Many top-notch monitors are designed to work consoles. You can easily plug them into your gaming stations and enjoy the great image quality.
Low Input Lag – Switch to the AOC Low Input Lag mode to unleash your reflexes and forget graphical frills. The low lag mode rewires the monitor in favour of raw response time.
Game Color & Shadow Control – It adjusts grey levels for better picture detail and brightens dark areas or sinks them back into blackness without affecting the rest of the display.
AOC G-Menu – It is a free tool that you can install to have complete customization paired with maximum convenience.
Connectivity with Other Devices – It provides both HDMI and DisplayPort support for both professionals and home users. HDMI represents the leading digital video, audio, and data interface for high speed connections between ultra-high-definition displays whereas DisplayPort allows for a range of devices to easily connect to your screen.
Xiaomi Mi 2K Gaming Monitor in Qatar – 1,599.00 QAR
Unlock your gaming potential with an ultra-clear 27" display, 165Hz refresh rate, fast response time of 1ms IMBC, display enhancement and what not! The Mi 2K gaming monitor offers 178° wide angle screen with thin bezels for an immersive experience. The Adaptive-Sync technology synchronizes the transfer rate between the graphics card and the monitor, eliminates screen tearing and lag and provides a smooth, stable gaming experience. Every Mi 2K Gaming Monitor 27" has been calibrated to the standard of △E < 2 (typical value). The images and videos on the screen are true to life with vivid and accurate colors.
The HDR display enhancement adjusts the screen brightness for greater visibility in darker areas. Moreover, the low blue light mode can filter out the short-wave blue light, reducing eye strain and allowing you to work comfortably. It comes with a rotating stand that supports wall mounting so one can always find a suitable angle. The Mi 2K Gaming Monitors have been standardized to △E < 2 (typical value), making the images and videos true color calibrated. For various usage setups, the Mi 2K supports DP, HDMI, headphone jack and USB 3.0 ports that can be easily connected with the monitor to save time. It also uses a hidden heat dissipation design for a seamless look.
OMEN 27i IPS 165Hz 2K Gaming Monitor Qatar – 2,099.00 QAR
The OMEN 27i monitor is authorized by NVIDIA to bring you smooth, tear-free gaming with 165Hz refresh rate and 1ms response time. It is built with Nano IPS panel technology having QHD resolution for DCI-P3 98% color reproduction with 178° viewing angles and better contrast. The OMEN 27i gaming monitor offers smooth gaming experience with no distracting bezels. It provides a micro edge display for larger viewing experience. The diffused lighting feature reduces eye strain during late-night gaming sessions. Moreover, it also provides advanced extensive port connectivity for latest hardware and accessories.
Asus Rog Strix XG17AHP-AE Portable Gaming Monitor Qatar – 2,699.00 QAR
ASUS ROG Strix delivers a no-compromise gaming experience! It is a stunning 17.3" Full HD ((1920x1080) IPS portable gaming monitor. The 3ms response time, 240Hz refresh rate and adaptive sync ensures super smooth gaming experience. This portable gaming monitor also supports hybrid-signal USB-C and micro-HDMI ports connectivity with smartphones, laptops and gaming consoles.
The powerful 7800mAh battery promises up to 3 hours of life and supports Quick Charge 3.0 technology. With a slim and lightweight design, Asus ROG Strix XG17AHP is superbly portable and is easy to set up and use anywhere. The innovative ROG Smart Cover provides effective everyday protection, limits the build-up of dust and prevents scratches.
Asus VP228HE FHD Gaming Monitor – 649.00 QAR
ASUS VP228HE is 21.5" Full HD gaming monitor Qatar with 1ms (GTG) quick response time that eliminates ghosting. It supports low blue light technology and is flicker free, say goodbye to those tired, strained eyes! This exclusive gaming monitor provides Crosshair and Timer function so that the gamers can select four different crosshair types according to their gaming environment. The Asus VP228HE features the latest SplendidPlus Video Intelligence Technology that enhances color brightness, contrast, and sharpness.
Asus TUF Gaming VG27WQ HDR WQHD Curved Gaming Monitor – 2,199.00 QAR
TUF Gaming VG27WQ is a 27-inch, WQHD (2560 x 1440), immerse curvature with an ultrafast 165Hz refresh rate especially designed for professional gamers. Extensive connectivity options, including, HDMI (v2.0) x2, DisplayPort1.2x1, Earphone Jack supports a wide array of multimedia devices. It also features an ergonomically designed stand to offer extensive tilt, spin and height adjustments.